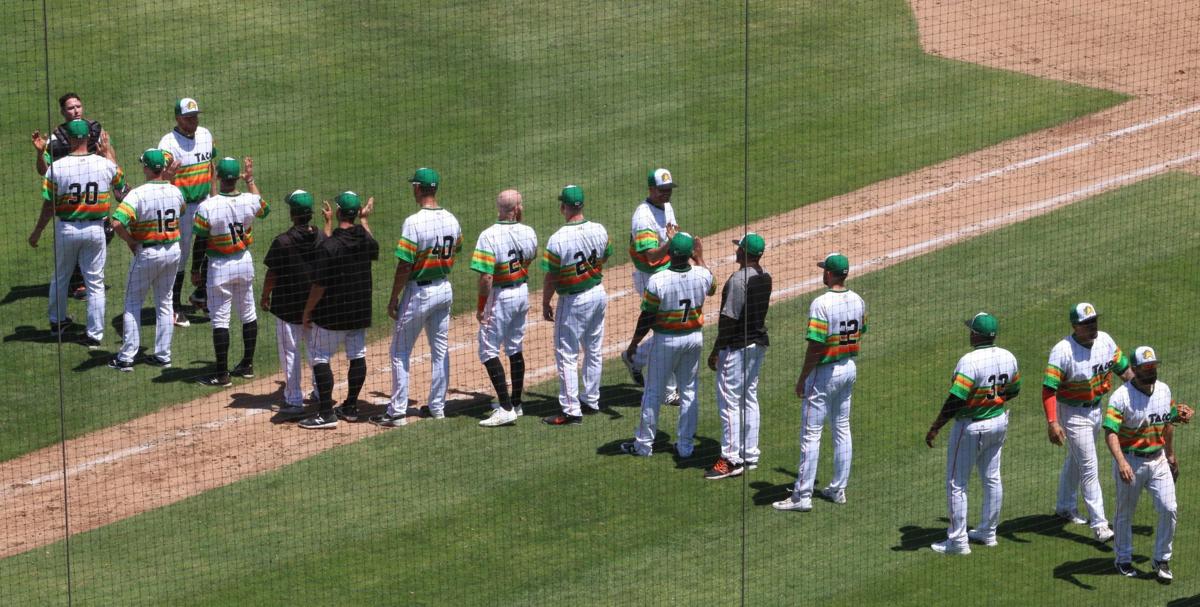 The COVID-19 pandemic continues to impact sports, as ballparks for the Fresno Grizzlies and the Visalia Rawhide will be vacant this year.
"There's a lot of pain going around right now," Sam Sigal, the vice president of First Pitch Entertainment and co-owner of the Rawhide, said. "Certainly, it's tough that we don't get baseball. The biggest hope really is that when baseball comes back and everything else comes back, we could all enjoy it just like we were hoping to enjoy this year."
The National Association of Professional Baseball Leagues made the expected announcement of a canceled season on June 30. It'll be the first time that Minor League Baseball won't be played in its history. MiLB was founded in 1901.
"These are unprecedented times for our country and our organization as this is the first time in our history that we've had a summer without Minor League Baseball played," MiLB president and Chief Executive Officer Pat O'Conner said in a statement. "While this is a sad day for many, this announcement removes the uncertainty surrounding the 2020 season and allows our teams to begin planning for an exciting 2021 season of affordable family entertainment."
Sigal said the team was prepared for the outcome, especially with how the pandemic affected Major League Baseball.
"You had to plan for both scenarios until it got to the point where one thing was confirmed," Sigal said. "Once Major League Baseball was even mentioning, yet alone really confirming, that their only way of playing was without fans, we knew that Minor League Baseball wasn't going to happen, not actually, but you make that conclusion because everything we love about this world that is Minor League Baseball is about the fan experience."
This season was supposed to be the Rawhide's first under the new ownership group, First Pitch Entertainment, but Sigal is expecting next year to be special, as it will serve as the 75th anniversary for the Arizona Diamondbacks' Class-A affiliate. Sigal added the venue has a new video board, which the new ownership group can't wait to share with the fans.
"I'm looking forward to having fans back in the ballpark," Sigal said. "It's such a community atmosphere just like in every Minor League ballpark, but here, we saw something special. My family fell in love with the community, I moved here and I love the community and I'm just looking forward to experiencing, for 70 days a year, Minor League Baseball in Visalia."
Prior to the cancellation, the Rawhide collaborated with the Tulare County Health and Human Services Agency, to utilize the ballpark as a venue for small gatherings for Father's day, family graduation pictures, batting practice and birthday parties. Sigal said those gatherings had less than 10 people.
Sigal said there are plans to continue utilizing the park, but it'll depend on state and county guidelines. Sigal said the Hall Of Fame Club at the stadium was used, but it's now closed because of the county's restrictions toward indoor operations.
"If it gets to the point where we can have a movie night, we'll love to do that," Sigal said. "We're not there yet. Numbers aren't there yet just as far as the County and safety, but when that comes to be a time that something that we would love to do, but right now, it's completely speculative at this point."
The Fresno Grizzlies were not available for comment for this story, but the president of the Washington Nationals Triple-A affiliate and Kingsburg native, Derek Franks, said in a statement it was an outcome they've been preparing for "over the past few months." He also called the news "devastating."
"We will greatly miss seeing all of you this year. Even though we will not be able to be together in downtown Fresno, I have thoroughly enjoyed getting to talk to so many of you over the past few weeks. Hearing about our shared love of the game constantly reestablishes for me how important baseball is to our community and our country," Frank said.
Franks said the team has updated their ticket policy including working with all season tickets to roll over to 2021 and providing refunds for single game buyers.
"Although there is no question that these are difficult times, I take solace in the fact that we will be back. The passion and joy that our crowd brings to every single home game is second to none and I cannot wait for all of you to pack Chukchansi Park once again. We truly have the best fans in Minor League Baseball and remain devoted to giving you the best experience in family fun and entertainment. We will not rest during this time. We are already planning behind the scenes to give you the best celebration imaginable once this hibernation ends and we take the field again in 2021."
You could read Franks' entire letter to fans on the Grizzlies website.
The Professional Baseball Agreement between the majors and the minors expires in September. Last fall, MLB had proposed cutting the amount of affiliated teams from 160 to 120 and reclassifying certain franchises, according to Baseball America.
Be the first to know
Get local news delivered to your inbox!