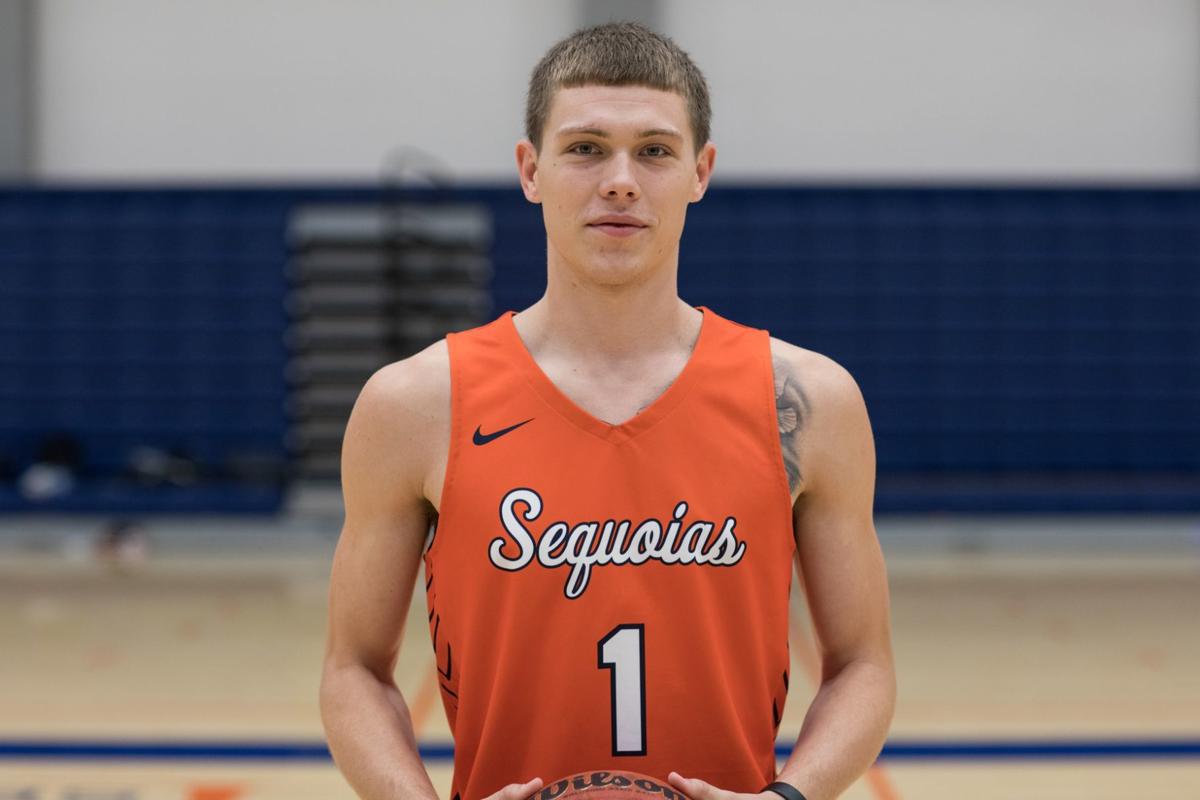 Ryan Johnson flew through the air, received an alley-oop pass and threw down a thunderous dunk.
Then he did it again, and again for a trifecta of late second-half slams that punctuated College of the Sequoias' Central Valley Conference-opening 98-54 men's basketball victory over West Hills-Coalinga on Jan. 8 at Porter Field House.
That Johnson is receiving passes on the basketball court rather than throwing them on the football field is the story of an unforeseen -- and at times, painful -- journey for the former Hanford High star.
Four years ago, Johnson was an NCAA Division I football recruit.
Now, he's a starting guard/forward combo on the state No. 8-ranked Giants' men's basketball team (12-3, 1-0), which hosts No. 10 Fresno City College (12-3, 1-0) on Jan. 11 in an early season showdown for a share of first place in the CVC. Tip-off is scheduled for 5 p.m. from Porter Field House.
In between, Johnson suffered a pair of significant knee injuries that necessitated his switch from college football to basketball.
"I am blessed. Very blessed, actually," Johnson said. "I'm glad that when football didn't work out that I had the chance to play basketball."
Basketball has always been in Johnson's blood despite initially pursuing a career in college football.
His father, Sandy, played college basketball at Humboldt State; his older sister, Brooke, played at UNLV before moving on to play professionally in Greece; and a cousin, Sydnee Fipps, played at UC Davis.
And Johnson was good in basketball, too, making Hanford's varsity as a freshman and helping the Bullpups win two Central Section Division II titles in three seasons.
Playing football, however, is where Johnson caught the eye of college recruiters.
Hanford's starting quarterback as a sophomore and junior, Johnson passed for 4,955 yards and 54 touchdowns, rushed for 1,276 yards and 23 scores, and led the Bullpups to a 26-3 record with two section Division III titles and the 2015 CIF State Division IV-AA championship.
He was verbally committed to San Jose State entering a senior season that was cut short after six snaps because of a torn meniscus in his left knee, which wiped out his basketball season, too.
Despite the injury, and a coaching change from the staff that recruited him, the Spartans honored their scholarship offer. Johnson's knee recovered, but he admittedly struggled academically and left San Jose State after redshirting in 2017.
Johnson transferred to COS in the fall of 2018, hoping to re-launch his career and earn another scholarship offer. But he tore the meniscus in his right knee during the Giants' seventh game against Delta, ending another season prematurely and his college football career.
He wasn't done with being a college athlete though.
In the spring of 2019, Johnson decided he wanted to trade in his football cleats for basketball sneakers. So he reached out to the staff of new Giants' men's basketball coach Dallas Jensen.
"After I got injured again, I was done with (football.) I didn't want to deal with those long-term injuries," Johnson said. "So I felt playing basketball would be better for my body. And I've always had a passion for basketball."
Johnson provided Jensen with some video clips from his time at Hanford, and Jensen, who was hoping to add another local player to his roster, liked what he saw. Once Johnson was done rehabbing his knee, he joined the basketball program.
"I thought the first couple of months, you could see the signs, but his basketball legs weren't back," Jensen said. "But all of a sudden, I think since the start of November, he's been hitting his stride. And now on top of that over the past couple of weeks, he's become more efficient. His basketball upside, he's just scratching the surface. He's going to be really, really good."
Johnson is averaging 10.6 points (third-best on the team), 5.5 rebounds, 2.1 assists and 1.6 steals per game. He's averaging 17.6 points over his last three games, including an 18-point, four-rebound, two-assist, two-block effort against West Hills-Coalinga (0-15, 0-1).
"In the beginning, it was rough," Johnson said. "I wasn't used to running as much. That was a struggle at first. But now after a couple of months of conditioning, I feel like I have my legs back."
In addition to needing to find his basketball legs, Jensen said it took a little time for Johnson to embrace his role on a deep and talented team that won its first seven games.
"I think early on in the year, he was concerned when he wasn't scoring," Jensen said. "I had to explain to him that he offers so much defensively. He's fantastic on the glass. He's physically tough. I think he's finally understanding that even if he's not scoring, there are so many other ways to impact the game, and he's really bought into that.
"He's going to be an all-conference kid and is definitely going to be able to move on to a four-year after this."
The Giants are going to need Johnson and all of his teammates at their best when Fresno City visits this weekend. The Rams, who opened CVC play with a 87-67 win over state No. 4-ranked Columbia on Jan. 8, have won or shared 18 consecutive conference championships.
"They are a well-oiled machine," Jensen said. "Fresno beat the No. 4 team in the state by 20, and it was (a 20-point spread) within a few minutes. They will be ready, no ifs, ands or buts about it. Our guys have to be able to match their intensity, play at a high level, and be really disciplined at both ends."
State No. 17-ranked College of the Sequoias hosts Fresno City in the opening game of a women's/men's doubleheader Jan. 11 at Porter Field House.
The women's game is set to tip-off at 3 p.m. Admission is $5.
The Giants' women (12-5, 1-0) opened Central Valley Conference play on Jan. 8 with a 97-50 home win over Taft (2-14, 0-1).
Alaysia Reed (Las Vegas) led COS with 20 points, nine rebounds, four assists and four steals.
The Giants also received 17 points from Felicia Ramirez (Caruthers), 15 points and four assists from McKenna Hsiung (Bakersfield); four points, eight rebounds and four assists from Serena Ybarra (Coalinga) and eight points each from Sapphire Jones (Hanford), Elyssa Brumfield (Golden Valley-Bakersfield) and Lucy Tazio (El Diamante).
Fresno City (8-7, 0-0) had a conference bye on Jan. 8. The Rams were ranked 20th in the state in the Dec. 23 poll, but have since dropped out after losing two of their past three games.
After playing Fresno City, COS travels to No. 10 Merced (12-5, 1-0) for a clash of conference heavyweights at 5 p.m. Jan. 15.
The Giants and Blue Devils shared the CVC title the past two seasons.
Be the first to know
Get local news delivered to your inbox!