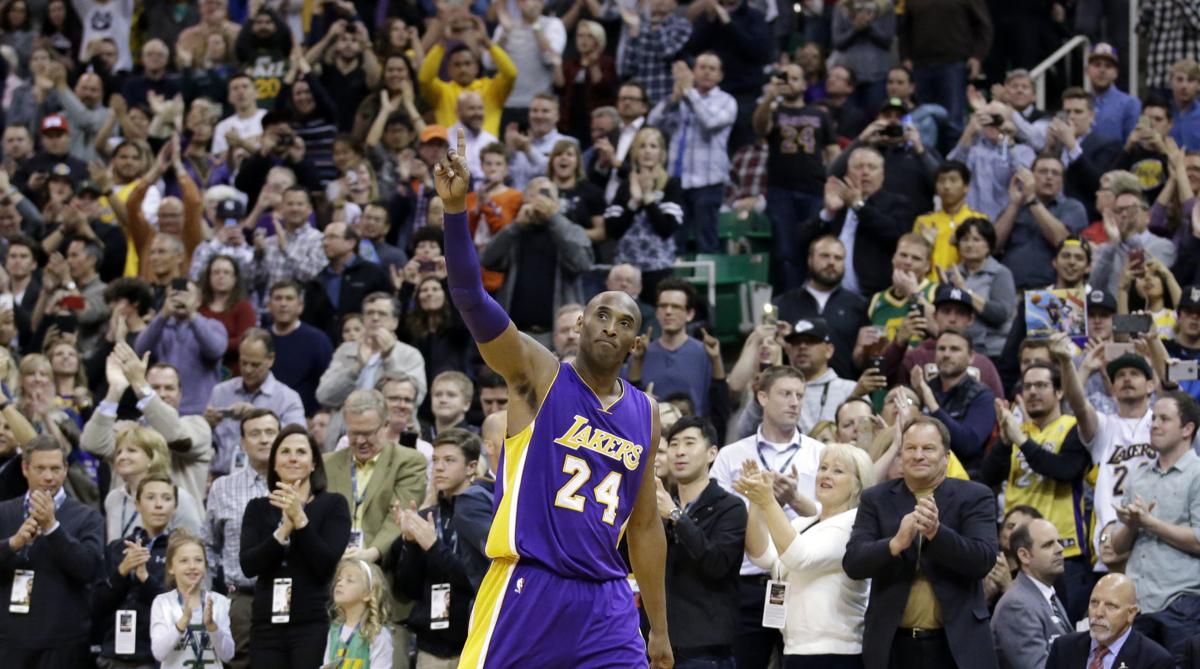 It'll be a day that I will never forget. I will never forget how I felt when I heard the news.
Reading the words "Kobe Bryant dies" didn't seem real. It didn't make sense. I was stunned, in disbelief and eventually felt numb.
As the world continues to mourn, Kobe Bryant died in a helicopter crash in Calabasas, California on Sunday, Jan. 26. What made the news more heartbreaking was his 13-year-old daughter Gianna also perished in the crash. They were on their way to a basketball game where Kobe was going to coach Gianna's team. Kobe was 41.
Seven others died in the crash, increasing the total to nine people in the horrific accident.
That's nine lives gone too soon. NINE. It's something that you can't fathom.
I can't imagine what the families affected by this tragedy are going through. I'm mourning with you, as is the rest of the world.
It was news that shocked the world. It's still doesn't seem real. It's just unfair.
In the wake of his death, people honored Kobe with murals, there were NBA teams taking 24 second shot clock violations, paying respect to one of two numbers he wore with the Lakers, and high school basketball teams throughout the Central Valley held a moment of silence prior to their games this week.
Those who drove through California State Route 99 in the past couple of days have probably seen the Kobe tribute near the highway. A picture of Kobe with the words "Rest In Peace" was displayed on the City of Selma sign.
His reach was everywhere.
For all the accolades the former Los Angeles Laker accomplished on the court, it seemed he was meant to do so much more. It's painful to know that we will no longer see his second act.
From winning five NBA championships to winning an Oscar, Kobe strove for greatness in everything he did.
When reflecting on his legacy, I could best describe it in one word: excellence.
As a Lakers fan, I could go on and on about his greatness on the court. Performances from his illustrious career that standout to any NBA fan are his spectacular 81-point performance against the Toronto Raptors and scoring 60 points in his final game.
Now that a couple of days have passed, it finally sunk in, my childhood hero, my Superman, is no longer with us.
I considered him my Superman because he always saved the Lakers in any given time when they were distressed.
Kobe was a huge part of my childhood and the sudden news of his death tore me apart. And I've never met the man. Here's why Kobe meant so much to me growing up.
My first introduction to the Lakers was watching them during the Shaq and Kobe era. The first time I watched the Lakers on TV was they took on the Reggie Miller-led Indiana Pacers in the 2000 NBA Finals. The series occurred a month before I turned eight.
Watching the Lakers from 2000-02 provided fond childhood memories that I will cherish forever. During this time, purple and gold were colors that brought my family together.
I loved watching Shaquille O'Neal in his prime, but Kobe was so electric. He was and still is the most amazing player I've watched in any sport. I will always consider Kobe as my all-time favorite athlete.
As I got older, I always made plans or would move any current obligations to watch the Lakers on TV, especially during Kobe's prime years in the mid-to-late 2000s.
Kobe became appointment viewing. He was must-see TV. He was and still is the reason I'm a Lakers fan.
You have free articles remaining.
As a teenager, watching Kobe and his teammates hoist the Larry O'Brien trophy in 2009 and 2010 were moments that made me feel like a child again. Looking back, I wished I enjoyed that 2010 finals more because I thought Kobe would lead the Lakers back to finals over the next few years.
But unfortunately, the Lakers haven't competed for a championship since.
I can recall countless memories of watching Kobe play, but there was one moment from his storied career that I've never seen. Kobe sinking two free throws immediately after tearing his Achilles tendon is something that has always stuck with me.
Despite what he accomplished prior, that was the moment I realized that Kobe was built different. It was a display of his famous "Mamba Mentality."
I remember the exact moment when his injury occurred and I was devastated. He was a man that looked unstoppable on the court and in that moment he was vulnerable. That sequence of him getting up, not quitting on his team and making both free throws to tie the game will forever inspire me to strive for greatness as a journalist or anything I do.
I will also never forget watching Kobe's final game, one of many moments that will immortalize him among the greats. It was fitting that his last game was at Staples Center because his 60-point finale was a Hollywood ending to a 20-year legendary career.
His final game took place during the same night that the 2015-16 Golden State Warriors were reaching for an NBA-record 73rd win in a season. Despite the Warriors striving for history, of course, all eyes were on Kobe.
I was an intern for KCRA News, the local NBC affiliate in Sacramento, and I remember watching the game in the sports office, feeling like a child again. I cheered, I felt joy and I was in awe that the Black Mamba still "had it."
It was an emotional knowing that'll be the last time we'll see him on the hardwood, especially when he said "Mamba out" after the game. That phrase, unfortunately, hits me different now.
After hearing the horrific news, I won't lie, I cried, I couldn't sleep and I watched Kobe highlights on YouTube, hoping that my eyes would eventually close. I listened to the song "Kobe Bryant" by Lil Wayne repeatedly and immediately thought of all my favorite hip-hop songs that referenced his name.
Listening to those songs won't be the same.
I questioned my own mortality, saying to myself, "If Kobe can go, I can go anytime." It seemed like he was going to live forever.
It was the saddest day of my life.
Like I said earlier, it's just unfair.
Kobe was an ambassador to the game of basketball. He help filled a void left by Michael Jordan. If I had to make a Mount Rushmore of all-time NBA players or Lakers, there's no doubt that Kobe is on it.
Kobe was an icon. He inspired an entire generation. He's the reason people yell "Kobe!" when shooting anything in a basket or a piece of paper into a trash can.
The late legend was an inspiring voice to those that loved the game and everyone else throughout the world. Kobe said, "If you don't believe in yourself, no one will do it for you." That's one of my favorite motivating quotes from him.
I'm not going to pretend that Kobe was a perfect human being. Nobody is. Everybody has flaws. I know I have mine.
Since the tragic news, I gained a new appreciation of my life. Leaving your house and returning back safely to our loved ones is something we take for granted. I fully understand what my mom and grandparents mean when they tell me to "get some safe."
Some things that I took away after Sunday's news was that tomorrow isn't promised to anyone, always make sure to cherish every moment, life is too short for grudges, and always tell your loved ones that you love them.
I know I will every cherish every moment moving forward. I will never miss another opportunity to say "I love you" to people closest to me.
So, I'll end this with some words to Kobe. Thank you for the memories. Thank you for inspiring myself and others to become the best versions of ourselves.