The Fresno State Bulldogs football team is less than a week away from opening their 2021 season. The Bulldogs will open the season on Saturday, Aug. 28, hosting the UCONN Huskies.
Kalen DeBoer, Fresno State Head Coach, said that the Bulldogs are ready to get on the field.
"The energy has been good. It is fun to get back into the mode of game prep," Coach DeBoer said. "It is fun to see the excitement that the fans have and sensing this is real and a lot of excitement surrounding what they are going to do this season."
Tyler Mello, Fresno State sophomore linebacker and Hanford Native, said he is ready for the first game.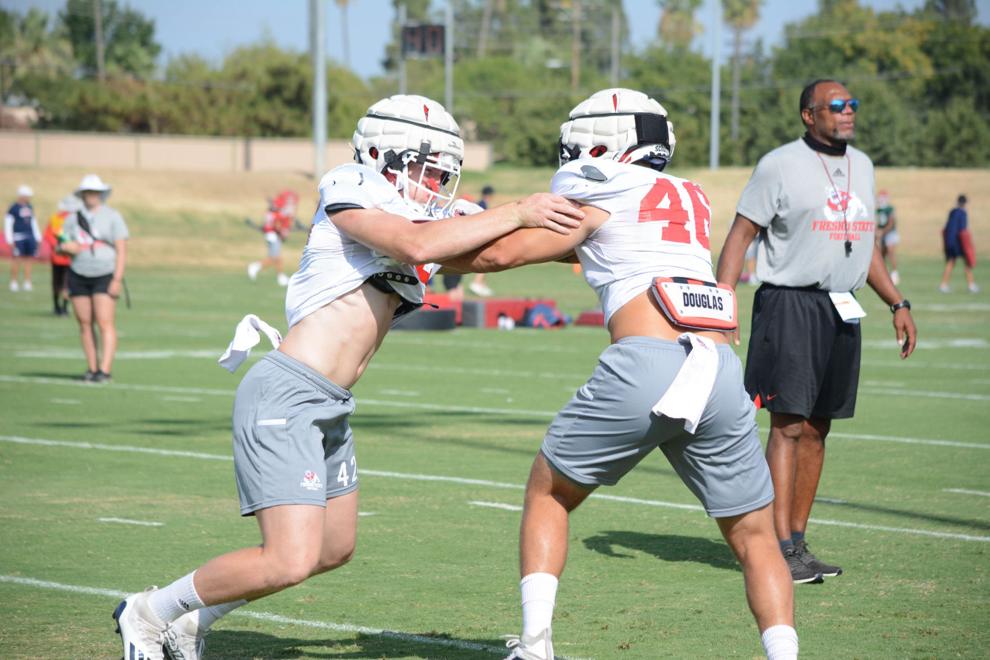 "It is going to be awesome and a real come to Jesus moment," Mello said. "It is going to be cool. I always remember Bulldog tough football, coming down hill lighting people up and the crowd going crazy."
Mello is looking to contribute for Fresno State this season and will likely start the season second on the depth chart. Mello played in all six games for Fresno State in a shortened 2020 season. He recorded 11 total tackles while playing mostly on the kickoff return team.
William Inge, assistant coach, Defensive Coordinator and Linebackers coach, said that he has seen Mello progress from last season.
"He is learning how to play football. In high school it was "you see the guy with the ball, go tackle that guy. We want to keep it as simple as that but when you have plays and have different responsibilities. The one thing he has been doing very well is training his eyes to be very successful," Coach Inge said. "Time works in your favor and when you have the ability to rely on what you did last fall and, in the spring, and now come back in the fall, we feel that is helping someone like him in the second-year freshman year."
The Bulldogs will continue preparation for the game against UCONN the rest of the week, before the 11 a.m. kickoff inside Bulldog Stadium. Tickets for the game are still available for the game and can be purchased at GoBullDogs.com.
A full recap of the Bulldogs game against the Huskies will be available in The Sentinel and the Enterprise Recorder.