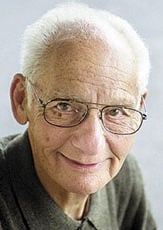 Farmers are an independent lot, especially in bountiful California, where so many of them produce so many different crops. But when they need reliable advice they can and do turn to the university-oriented Cooperative Extension Service, often represented by their local farm advisors.
With the backing of federal, state and county funds and the full support of the University of California's Agriculture and Natural Resources division, the Extension Service offers a complete and broad body of knowledge about the origination, breeding and the latest experimentation and improvements of every crop or commodity that can be grown. All of it and more is offered without charge through its well-trained farm advisors located strategically throughout the state, within reach of farmers and others.
More broadly, the program operates through personnel identified as home-nutrition, family and consumer sciences advisors as well, who conduct research and manage programs that provide nutrition education to school children. UC Cooperative Extension youth development advisors offer direction and background which promotes hands-on experiential learning for all youth. These programs are administered by professionals specially trained in the crafts and procedures required to lead and train dedicated learners.
On the farm the issues of plant nutrition, pest and disease control, weed encroachment, irrigation technology, harvest, shipping and marketing and a host of regulations dealing with wage and hour laws and various restrictions are commonly discussed with farm advisors. Offering advice in any of these areas requires the advisors to be current and complete in their knowledge of a wide range of topics.
Behind the "on the scene" farm advisors the extension service includes a large number of researchers, educators and specialists all closely in touch with the history and background of issues that are currently prominent in field conditions. They use publications and meetings and direct contact to share their knowledge with growers. They are often contacted by members of the press, and are careful to protect their status as final authorities on sensitive issues such as pests and disease.
Several of the personnel and facilities of the Extension Service operate in widely scattered permanent facilities. Much research for the citrus industry is performed at the Lind Cove Research and Extension Center near Exeter. Onion, hay, potato and horse radish research is performed at ANR's inter mountain research station in Tule Lake. Its West Side research station in Five Points emphasizes crops produced on the San Joaquin Valley's vast west side, while the 330-acre Kearney Agricultural Research and Extension center in Parlier serves the Central Valley's huge menu of crops.
The Cooperative Extension Service, with its foundation in the U.S. Department of Agriculture provides a strong measure of support for much of the information, research and advice that is channeled through the local farm advisors and the scientists, researchers and educators who stand behind them.
The federal Department of Agriculture is locked into the information process for growers through its designation of "Land Grant" universities, a group of educational institutions originally designated as vital links in conveying essential information about food and fiber production to and from those who are involved in the process. It confirms its commitment by assigning funds to these universities in each of its budgets. The University of California is the state's only Land Grant institution.
The university's Agriculture and Natural Resources (ANR) division described its mission in a recent statement as "working to promote economic prosperity, safeguard sufficient safe and healthy food for all, protect the state's natural resources, promote healthy people and communities, develop a qualified workforce, build climate change resilience . . . and develop an inclusive and equitable society
With all that to accomplish, farmers are privileged to have their own everyday access to this vast unit of extended education and advice.
Catch the latest in Opinion
Get opinion pieces, letters and editorials sent directly to your inbox weekly!