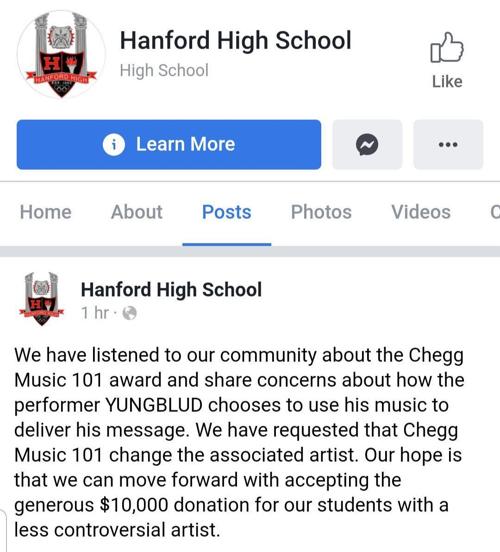 HANFORD — After some community members voiced their concerns about a planned musical performance from YUNGBLUD at Hanford High School, the school announced they have asked for an artist change.
When news broke Tuesday of Hanford High School winning a $10,000 grant towards its music program and a performance from British artist YUNGBLUD through the Chegg Music 101 series, comments questioning the appropriateness of the artist's music came in.
Comments were particularly aimed at YUNGBLUD's song "Kill Somebody," with some individuals saying the song and lyrics were not appropriate for a high school audience.
In a since-deleted Facebook post, Hanford High School addressed the situation Thursday:
"We have listened to our community about the Chegg Music 101 award and share concerns about how the performer YUNGBLUD chooses to use his music to deliver his message. We have requested that Chegg Music 101 change the associated artist. Our hope is that we can move forward with accepting the generous $10,000 donation for our students with a less controversial artist."
Anella Tamez, the original student to enter Hanford High School into the Chegg Music 101 contest, believes the complaints are not valid.
"I just felt shock because it seems like the parents who were complaining didn't seem to really look into the whole message behind his music and they seem to be only going off of his looks and his video," Tamez said referencing the "Kill Somebody" music video. " … It made me a little bit upset that the school didn't at least ask the students or other parents on their opinions on what they should do before just immediately trying to shut it down."
Tamez, a senior in the school's choir, originally entered Hanford High School into the contest on Sept. 18, after seeing the contest promoted on YUNGBLUD's Instagram. Not only is she a big fan of his, but Tamez said she loves his message.
"I love that his message is all about spreading awareness about mental health," Tamez said. "And also I thought it'd be a cool opportunity to get $10,000 for our music education system."
After rallying on social media to other students about the contest, Tamez found out on Tuesday through a friend that Hanford High School had won. She said she "freaked out" and then went to Dr. Scott Pickle, principal of Hanford High School, with her friend, Maggie Aguila, the next day to confirm it would be YUNGBLUD who would be coming to their school.
"He had said that he had actually looked into YUNGBLUD ahead of time and he had said that he had made sure that YUNGBLUD would be able to make some of his lyrics parent friendly, as a few of his songs do have a few curse words … and he told us that he would be coming in April and that we would get the chance to meet him," Tamez said.
Tamez also added that during their conversation, Pickle never expressed concern over YUNGBLUD. He did acknowledge that some songs could be taken out of context, but when explained correctly he understood the messages behind them Tamez said.
Now with things up in the air, Tamez said the classmates she spoke with on Thursday were upset about the news. She said even a few teachers agreed that YUNGBLUD should be able to perform and that complaints were "blown out of proportion."
Jessica Szalai, a Hanford High School parent, was upset about the school's decision and said she sees the move as censorship.
You have free articles remaining.
Szalai said she has listened to YUNGBLUD's songs and has done some research on the artist. While she admits some of the songs do hit close to home when addressing things like suicide awareness, she doesn't see that as a bad thing.
She said YUNGBLUD has a message of empowerment and of being able to come out of darkness. She said kids sometimes just need to hear that though they may be going through a tough time, it is possible to come out on the other side.
"More artists need to be doing that," Szalai said.
On his Youtube page, YUNGBLUD wrote that "Kill Somebody" is about a dark place he found in his mind that scared him, until he learned to talk about it.
"Mental health is finally being taken seriously and this song helped me free myself from the weight of it for a while," he wrote.
Szalai said perhaps some parents are judging YUNGBLUD based on the way he looks or sounds — which she said isn't much different from what high school kids are judged on today.
"They have that at the school right now — kids who look different and feel different," she said.
Szalai said she was upset that the issue was never up for discussion. She said there are many other parents who feel the same way she does and the school didn't hear them out. She said she would like to have a meeting where any parent could state their concerns or thoughts.
More so, Szalai said the contest was something the students wanted and voted on and now the school is stripping them of this experience. She said someone should ask the students why they wanted YUNGBLUD to come to the school and perform in the first place.
Szalai said she believes it is wrong for the school to want to accept the money, but not the artist.
Pickle previously told the Sentinel that this process started with a student nomination followed by a large amount of student votes on the Chegg Music website.
"We have listened and are sensitive to the climate of our community," Pickle said Thursday via email. "Though this was not a contest that was entered officially by the school, we admire the grassroots effort of our students to enter, vote, and win the award."
It's unclear what Chegg plans on doing now that Hanford High School has asked for a "less controversial artist," but Tamez said she would be devastated if Chegg decided to head to another school.
"I know that I'd be shocked and I'd be sad because, once again, our high school has never had an opportunity so big like this," Tamez said. "Not only for such a big artist with a positive message to come visit us, but also the chance to have $10,000 to a music education system that really, really needs it and deserves it. It would just be really sad for sure."
A request for comment from Chegg was not returned by deadline for this article.