Soon-to-be Hanford residents expressed concern over having no say in the annexation of their "county islands" and how it would affect their property, particularly their right to drill water wells, during a public Q&A with City staff.
Public Works Director John Doyle said the State has mandated cities to annex portions of the county which are completely surrounded by city lines, and the City of Hanford and Kings County have have made efforts to make that transition as easy as possible, including hosting Wednesday's meeting.
"This is a directive that has actually come from the State to reduce inefficiencies with services," said Senior Planner Gabrielle Myers. "So, to reduce the times you call the city police but you should be calling the sheriff, we're annexing all the county islands."
Multiple county island residents asked if they would have the opportunity to vote on denying annexation, appeal the process or convince a voting body to reverse the process and leave their properties in the county.
Doyle and Myers said, while those residents could attend the public meetings regarding annexation, there would be no vote by the citizens because the State wants cities to take in these islands across the board.
The mandate was likely specifically intended to address neighborhoods which were intentionally left out of city limits in larger cities because they would, for a myriad of reasons, be an extra drain on city services, but probably wasn't designed with towns like Hanford in mind, Doyle said.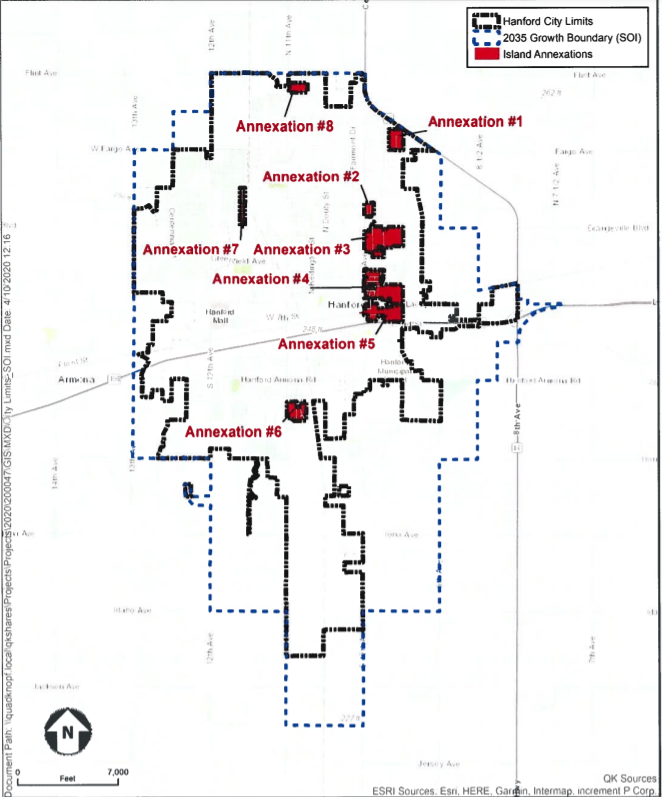 Some of the properties in the county islands are lots upwards of two acres with significant landscaping or agriculture which is currently being watered by a well. Residents on those lots were concerned they would no longer be able to use those wells or drill new ones if their current well were to go dry.
"My well seems to be okay right now, but if we move into the city and then I need water and I have to take City water, then I've got a problem because I've got a whole line of Redwood trees on my property," one resident said. "If I have to take City water to those trees, it's going to kill them, it's done it all over town."
Doyle said those irrigating crops would be permitted to continue using well water and drilling a new well as need-be because the City does not want its water used for agricultural.
Other residents in those areas simply preferred to stay on their own well instead. For those residents, Doyle said they would not be required to hook up to City water if there was not a line near their property.
The City will not go in and install water lines, sidewalks, gutters, street lights or any other amenities when the islands are incorporated. If a neighborhood wants to install a City waterline, Doyle said neighbors can arrange and share the cost.
For some other infrastructure like sidewalks, there are City processes to have them built and then paid for over time through taxes, he said.
Staff said they expect the annexation process to be fully complete by the end of 2021 or early 2022. Some service changes will be stagnated, like trash and recycling, which will have a year grace period, as well as law enforcement which will switch over to the City after two years.