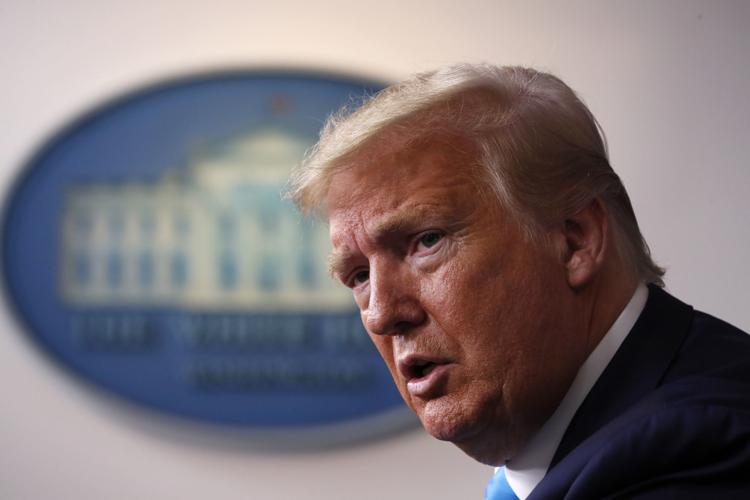 PRESIDENT DONALD TRUMP, on his decision to remove Glenn Fine, acting Defense Department inspector general who was tapped to lead a special oversight board of the $2.2 trillion coronavirus stimulus package: "Well, we have IGs in from the Obama era." — news briefing Tuesday.
THE FACTS: Fine is not a creature of the Obama era.
He is a career government official who had served both Republican and Democratic administrations and was selected by his peers for the virus oversight board. Trump distorts that record to make Fine and other public servants look like plants or holdovers from President Barack Obama.
Fine has been acting Pentagon inspector general for more than four years, and before that was inspector general at the Justice Department for a decade, including the entire duration of the George W. Bush administration. He now reverts to the position of principal deputy inspector general at the Pentagon.
Though inspectors general are presidential appointees, many serve presidents of both parties. All are expected to be nonpartisan. They operate as independent investigators in departments, shedding light on deficiencies in their agencies.
---
TRUMP, on a report from the Health and Human Services Department's watchdog that found hospitals faced severe shortages of coronavirus test supplies: "Did I hear the word inspector general? Really? It's wrong. ... Could politics be entered into that?" — news briefing April 6.
TRUMP, referring to the HHS report: "Another Fake Dossier!" — tweet Tuesday.
Why didn't the I.G., who spent 8 years with the Obama Administration (Did she Report on the failed H1N1 Swine Flu debacle where 17,000 people died?), want to talk to the Admirals, Generals, V.P. & others in charge, before doing her report. Another Fake Dossier!

— Donald J. Trump (@realDonaldTrump) April 7, 2020
TRUMP: "You didn't tell me also that this inspector general came out of the Obama administration." — news briefing on April 6.
THE FACTS: His claims are groundless. There is no evidence that the report was "wrong" or politically motivated. Again, he insinuates that a longtime civil servant is an Obama loyalist out to get him. The inspector general in charge of the report is a government employee whose tenure predates the Obama administration.
The report was based on a survey of 323 hospitals around the country in late March and reported conditions they described. It did not make any judgments about the federal health department or the Trump administration.
With coronavirus cases rocketing toward their expected peak, the inspector general's office reported that a shortage of tests and long waits for results were at the root of mounting problems faced by hospitals.
Overseeing the report was Christi A. Grimm, who is acting as HHS inspector general. She is a career government manager who took over the position early this year in an interim capacity. Grimm began her career with the agency in 1999, serving both Republican and Democratic administrations.
A week ago Trump fired Michael Atkinson, the intelligence community inspector general who forwarded to Congress a whistleblower complaint that ultimately led to the president's impeachment in the House. His career at the Justice Department dated back to the early Bush administration, and it was Trump who nominated him as inspector general for intelligence.