The European Union announced Tuesday that it will reopen its borders to travelers from 14 countries, but most Americans have been refused entry for at least another two weeks due to soaring coronavirus infections in the U.S.
Travelers from other big countries like Russia, Brazil and India will also miss out.
Citizens from the following countries will be allowed into the EU's 27 members and four other nations in Europe's visa-free Schengen travel zone: Algeria, Australia, Canada, Georgia, Japan, Montenegro, Morocco, New Zealand, Rwanda, Serbia, South Korea, Thailand, Tunisia and Uruguay. Read the full story here:
Here's an update on all developments. Scroll or swipe further for in-depth coverage.
As states grapple with how to safely start the upcoming school year, the American Academy of Pediatrics is pushing for students to be physically present in classrooms rather than continue in remote learning for the sake of their well-being.
Britain's medical regulatory agency has approved the resumption of a trial testing whether hydroxychloroquine, the malaria drug favored by U.S. President Donald Trump, might help prevent health workers from contracting the coronavirus.
Arizona's Republican governor shut down bars, movie theaters, gyms and water parks Monday and leaders in several states ordered residents to wear masks in public in a dramatic course reversal amid an alarming resurgence of coronavirus cases nationwide.
Los Angeles will close beaches and ban fireworks displays over the holiday weekend as California officials warned that further restrictions may be necessary to curb a troubling spike in coronavirus cases in much of the state.
Thousands of people around the country who have taken the final step to citizenship this month under COVID-19 social-distancing rules have turned what has long been a patriotic rite of passage into something more like a visit to a fast-food restaurant.
Indian Prime Minister Narendra Modi said in a live address Tuesday that the country's coronavirus death rate is under control, but that the country is at a "critical juncture."
Fellow musicians and fans alike are criticizing country artists who performed at outdoor concerts this weekend where social media pictures showed large, tight crowds without masks, even as COVID-19 cases resurge in the United States.
For more summaries and full reports, please select from the articles below. Scroll further for the latest coronavirus numbers in the U.S. and around the world.
---
The US toll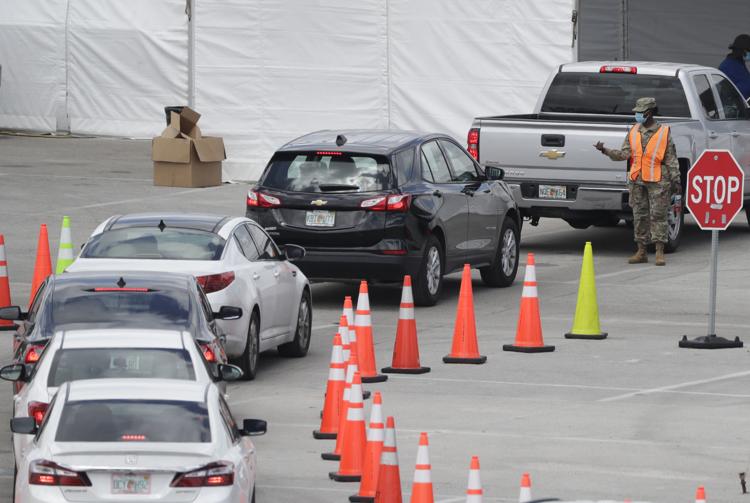 The US has 4% of the world's population but 25% of its coronavirus cases
The United States has long prided itself as the world's shining beacon. But its current status is a much darker one: the globe's leader in coronavirus cases.
More than 125,000 people have died from Covid-19 in the US, and more than 2.5 million Americans have been infected.
American life has been irrevocably altered by the worst pandemic in a century. And as the country struggles to reopen, cases of Covid-19 have surged again -- this time in young people and in states that had previously avoided the brunt of the virus.
Here, in dollars, percentages and — most tragically — lives, is the pandemic's devastating toll on the US.
---
Virus by the numbers
Click here for the latest maps and charts tracking the spread:
See how coronavirus affects our state and nation in these eight maps and charts, updated frequently.
Concerned about COVID-19?
Sign up now to get the most recent coronavirus headlines and other important local and national news sent to your email inbox daily.