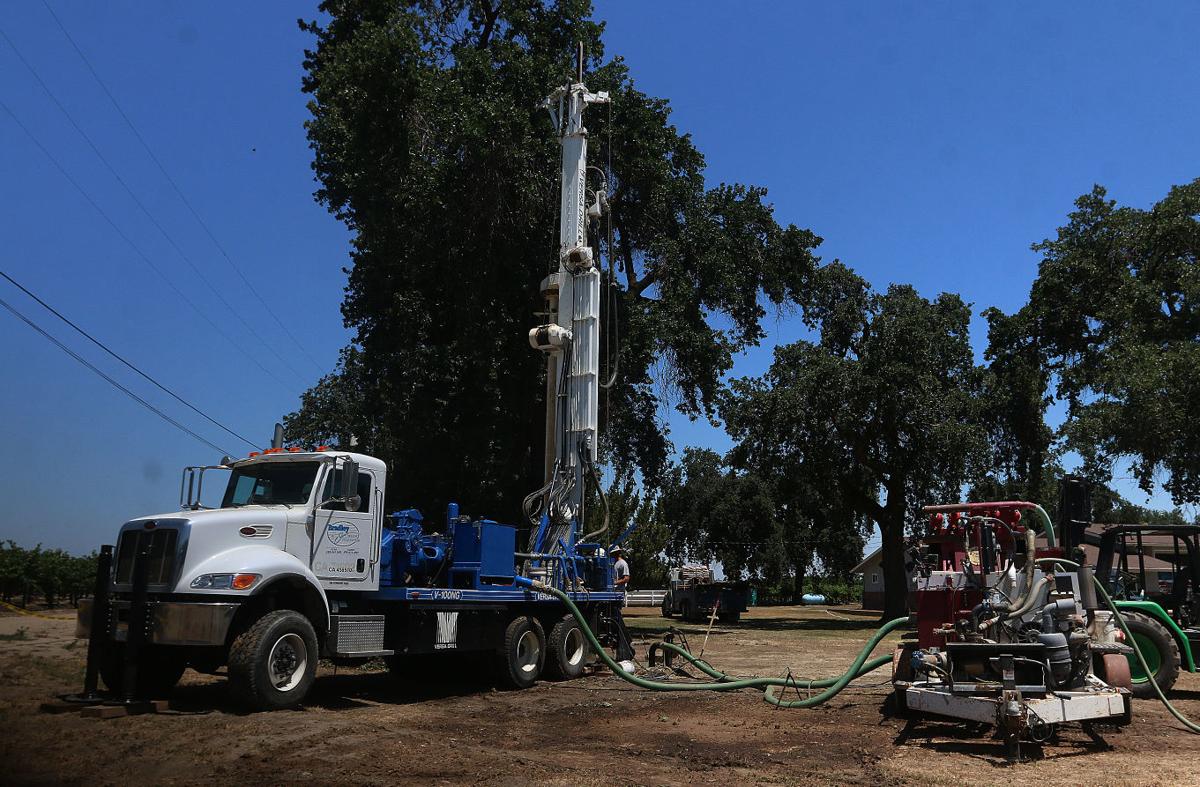 HANFORD — A sharp uptick in the number of new wells drilled during Kings County's historic five-year drought shows no sign of letting up.
According to the Kings County Community Development Agency, the number of new well permits issued has held steady the past two years after rising dramatically since 2012, the year the drought began.
County officials issued 394 permits from September 2015 to September 2016.
Officials issued a virtually identical number of permits — 394 — from September 2014 to September 2015.
But in 2010-11, before the drought kicked in, only 131 permits were issued.
That number held relatively steady in 2011-12 at 127, but climbed to 221 in 2012-13. The number hit 347 in 2013-14.
Farmers dug about 2,500 wells in the San Joaquin Valley last year alone, the highest number on record and five times the annual average over the past 30 years, according to an analysis published Sunday in the Sacramento Bee.
Farmers are expected to spend $303 million this year alone to pump groundwater, according to University of California, Davis, researchers.
Growers and rural homeowners have been forced to go deeper in search of water as the water table has dropped. More water is being pumped out of the ground as surface water supplies dry up.
"In the last three or four years, there's been a lot of work done," said Randy Rodrigues, the owner of Rodrigues Pump Co. in Lemoore. "We just need to get a wet year. We're due."
Rodrigues' company installs pumps and drills wells.
Rodrigues said the pace of drilling at his business slacked off this year because there was more rain and snow in the Sierra than in the past few winters.
"It wasn't as crazy as the year before," he said. "A year ago last summer was crazy. There were times when I got as many as 50 calls a day."
Rodrigues said that many of the calls were from residents whose domestic wells were going dry.
You have free articles remaining.
For farmers, drilling new wells during the drought has been necessary to keep the business afloat, according to Dustin Ference, Kings County Farm Bureau executive director.
Ference said that growers may be motivated to drill now because of uncertainty about how the Sustainable Groundwater Management Act will affect their operations in the future.
The law, passed in 2014, requires that groundwater levels be stabilized by balancing what is taken out of the ground with surface water supplies from rain and snowmelt that percolate back down into the ground.
The law won't be fully implemented until 2040.
Because of the long time frame and the fact that specific regulations under the law haven't been issued yet, many growers say it's impossible to know what the practical impact on their operations will be.
"Some growers are drilling a well now because they're afraid they won't be able to in the future," Ference said.
Ference said the implications of the law could become clearer "in the next 24 months."
Farmer Tony Azevedo said he's drilled seven new wells on the Westside since 2010, all of them in the 1,000-1,200-foot range.
"If you do an average over the last five years, the water table has dropped a lot," he said. "Hopefully this is cyclical. We'll see."
"We're just trying to farm within our means," Azevedo said.
Like many local growers, Azevedo remains concerned about the new groundwater law.
"I don't think we have a good handle on what [the law] is going to look like," he said. "We're only farming 70 percent of our Westside ground now. The groundwater legislation is pretty scary when we're not getting the surface water we should."
In addition to that concern, Ference said other issues are complicating the picture.
He said that in the short term, deeper wells will help farmers survive.
But he remains worried about what increased pumping costs and water quality issues could eventually do to agricultural businesses' bottom line.
"There may be more water down there, but it may be too costly to use at some point," Ference said.