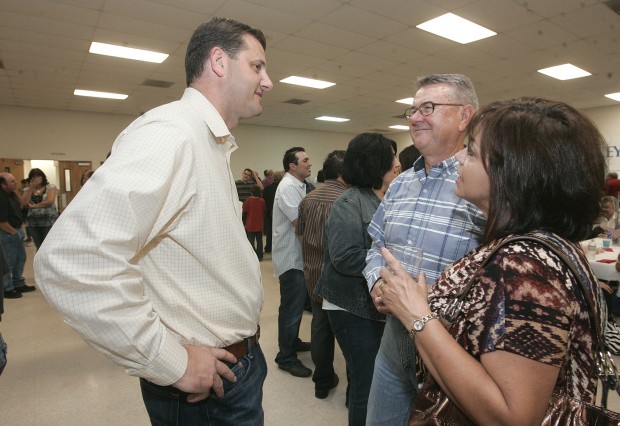 HANFORD — Local conservatives don't have much to crow about in the aftermath of Nov. 6.
President Barack Obama was re-elected. Democrat Rudy Salas beat out conservative Republican Pedro Rios to snag the 32nd Assembly District seat, making him part of a new Democratic supermajority in Sacramento. Democrat Michael Rubio continues to represent Kings County in the state Senate.
Many local Republican supporters say they believe the sole bright spot for them was the victory of freshman Assemblyman David Valadao, R-Hanford, in the 21st Congressional District. He solidly defeated Democratic challenger John Hernandez by a margin of 59 percent to 41 percent.
Valadao's campaign has even attracted national attention, with a Wall Street Journal columnist penning an article on Nov. 15 suggesting the Hanford dairy farmer's victory is a template for Republican success going forward. Columnist Kim Strassel called Valadao "the party's only offensive victory [in California], flipping a seat that hasn't had a Republican in 20 years, and doing it with strong support from the district's majority Hispanic voters."
But is that really the case?
David Schecter, a political science professor at California State University, Fresno, was quick to credit Valadao's skills as a campaigner, his broad appeal and his sensitivity to Hispanic concerns. (Although he is of Portuguese descent, Valadao speaks Spanish and has called for comprehensive immigration reform).
But Hernandez's weakness as a candidate and a campaigner were also a big factor, Schecter said, noting that Valadao overcame a 15 percentage-point voter registration advantage.
"It's unusual, with the registration numbers being what they are, for someone to do as well as he did," Schecter said. "I don't want to take anything away from him, but my take on it is that Valadao got lucky."
Valadao declined to speculate on what would have happened if he had faced a top-tier, better-funded opponent.
"I will leave the job of guessing what could have happened to the reporters," he said. "We ran a positive campaign and sought the support of every voter in the 21st Congressional District. We made over 250,000 phone calls and knocked on over 50,000 doors."
Those calls were often in Spanish, Valadao said.
"I think Valadao personified the kind of candidate that will serve the party well in the future," Schecter said, calling his rise to Congress after just one Assembly term "phenomenally fast."
Added Schecter: "He's young. He's aggressive. He's not shy about campaigning."
The reporter can be reached at 583-2432 or snidever@HanfordSentinel.com.
Get local news delivered to your inbox!
Subscribe to our Daily Headlines newsletter.