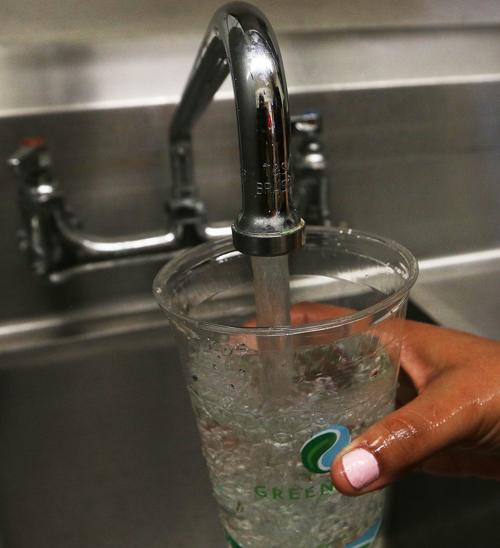 HANFORD — In light of current issues with Hanford's water, the city is moving forward with a plan to treat water from three wells.
At the March 6 Hanford City Council study session, John Doyel, utilities and engineering director for the city, informed Council about a few water issues that have popped up over the last few months.
First, he said there was an arsenic violation at Well 50, which is the city's newest well located at Ninth Avenue and Hanford Armona Road.
Doyel said when the well was built, arsenic levels were between eight and nine parts per billion (ppb) — just lower than the state's legal level of 10 ppb; but after about four months, arsenic levels were at around 11-12 ppb.
According to the California State Water Resources Control Board, ingestion of arsenic over a long-term period can pose a risk of cancer.
Even after conducting several tests consisting of pumping the water at different levels or pressures, Doyel said arsenic levels still wouldn't go under 10 ppb.
"No matter what we did, it didn't comply," Doyel told Council.
Doyel said there are now two options to eradicating the issue: treatment of the water, or going into the well and closing off some of the perforations in the upper strata where there are some of the higher arsenic levels.
If the city does the latter, Doyel said production will decrease. He said the well currently pumps around 1,700 gallons a minute and if perforations are closed, then it will only pump about 1,000 gallons per minute — without any guarantee that the process will lower arsenic levels.
So, Doyel told Council that city staff has been looking into different treatment options. The city currently does not treat any of its water (chlorine is used but is not considered a treatment by state standards).
The second issue is that the city's water has high levels of total trihalomethane (TTHM). Doyel said TTHM is a combination of four chemicals that are a by-product of chlorine in water reacting to different organic and inorganic materials. He said the state allows up to 80 ppb of TTHM in water levels.
Some people who continually drink water containing TTHM for many years may experience liver, kidney, or central nervous system problems and a potential increased risk of cancer.
Doyel said there are four testing locations around town and the southwesterly quadrant near 12th Avenue and Hanford Armona Road failed the yearly average, coming in at about 100 ppb in TTHM levels.
"That's not a huge amount over, but it means the state says 'well since you went over for the year, now you have to have a plan to fix it'," Doyel said.
Other surrounding areas, including Lemoore, are also having problems with TTHM in the water. Doyel said the reason behind the high levels of TTHM could be because the aquifers were over-pumped during the five-year drought and drew more organics into the water system.
Doyel said the water at Well 43, which is located near Centennial Drive and Greenfield Avenue, has a color problem and there's a good possibility the color is caused by organics in the water system.
"That may be the smoking gun to the trihalomethane problem," Doyel said, adding more testing is being done at Well 43 to see if staff can identify if that well is the culprit causing the problem with TTHM levels.
The third issue is that the city has budgeted for a well to be designed this year and built next year, Doyel said. He said with these new issues that arose, staff has been contemplating putting Well 37 back online instead of building a new well.
Well 37 is located at 12th Avenue and Hanford Armona Road and is not in use due to water color issues.
"If we're going to be having to treat arsenic at Well 50 and potentially color at Well 43, then why don't we try to get [Well] 37 back into play because it's in that same area," Doyel said, adding the area has problems with pressure at peak times.
Doyel suggested not building a new well and instead using funds to focus on treating the three wells. He said he thinks treating a portion of the flows at Wells 50, 43 and 37 will cause the total output of water to come in below compliance levels.
Council agreed with Doyel's suggestion, and he said the rest of this fiscal year will be used for more testing and hopefully a treatment project will be ready to get started by July.
Doyel told Council that additional staffing and certification of staff will be needed because treatment requires more monitoring and work. He also said treatment requires significant expense and ongoing operational costs.
Financially, Doyel said city staff believes they can handle the issues without having to raise water rates for residents.
Get local news delivered to your inbox!
Subscribe to our Daily Headlines newsletter.