HANFORD — Over 150 students from all over the county swarmed the Hanford Civic Auditorium to take part in this year's Kings County Spelling Bee.
The spelling bee ran from Feb. 25-28 and included students representing every school district in Kings County, including private and charter schools.
Nineteen students competed at each grade level from first through eighth grades. These students qualified for the county competition by winning a series of class, school and district spelling competitions
Two grade competitions took place each day, kicking off with first and second grades on Tuesday and concluding with seventh and eighth grades on Friday.
Jeff Frasieur once again returned as Spell Master, a position he has held for over 30 years in the Kings County Spelling Bee.
Leana Cantrell, a member of the committee that coordinated the competition, said many familiar faces returned to the bee this year. She said it is always fun to see the students recognize their competitors and develop friendships throughout the program.
Cantrell said the longest event was the third grade competition, which lasted 65 rounds. She said the top three spellers competed for over half of those rounds.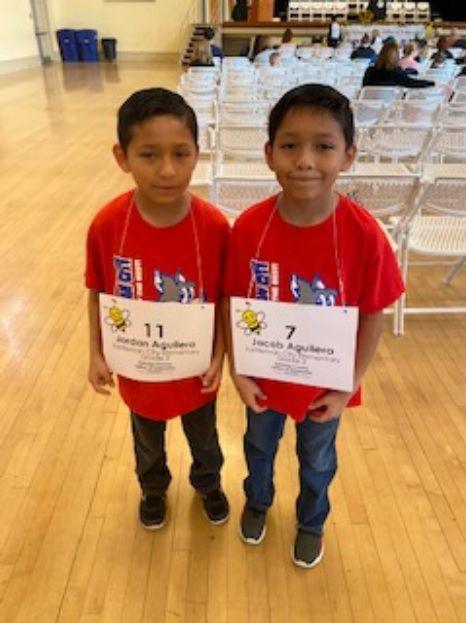 Interestingly enough, Cantrell said two of the top three third-grade spellers were twins, Jordan and Jacob Aguilera from Kettleman City Elementary. Jacob ended up winning 1st place and Jordan placed 3rd.
"We have never had twins competing like that before, and for them both to go home with trophies was an extra special sight," Cantrell said.
Every speller was awarded a certificate of achievement, a medal and a treat bag as they were eliminated. This year, Pieology Pizza and the Habit Burger Grill donated gift certificates for each speller, Cantrell said.
She said the 1st, 2nd and 3rd place winners took home trophies as well.
Along with their top speller, Cantrell said each district sent an alternate in case of an absence. She said every alternate was given a certificate of achievement for making it as far as they had.
Winners in fifth through eighth grades move on to compete at the California State Elementary Spelling Bee Championship on May 9 in Stockton. Cantrell said the Kings County Office of Education will cover the cost of the students' state registration fees with the help of local sponsors.
Cantrell thanked the members of the Spelling Bee event committee Joy Santos, Jessica Womack, Stephanie Eggert, and Kathi Cameron.