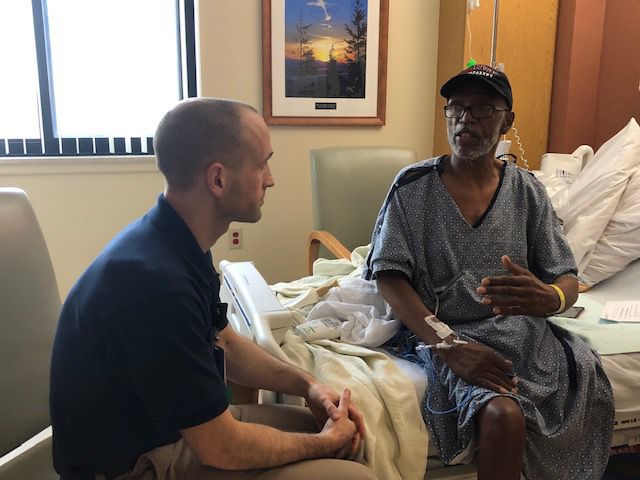 HANFORD – Many community members with diabetes will spend less time in the hospital, thanks to improvements that Adventist Health Hanford has made over the last year.
The hospital is the only one in the Central Valley, and one of 86 hospitals nationwide, to earn The Joint Commission's Gold Seal of Approval for Disease-Specific Care Certification, specifically for diabetes care.
The Joint Commission is the nation's oldest and largest standards-setting and accrediting body in health care.
The recognition acknowledges the hospital's advanced diabetes program, which is tailored to meet the unique needs of each patient. In 2017, endocrinologist Prem Sahasranam (Sahas), M.D., and the clinical team noticed a need to standardize care for diabetes patients.
A program was put into place which involved hiring a diabetes educator, scheduling consultations with Sahas, monitoring patients' blood sugar levels and customizing meal plans during hospital stays.
Diabetic Navigator Rex Jones, a certified diabetes educator at Adventist Health Hanford, said the program utilizes a highly-individualized weight-based approach that uses the patients history to provide advanced in-patient diabetes care.
Typically, if a patient is admitted with hyperglycemia, whether they are a new diabetic or known diabetic, Jones said the hospital runs what is known as an A1C test, which reflects the patient's blood sugar levels over the past three months.
If there are elevated blood sugar levels, Jones said he will speak to the patient and perform an assessment. Sahas will also consult with the patient to make sure blood sugar is controlled while in hospital.
Jones said education for new diabetics includes recognizing the signs and symptoms, blood sugar testing, and insulin or medication administration, among other topics.
Patients will also speak with a dietitian for any nutritional information they may need and are even issued a follow-up appointment with either Sahas or their primary care provider, depending on their condition, before they leave the hospital.
"We want to make sure to really prevent readmission and that our patients are truly confident leaving the hospital and being able to take care of themselves," Jones said.
Significant improvements were seen within the first year of implementing the program, including a decrease in dangerous blood sugar levels. The team also noticed a decrease in patients' time in the hospital and is expecting a decrease in patients returning to the hospital with the same complications.
"With this standardized care, we are now seeing that blood sugar levels are better controlled," Sahas said. "I'm expecting even better health outcomes for our patients in the months to come."
Jerald Campbell Jr. knows firsthand the quality of care that is received at Adventist Health Hanford.
Just two weeks ago, Campbell went into the hospital for pain that was caused by an abscess in his leg. Campbell, who was diagnosed with Type 1 diabetes eight years ago and had part of his left leg removed due to the disease, was referred to Sahas and the program.
Campbell said his time talking with Sahas and Jones during his hospital stay was helpful because he learned a lot of information that he previously did not know, including nutritional tips. He said he has since shared some of that information with others in the senior living community where he lives.
In fact, Campbell has nothing but nice things to say about the care he has received at Adventist, saying he has experienced nothing but great service there.
"Adventist Hospital has been real good to me, medical wise," Campbell said, adding he even loves the hospital's food.
Jones said the certification gives patients a feeling of ease knowing that nurses and physicians are on board with diabetic care and protocol. He said it is a huge honor, especially knowing the hard work everyone involved with the program, from implementing policies to education, has put into it.
"It's really nice to see that our hard work has been paid off and that we're continuing to improve our care here for our patients," Jones said.
Adventist Health Hanford underwent a rigorous on-site review in November 2018, where Joint Commission experts evaluated compliance with national disease-specific care standards and requirements. Clinical practice guidelines and performance measures also were assessed.
"Adventist Health Hanford has thoroughly demonstrated a high level of care for patients with diabetes," said Patrick Phelan, executive director, Hospital Business Development, The Joint Commission. "We commend the hospital for becoming a leader in diabetes care, potentially providing a higher standard of service for diabetes patients in its community."
According to the California Health Interview Survey, 16.2 percent of adults in Kings County have diabetes, compared to the statewide average of 9.9 percent. Diabetes leads to increased rates of hospitalization and death.
Hospitalizations in Kings County due to diabetes exceed 21 per 10,000 people, compared to the statewide average rate of 17, according to the California Office of Statewide Health Planning and Development.
"Establishing a Diabetes Center of Excellence in our hospital allows us to work to decrease this rate and improve patients' lives," says Andrea Kofl, president of Adventist Health in the Central Valley. "We're pleased with our teams for taking the next steps in elevating care for our community."
Get local news delivered to your inbox!
Subscribe to our Daily Headlines newsletter.