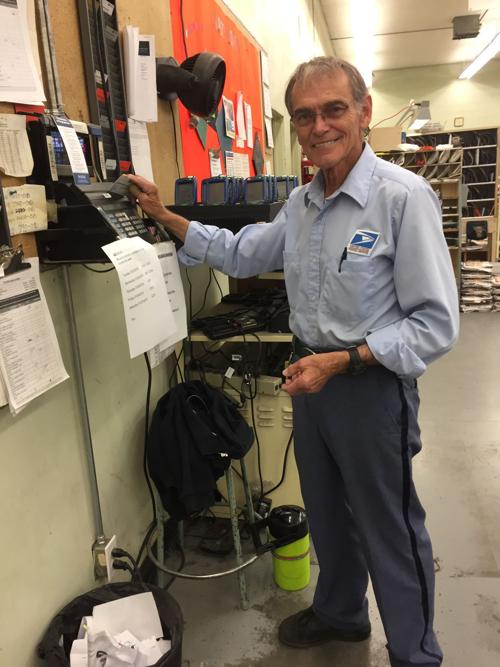 HANFORD — After 42 years, Bruce Marchbanks will still help a person in need, but will no longer walk about four hours each day to bring them their mail and packages.
Marchbanks, 68, retired last Friday from the U.S. Postal Service in Hanford.
He joined the U.S. Air Force in 1971 during the Vietnam War and served for four years, primarily in New Orleans.
After serving the military, Marchbanks returned to Hanford where he was born and raised.
He intended to go to California State University, Fresno to study child psychology with the hope to help children rehabilitate from and prevent drug addiction. However, in order to help out his family, Marchbanks took a job as a postal worker in 1977. At the time it was a job that paid the bills.
"School does not guarantee you much, but the job had a paycheck," Marchbanks said.
His job as mail carrier became more than just a paycheck. Marchbanks said that he got to know the families he delivered to, and a lot of the people were the ones he grew up with.
Mostly, Marchbanks enjoyed seeing the families on his route, seeing the children grow up, go off to college and return home afterward.
"Most mail carriers will help someone in a physical way in their career," Marchbanks said. "Help a person up when they fall … notice when the mail piles up and you take it back to the office … call the police when you see a door open and you know that family is on vacation."
He also was grateful for the treats and notes he often got around the holidays.
"You get your identity from your job," Marchbanks said. "You feel like you are worth something when you do a good job and people thank you for it."
The current postmaster, Timothy Tomlinson, said that Marchbanks was loyal and always in a positive mood on the job.
Tomlinson said it was amazing how long Marchbanks served as a postal carrier because the job is so demanding physically. Most carriers don't make it to 42 years.
You have free articles remaining.
Tomlinson recalled how Marchbanks would crack jokes even while the office was swamped with large holiday mail loads.
"He keeps the morale up that way, always cracking jokes," Tomlinson said.
Marchbanks advice for students is to get a part-time job doing something they would like to do. He also advises people starting their first or new job be honest and remember that you are working to make a profit for the company and not a name for yourself. He found that dedication to his work and doing the best possible job was what made him a good worker.
"Don't steal, don't lie to your boss and don't cheat or you will get fired big time," Marchbanks said as he chuckled. "Keep good ethics."
Marchbanks and his wife, Ursula Marchbanks, plan on traveling more now that he has retired.
"With him working, it's been a pretty routine life," his wife said.
One trip they plan on taking is to New Orleans with a stop in Texas. While in New Orleans, Marchbanks will reunite with "the old chumps" from his days in the Air Force.
Marchbanks and his wife plan to also take time to visit their family on the East Coast and their daughters in Fresno and Sacramento. They also plan to move closer to Ursula Marchbank's parents on the East Coast.
Tomlinson and Ursula Marchbanks agree that Marchbanks is very loyal and positive.
"He is loyal to his family and his job," Ursula Marchbanks said. "He has a positive attitude every day, even when he worked really, really long days."
One constant in Marchbanks' life is his love of the Lord and desire to help others.
In 2008, he joined members of Oasis church led by a local contractor to help people in Missouri affected by Hurricane Katrina.
"That was enjoyable to help other people," Marchbanks said. "People that lived there were floored that we came to help."
No matter where he ends up, Marchbanks wants to continue worshiping the Lord and helping others in whatever way he can.
Get local news delivered to your inbox!
Subscribe to our Daily Headlines newsletter.