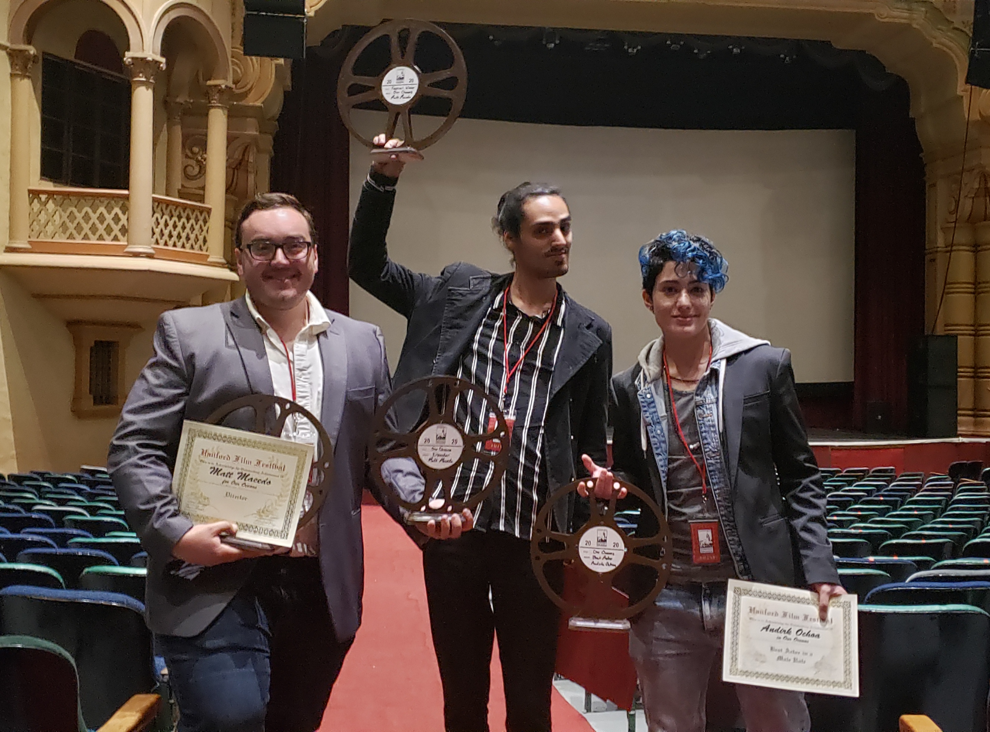 HANFORD — The emotional cast and crew of "Our Oceans" struggled to hold up all of their numerous awards Saturday night at the Hanford Film Festival.  
Written and directed by Hanford High School graduate Matt Macedo, "Our Oceans" nabbed six of the festival's 12 awards.
"I honestly didn't expect to get anything. My expectation was just that it would be an honor to have a film of mine playing at the Hanford Fox Theatre," Macedo said, adding that the six award were "icing on the cake."
The 12-minute film, which Macedo said is loosely based on his own life, centers around the lives of two brothers — Sean and Chris — following the death of their foster mother. It's revealed that the family suffered a rift due to negative reactions to Sean's gender identity. The brothers confront their past and consider repairing the relationship while grieving.
 "This is a very conservative town. The main character is a trans man, so bringing LGBT content into this atmosphere is risky but we were completely embraced," Macedo said.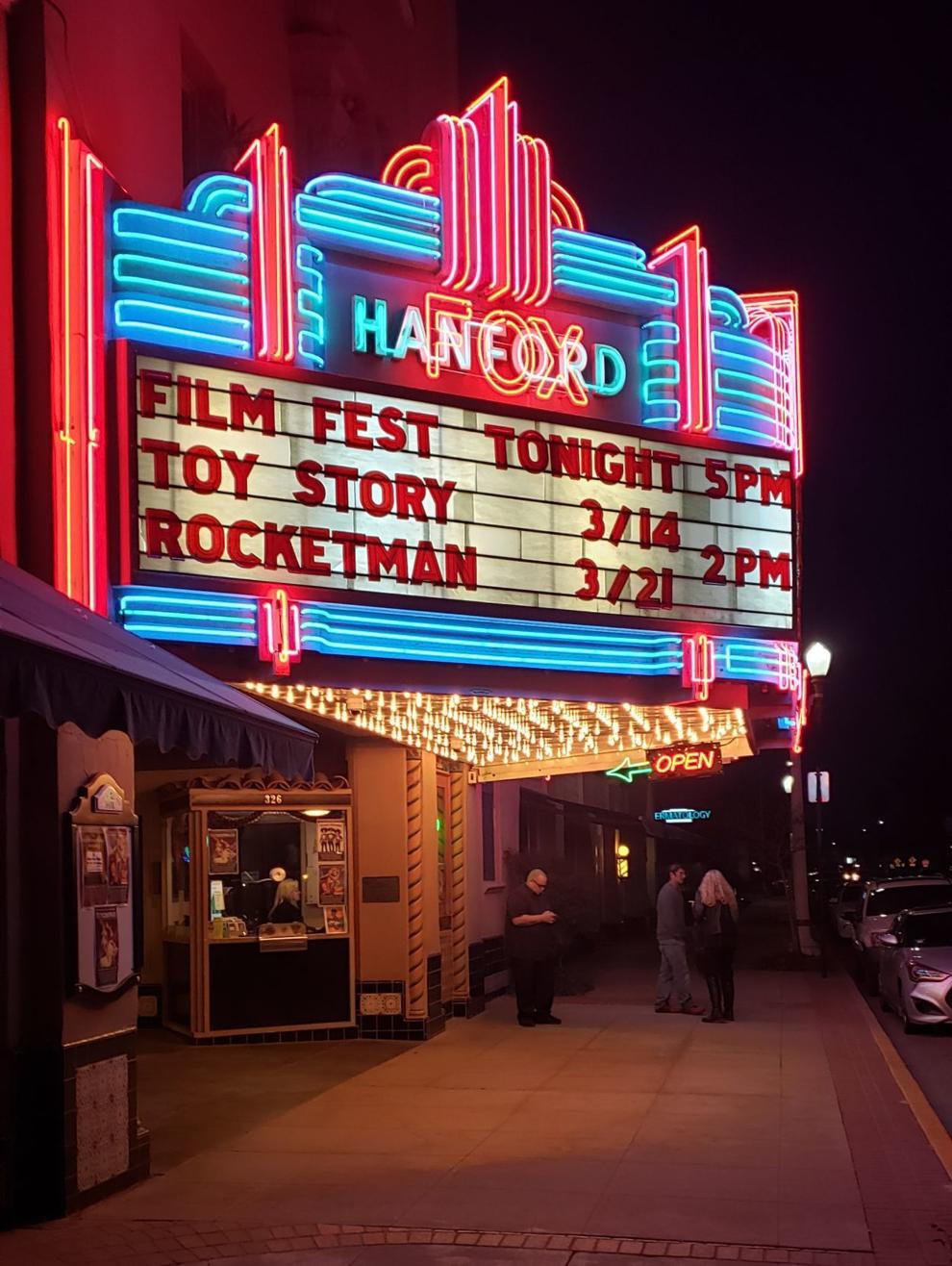 "It was unexpected. I didn't know that the film was going to be received with such a warm welcome. I was a little nervous because of the character in the film," said Andrik Ochoa, who was honored with the best actor in a male role award for playing Sean.
Macedo said that while he wanted to present LGBT issues in an authentic way, at its core the film presents a conflict that is relatable to pretty much every one – family drama.   
"LGBT people, trans people and non-binary people are so much more than just that -- they're humans," Ochoa said. "The beauty of the story that Matt told is that it appeals to what connects us as humans. It's about all the problems that we have to go through, regardless of who we are."
In addition to best actor in a male role and best director, "Our Oceans" was awarded in the categories of festival winner, best local short film, best writing/story and best short film.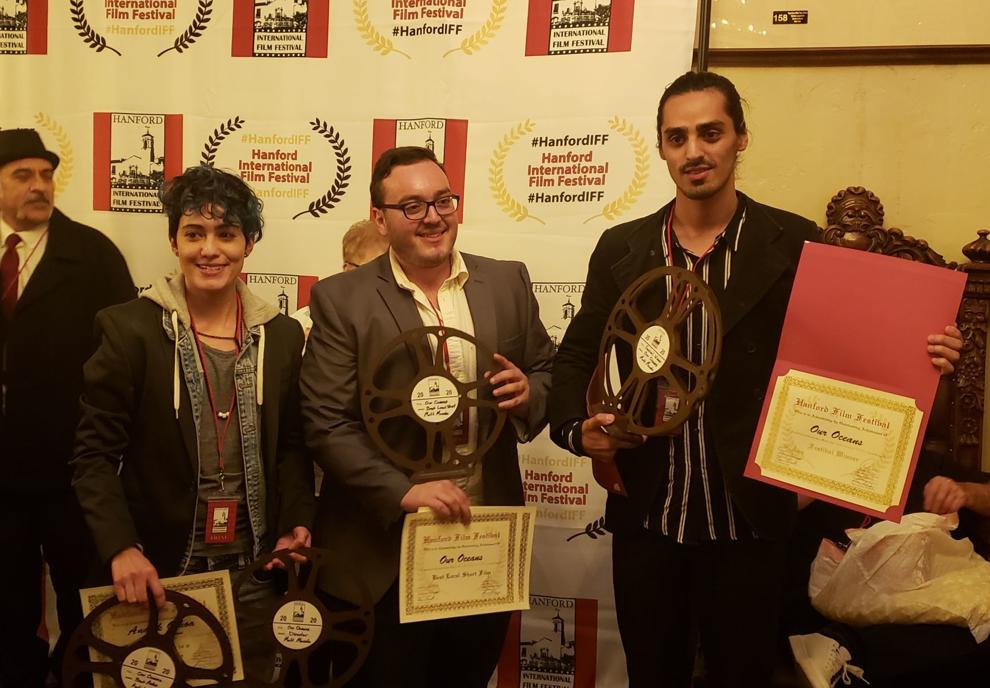 The second annual film festival featured more than 20 movies from international film makers. About a third of those were created by Central Valley artists.
The films, ranging in length from 5-20 minutes, screened Saturday night for an enthusiastic audience. Fans of drama, science fiction, animation, comedy and horror all got something to feast their eyes on.
The 3.5-hour screening was hosted by organizer George Miller, who said that he's confident that the event will grow year after year and praised the talented film makers who participated.
"If somebody does become famous, remember where you started. Keep us in mind," he joked.
Other award winners are as follows:
Best cinematography: Leandeo Monti, "Tight Spot"
Best actor in a female role (tie): Virginia Vargas," Fire Extinguisher" and Maita Garcia, "The Green Motel"
Director's Choice: "Jack Incarnate," directed by Fresno film maker Michael S. Rodriguez
High school short film: "Anansi," directed by Australian film maker Elliot Gibson
Best Central Valley short film: "Ring Toss," directed by Brian Harper of Visalia
Best Central Valley high school short film: "Don't Go," directed by Jessica Ruvalcaba of Selma High School