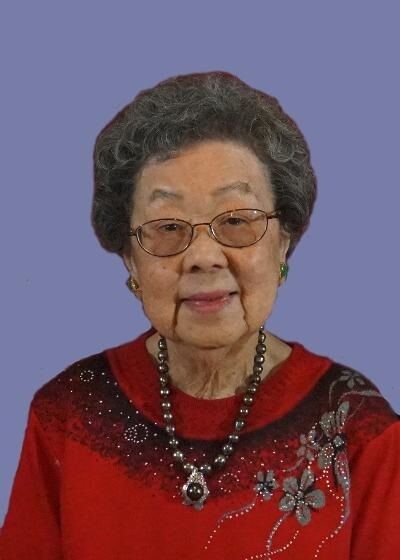 Yvonne Young, age 89, passed away peacefully in her sleep with family members present on February 28, 2021.
Yvonne was born on August 3, 1931 in Hong Kong, to Hoi Tai Ding and Gong Cen. The youngest of three children, she lived in a small village in Fah Yuen County in Canton (Guangzhou), China. Yvonne met and married Phillip Young in 1948 and received her visa to come to the United States in March 1950. She achieved her citizenship in June 1957.
Yvonne worked in the family grocery business in Hanford, later moving to Morro Bay in 1969 to work at the San Luis Obispo store locations. In 1981, Phil and Yvonne managed Youngs Giant Food in Morro Bay until their retirement in 1999.
Yvonne was an amazing woman! She enjoyed cooking many gourmet dishes and feasts, usually without a recipe or measuring the ingredients. She was an excellent seamstress making matching outfits for the girls without patterns and even made curtains! Yvonne enjoyed playing Mah Jong with family and friends. She also enjoyed cruising with the family and traveling around the world. Some places included China, Europe, Mexico, the Caribbean, Las Vegas, and Alaska.
Yvonnes favorite pastime was knitting and crocheting. She could watch TV or talk with you without having to look at her hands. She could figure out how to make something simply by looking at a picture or item in a store! Yvonne made numerous items including scarves, lap blankets, knit hats, slippers, sweaters, vests, pillow covers, potholders, and large bed blankets. She loved sharing them with her kids, grandkids, friends, and relatives, as well as donating many items to the Morro Bay Seniors organization and Veterans Hospital.
Yvonne was preceded in death by Phillip, her beloved husband of 67 years, brother Ying Ding, and sister Lorna Quon. She is survived by her son, Alex Young (Martha) of San Jose; daughters Catherine Nance (Steve) of Goleta, Vivian Gong (Elliott) of Morro Bay, and Jeannie Wong (Philip) of Fresno; seven grandchildren, nine great-grandchildren, and many nieces and nephews.
Due to COVID restrictions, a private Memorial Service will be held at Whitehurst McNamara Chapel in Hanford, followed by a private burial at Hanford Cemetery District. A Celebration of Life will be scheduled at a later date.
In lieu of flowers, memorial donations may be made to the Buddhist Tzu Chi Foundation-Northwest Region, 2355 Oakland Rd., San Jose, Calif. 95131, or your favorite charity.
Obituaries Newsletter
Sign up to get the most recent local obituaries delivered to your inbox.