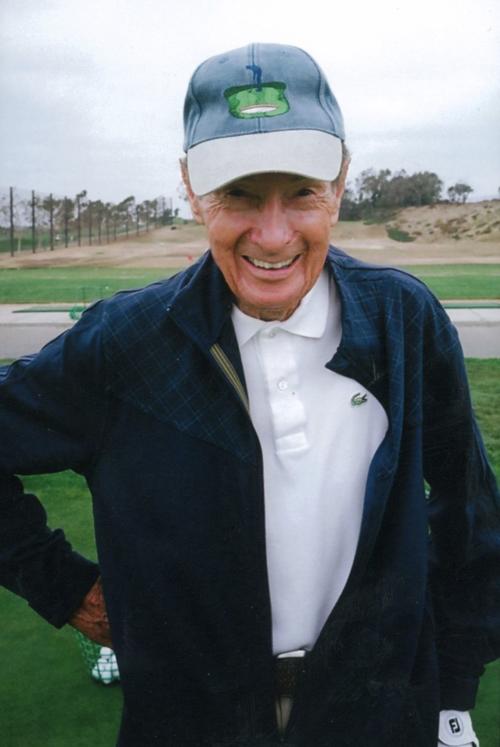 William Clyde Ball, M.D.
October 21, 1921-March 8, 2020
William Clyde Ball, M.D. was born in El Campo, Texas on October 21, 1921. He passed away on March 8, 2020 in Hanford, California at the age of 98 years.
Dr. Ball's parents, James and Lena Ball, were teachers and were also owners of cookie bakeries. They lived in eastern, Oklahoma, then moved to Houston, Texas where Clyde graduated from high school. Following two years in college in Keene, Texas, he transferred to the University of Texas where he entered the Navy. He was sent to medical school in Loma Linda University in California. While in medical school, he married the former Nadine Hansen of Corcoran. He completed his postgraduate training in Fort Worth, Texas.
In January of 1953, Dr. Ball, along with his wife Nadine and two young sons, moved to Corcoran where he practiced in a new office on Whitley Ave. His first patient was Bruce Flaherty. At that time in medicine, the scope of family practice was greater than today. Dr. Ball's practice included obstetrics and gynecology, surgery, orthopedics, and he treated a large patient population of Type II Diabetics. A past newspaper article about Dr. Ball stated that there were 2,500 residents of Corcoran when he first arrived and he probably doubled that population with the number of babies he had delivered. He also operated across the surgery table from Dr. Ed Kerr of Hanford for 43 years.
Dr. Ball and Nadine were blessed with two more sons after they made Corcoran their home. There was a brief move to Barstow when he was called up by the Army. He served as the chief of the outpatient clinic at the U.S. Army Hospital at Fort Irwin. Once returning to Corcoran, Dr. Ball worked long hours, sometimes being the only doctor on call for the community.
In 1977, Dr. Ball lost his beloved wife, Nadine. By then, his sons were grown and married with their own children.
In 1986, he married another Corcoran girl, the former Susan Murray. Together they raised her two daughters.
Though he continued to practice full and part time until his retirement in October 2014, he was able to play a lot more golf later in his career. He enjoyed courses all over the United States and Scotland. Dr. Ball and Susan had many wonderful vacations in Hawaii (his favorite) and Europe. A lifelong member of the Seventh Day Adventist Church, he credited his longevity and good health to the church's lifestyle.
Dr. Ball was preceded in death by his parents, his siblings and his first wife. He is survived by his wife Susan; sons Steven Ball (Donna), Craig Ball, M.D. (Lorna), Jay Ball, M.D. (Sonia), and Scott Ball (Jan); stepdaughters Christina Wadsworth (Chad) and Caroline Avitia (Tyron); grandchildren Kristen Brockman (Carl), Jess Ball, Chad Ball (fiancé Nicole Charon), Jacob Ball, John Ball, Jerod Ball (Stacy), Justin Ball (Michelle), Garrett Ball (Heather), Katelyn Visser (Kevin), Sam and Luke Wadsworth, and Trent and Lexi Avitia; and 11 great-grandchildren.
Services will be held at a future date to be determined pending the current situation in California. Donations in his memory may be made to the American Cancer Society.
Services by People's Funeral Chapel 559-584-5591.
To plant a tree

in memory of William Ball, M.D.

as a living tribute, please visit Tribute Store.
Obituaries Newsletter
Sign up to get the most recent local obituaries delivered to your inbox.