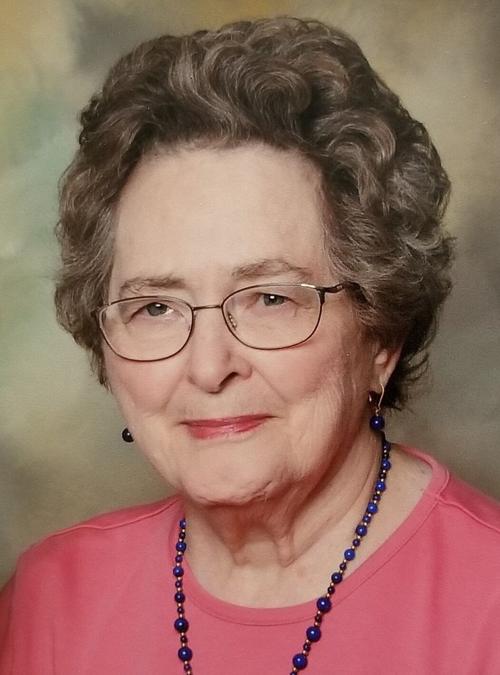 Rosemary Louise (Williams) Myers of Hanford, better known to her friends as Rosie, went home to the Lord on September 19, 2020. She was born on September 28, 1935, to Rex and Louise Williams. She spent her first years in the northern Sierras in Stirling City, where she grew up with two brothers, Bill and Conrad. Despite having her right eye damaged in a school accident at age 7, Rosie was an excellent student, skipping a grade. At age 11, the family moved to Chico and opened Rexs Café, where Rosie helped after school. She graduated from Chico High in 1952. That summer she met the love of her life, a cocky sailor with whom she faithfully corresponded while he was aboard ship for months.
Grant Myers and Rosie married in 1953 and honeymooned in Oklahoma, visiting relatives. The young couple landed in San Diego, where he was stationed during the Korean War. Son Robin was born in 1954 and daughter Laura in 1957. After leaving Navy life, Rosie stayed home with the children while Grant finished college before the couple came to Hanford to begin his teaching job, welcoming daughter Nancy in 1962.
Once the youngest child entered school, Rosie became the secretary for the business department at Hanford High School. Later in her career, she was a tremendous help to the teachers and administrative staff, running the schools print shop and, on occasion, stepping in to cover a classroom if a teacher was called away for a short time.
Upon retirement, she joined her husband and friends, walking 4 miles six days a week (with a break mid-way for coffee) in the early years with less distance once the men reached their 80s. She claimed that she began quizzing her friends with trivia questions to keep their minds sharp, though the resulting discussions often led to more hilarity than knowledge. She continued reading trivia questions at coffee even later when she was no longer able to participate in the walking. At home, Rosie enjoyed doing jigsaw puzzles and tending her many flowers. For many years, she and Grant also enjoyed monthly pinochle games and dinner with 3 other couples.
Rosie loved her church family. She had served as a deacon at First Presbyterian Hanford and, in later years, loved singing alto in the choir at Lemoore Presbyterian Church.
Rosie is survived by her husband Grant; her children and spouses, Robin Myers, Laura & Jim Nelson and Nancy & Joel Ostlund; her grandchildren, Tom & Nellie Nelson, Trevor Nelson, Erik Ostlund and Adam Ostlund; her brother Conrad Williams; her sister-in-law and husband, Bonnie & Jon Pata, and numerous nieces and nephews.
In lieu of flowers, donations may be made to Lemoore Presbyterian Church, 260 B St, Lemoore, CA 93245.
A memorial service will be held at a later date.
Family and Friends are invited to view Rosies legacy at www.peoplesfuneralchapel.com and write condolences.
Services by Peoples Funeral Chapel
584-5591
Obituaries Newsletter
Sign up to get the most recent local obituaries delivered to your inbox.