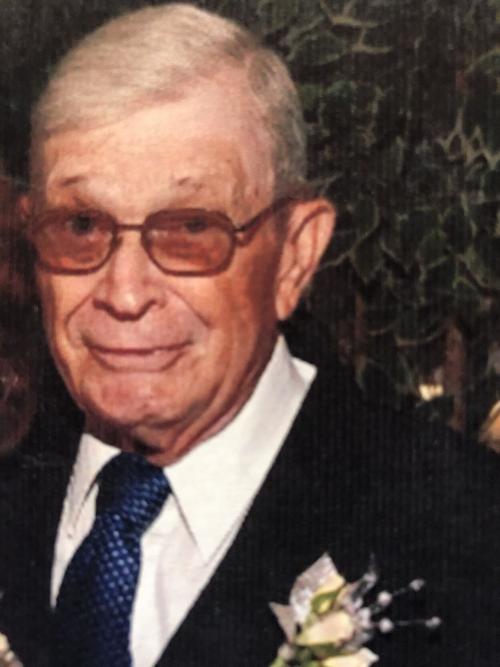 Gerald Wilkinson passed away Monday, March 8, 2021 in Hanford, California. He was born April 4, 1927 in Tushka, Oklahoma to Floyd and Mamie Wilkinson.
Gerald graduated from Tushka HIgh School in 1945. He served in the Army, stationed in Germany, and was honorably discharged in 1947. He received his Bachelors Degree from Southeastern State University in Durant, Oklahoma; his Masters Degree from East Texas State University in Commerce, Texas; and his Doctorate of Education from North Texas State University in Denton, Texas.
Gerald was an educator his entire professional life. He was a teacher and principal in Oklahoma and New Mexico before moving to Hanford, California in August 1963. He taught 8th grade Math at Woodrow Wilson Junior HIgh. After achieving his Doctorate degree, he was the Superintendent at Pioneer School District, retiring in June, 1988 after 17 years of service. He also taught Math for College of the Sequoias.
Gerald married his loving wife, Olena Ralls Wilkinson in Sherman, Texas on December 31, 1948, They enjoyed 72 wonderful years together.
Gerald was a lifelong man of God. He served as pastor in Oklahoma and was pastor of the Stratford Baptist Church, retiring in 1993. He was a member of the First Southern Baptist Church in Hanford.
Gerald enjoyed music, playing both guitar and fiddle and singing some of his favorites. He especially loved playing his fiddle. He was a founding member of the Gloryland Music Group , ministering in local convalescent homes. He enjoyed traveling to Branson, MIssouri to see his favorite Country Music performers.
Gerald is survived by his wife, Olena, and his children; daughter, Alicia and Chris Simoni; their children Eric and Carey Simoni, Letitia and Brett Zugnoni, Tina and Nick Nobreiga; daughter Kathy and Lee Barcellos; their children, Heather Barcellos Vasquez, Brett and Andrea Barcellos; son Glendel Wilkinson; son Jason and Karen Wilkinson; their children Grant Lawrence, Lacey Lawrence, Beau Wilkinson, Sydney Wilkinson. He is survived by 14 great grandchildren.
Preceding him in death were his parents, Floyd and Mamie Wilkinson and infant siblings, Teeny and Arthur.
Visitation will be Thursday, March 18. 2-4 PM at Peoples Funeral Home in Hanford, Graveside services will take place Friday, March 19, 9 AM at Hanford Cemetery. A Celebration of LIfe will follow at 10 AM at the First Southern Baptist Church, 1207 N. 11th Avenue, Hanford,
In lieu of flowers, please make a donation to the First Southern Baptist Church Hanford, the American Diabetes Association or the American Heart Association.
Obituaries Newsletter
Sign up to get the most recent local obituaries delivered to your inbox.