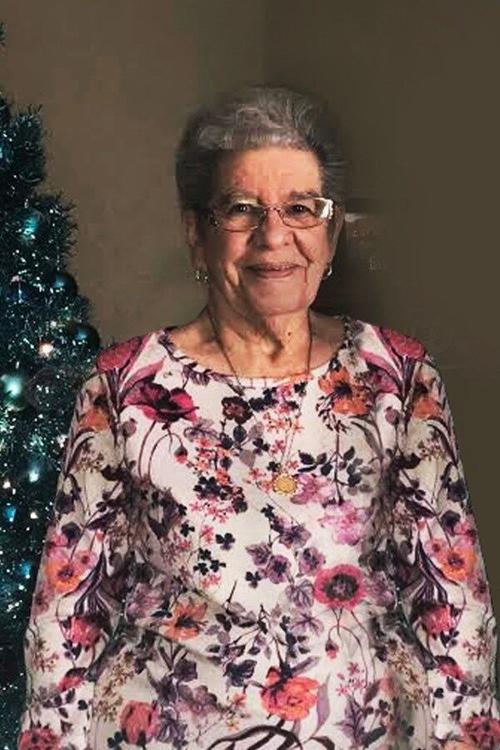 Phyllis Mary Costa, 86 of Hanford passed away Friday February 12, 2021 in the loving arms of her family.
Born May 1, 1934 in Lemoore, CA to Antonio C. and Julia Simas, she relocated with her family at a young age to their dairy farm in Hanford, CA where she attended Eureka Elementary and Hanford High School.
She met neighboring dairyman Alton B. Costa and they married in 1953, settling on the Costa family dairy farm in rural Hanford where they raised 11 children. Phyllis was a full-time mother for many years but later took on teachers aide positions at Kit Carson and other Kings County schools working primarily with developmentally disadvantaged children.
Phyllis was active with the Kit Carson Mothers Club (now Parents Club) for over 20 years, holding the offices of President, Secretary and Treasurer. She was also involved with the Mid-Valley 4-H Club for many years.
A proud Portuguese-Catholic child of immigrants, she was an active member of many affiliated groups and lodges including SPRSI #42, SPRSI #118, Catholic Daughters of America St Francis of Assisi Court #1652, Stratford IDES, Hanford Fraternal Hall Association and the Kings County Historical Society. She was a faithful parishioner of St. Brigid Catholic Church and taught catechism for many years at Immaculate Heart of Mary Catholic Church.
In 1977, she was named Hanfords Mother of The Year by the Kings County Kiwanis and Hanford Optimist clubs.
After selling the family farm in the mid-1980s, Phyllis and Alton divided their time between Hanford and Pismo Beach, CA where they also owned a home. They spent their retirement years traveling with friends and family all over the country including several cruises. They also visited her family homeland on the Portuguese Azores Islands. They eventually relocated full-time to Grover Beach, CA for several years where they were active with Saint Paul the Apostle Catholic Church and St. Anthony Celebration in Pismo Beach.
They returned permanently to Hanford shortly before Altons passing in 2007.
In recent years, Phyllis remained active with her various groups and charities including a long-term volunteer position distributing food and clothing to low-income families at St. Vincent DePaul (now St Brigid Community Outreach). She also enjoyed domestic travel with her friends and visiting family in Palm Springs and Idaho. She had recently resigned from the Board of Directors for St. Anthony Celebration in Pismo Beach where she served as Secretary.
She is survived by 10 of her children; Tom (Jon Levario), Sandra Rodriguez (Johnny), Vernon (Brenda), Joyce Martinez (Phillip), Marjory Rocha (Steve), daughter-in-law Jackie Costa all of Hanford, Janice Augusto (Ron), Carol Augusto (Raymond), both of Lemoore, CA, Mary Lou Bunch (Larry) of Avenal, CA, Gary (Stephen Carnes) of Las Vegas, NV and Chris (Debbie) of Hayden ID; plus 21 grandchildren, 23 great-grandchildren and one additional great-grandbaby due in March.
She is also survived by brothers John Semas of Hanford and Daniel Simas of San Diego as well as a sister Ann Culp also of Hanford and a countless number of nieces and nephews. She considered her best friend Delores Rocha of Hanford as a sister as well.
In addition to Alton her husband of 54 years, Phyllis was preceded in death by her youngest son Dale just one month ago. She was also preceded in death by infant brother Daniel Simas and brothers Joe Semas and Tony Simas.
Visitation will be held at Whitehurst McNamara Funeral Chapel on Wednesday, February 24 from 5-7 PM with a rosary service at 6 PM. Funeral Services will be held at St Brigid Catholic Church on Thursday, February 25 at 11:30 AM followed by internment at Calvary Cemetery. At Phylliss request, ATTENDEES MUST NOT WEAR BLACK. She requested the service be filled with color and light.
In lieu of flowers, Phyllis requested people instead donate to The St Brigid Community Outreach Center of Hanford, The Dale Costa Memorial Scholarship Fund c/o Hanford FFA Parents Club or to your favorite charity.
Obituaries Newsletter
Sign up to get the most recent local obituaries delivered to your inbox.