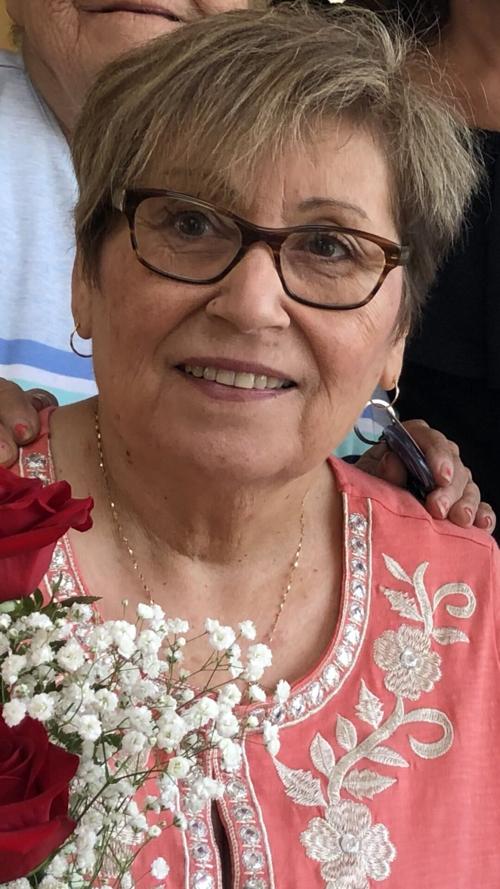 Norma Ann Estrada of Hanford, CA went home to her Lord, Saturday, September 26th, 2020 in Fresno.
Norma was born September 15th, 1948 in Laton, California. She was preceeded in death by her parents, Frank & Adeline Estrada, her sisters Delia Rodriguez, Josie Rodriguez and Nonie Garcia and brothers Chris Royval and Albert Royval, her nephews Henry Rodriguez, Albert Rodriguez and Robin Pacheco and niece Olga Rodriguez.
Norma worked for the Hanford Unified School District for 25 years. Norma was also the primary care-taker of her late mother as well as her sister Francis. She enjoyed watching her family at different sporting events, her most favorite being the car races. Norma enjoyed her many trips to the coast with her sister. Norma spent her life as a devout Catholic. She was the ultimate servant to our Savior. She was a member of the Alter Society at Immaculate Heart of Mary Church in Hanford and volunteered at St. Vincent de Paul every chance she had. Norma led a simple life and loved the Lord.
Norma is survived by her sisters Nellie Pacheco, Francis Estrada and Yolanda Warmerdam(Corny) of Hanford, CA and her nephews Danny Garcia(Maria) of Palm Springs, Chris Garcia(Delores) of Fresno, CA , Bob Garcia(Sandy) of , Randy Garcia(Maria) of Chula Vista, Robert Rodriguez of Armona, CA. Eric Pacheco(Kathy) of Kingsburg, CA, Derrick Pacheco of Hanford, CA , Jerome Warmerdam(Dina) of Lemoore, CA, Cory Warmerdam(Cindy) of Meridian, ID and Nieces Judy Ynez of Madera, CA, Sylvia Amador(John) of Armona, CA, Elisia Driver(Harry) of Laton, CA, Loretta McFaddin(Dale) of Turlock, CA, Gloria Favela of Hanford, CA.
Please join us Sunday October 4th at 5:00p.m. for the Rosary at Whitehurst McNamara Funeral Home, 100 W. Bush Street in Hanford, CA. Celebration of life Mass will be Monday, October 5th at 10:00a.m. at Immaculate Heart of Mary Church, 10435 Hanford-Armona Road in Hanford, California. Due to COVID restrictions, burial will be private.
In lieu of flowers, the family requests donations be made to The Alter Society of Immaculate Heart of Mary Church in Hanford.
Obituaries Newsletter
Sign up to get the most recent local obituaries delivered to your inbox.