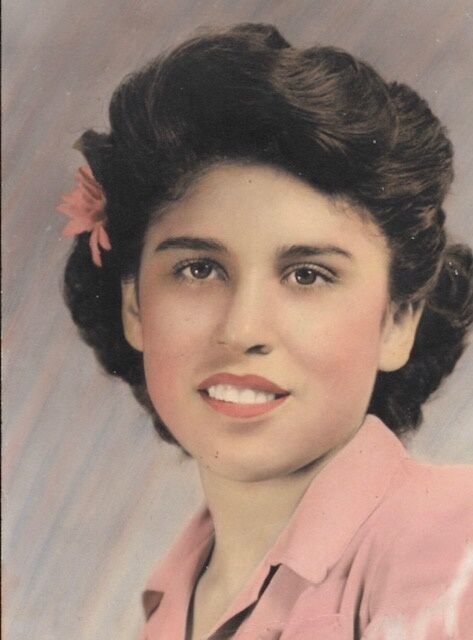 Margaret Briano Ordonez, was born on October 5, 1926, in Hanford, California to her father, Eugenio and her mother, Norberta. She married Espiridion "Ruco" Sepeda and they had one daughter, Lydia Sepeda, together. She divorced from Sepeda in 1947. Margaret then married Juan Castro Ordonez June 15, 1958, and they had two children together, Darlene and Valentina.
Margaret was a product of the Hanford public education system and attended Hanford High School. To assist her family financially, Margaret left high school before graduating and began working as a farm laborer in 1946. She continued working in California's Central Valley as a farm worker for nearly 20 years. In 1964, Margaret decided she would go back to school and enrolled herself in a Licensed Vocational Nurse (LVN) program. After obtaining her LVN certification, she began working as a nurse at Kings County Hospital. She worked for the County for to several years and then started working for Hanford Community Medical Center until she retired at age 65. Margaret, through her example and very strong work ethic, instilled in her family the importance of obtaining a higher education. This demonstration of perseverance has always highlighted to Margaret's family that anything is possible regardless of where you start in life.
Margaret was a tremendous woman of faith and had a strong personal relationship with her Lord and Savior Jesus Christ. For the vast majority of her life, Margaret attended the Hanford Bilingual Seventh-Day Adventist Church and for several decades she taught a pre-school bible class there.
She is survived by her brother, Manuel Briano, and wife Sharon; three daughters (Lydia Sanchez, husband Tony, Darlene Brieno, Valentina Selby, husband Dale Selby). Her 8-grandchildren; Michael Sanchez, wife Kathryn, Ann Margaret Lloyd, husband Steve, Jon Sanchez, wife Ann, Aaron Brieno, Krista Jett, husband Eric, Dalen Selby, Ariana Selby, and Jade Selby. Margaret was also blessed with 8-great-grandchildren; Sabrina Lloyd, Vanessa Lloyd, Kyle Lloyd, Ethan Sanchez, Nate Sanchez, Bella Sanchez, Harlan Jett, and Isla Jett. She is also survived by her niece, Anna Hernandez, who was referred to as her adopted daughter. She passed away due to the effects of a stroke on the morning of July 21, 2020, in Roseville, California, at the age of 93.
Margaret was passionate about her family and her church and she was loved and adored by her family and friends. Margaret was a selfless woman who contributed generously of her money, time, and cooking to organizations she believed in, including Hanford Seventh-day Adventist Church, Armona Union Academy, and Kings Crusaders Pathfinder Club.
Due to Covid-19 restrictions and family wishes, a celebration of life/memorial service will be planned at a later date. In lieu of flowers please consider a donation in Margaret Ordonezs name to Armona Union Academy. If you wish to contact the family, please send your email message and request to valentinaselby@att.net. This obituary cannot fully tell the story of this much loved, adored and complex women and she will be greatly missed.
Obituaries Newsletter
Sign up to get the most recent local obituaries delivered to your inbox.