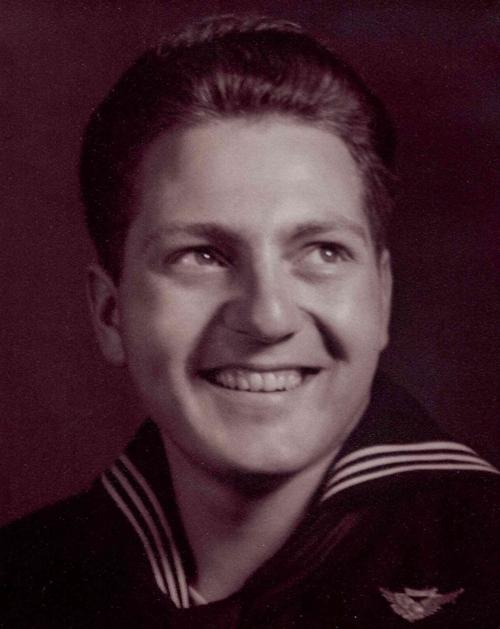 Larry, a resident of Kingsburg, CA was born in Wendell, Idaho on March 31, 1926. He passed peacefully at home with Marcella, his wife of 70 years by his side. Growing up during the Depression, he had fond memories of his family living in Monrovia, CA where he would watch minor league baseball with his dad outside the fence, unable to afford admission. This must have instilled a passion for sports because Larry went on to become a 4-year Varsity letterman at Jerome High School in Idaho.
As the story goes, Larry and his brother Bud "gentle-broke" a wild mustang during their teenage years. Despite Larry's mother's disapproval he spent many hours riding the sagebrush flats with his best friend.
Larry enlisted in the Navy soon after graduation in 1944, eager to be part of our country's defense during WWII. As a radioman he flew missions over the Gulf of Mexico between Corpus Christi, TX and Guantanamo, Cuba. Following honorable discharge in 1946 Larry enrolled at the University of Idaho under the G.I. Bill as a student-athlete, receiving his Bachelors and Masters in Education in June of 1950 (and later earned a Masters in Education Administration from Fresno State as well). Larry met Marcella Minden while both attending the U of I and married in August of 1950. He taught and coached in Idaho for three years prior to accepting a teaching/coaching position at Selma High in 1953.
Larry wore many hats at Selma Unified during his 31 years including teacher, coach, Director of Athletics, Dean of Students and Principal. Always passionate for sports, he was involved in the Fresno City/County All-Star football games for many years. He was also one of the organizing forces of the first Selma Invitational Baseball Tournament which continues to be a premier tournament in the Valley. Larry drove the same 1965 GMC pickup to work for almost 20 years. The "Red Truck" is still in the family and a trip to town almost always includes conversations with former students proclaiming "I know that truck! I would never have made it through High School if it weren't for Mr. Stone. He gently but firmly nurtured many young students who needed encouragement. Supporting a family of eight on a teacher's salary, Larry spent his summers teaching school, working at Libby's Cannery, or as a crop inspector for Ortho Chemicals. He always knew where to find the best fruit in the Valley!
Retirement took Larry and Marcella back to Idaho in 1984 where they established "The Pine Ranch". Back in the saddle, he enjoyed exploring trails and logging roads surrounding their 25 acres. Larry's Arabians, Smoke and Buddy were very important not only to him but to his children, grandchildren and the many friends and family they hosted over their 25 years at The Pine Ranch. Hunting, fishing, snowmobiling, cutting firewood, skiing and Marcella's home cooking were always highlights. No meal would be complete without chocolate pie or homemade ice cream regardless of the temperature outside. The Pine Ranch was a destination we all looked forward to. Larry always said how grateful he was for the family and friends he had in Idaho. Many looked up to him, as he was a great influence and touched so many lives. Larry and Marcella returned to Kingsburg in 2009 to be near their children once again.
Larry was a humble man, devoted to his faith. He was instrumental in efforts to rebuild Selma's St. Joseph Church, classrooms, and bell tower. He was a charter member of the Knights of Columbus and former Grand Knight. Larry and Marcella have been consummate organizers and used their combined skills to support and benefit their parishes. They loved to dance and looked forward to any church function where music and food were involved.
Larry was Selma's Citizen of the Year in 1984, a Kiwanis Club member, served on Selma's Planning Commission, and countless other community service groups. He competed in the Two-Cities Half Marathon walk at the age of 85 alongside daughter Julie. He was proud to have finished third, but we never had the heart to tell him there were only three in his age group. Larry loved his family deeply and he knew he was loved in return.
Larry is survived by his wife Marcella, sons Greg (Pemmie), Jeff (Olivia), David, daughters Cathy Hughes (Dwight), Julie Freund (Rick), 11 grandchildren, 4 great-grandchildren, and brother Edwin "Bud" Stone. Son Steven precedes him in death. The family plans to have a Celebration of Life this Fall.
In lieu of flowers, the family encourages you to pay it forward and perform acts of kindness and/or donate to your favorite charity. Your stories and tributes would be most welcome at coachstoney1@gmail.com
Obituaries Newsletter
Sign up to get the most recent local obituaries delivered to your inbox.