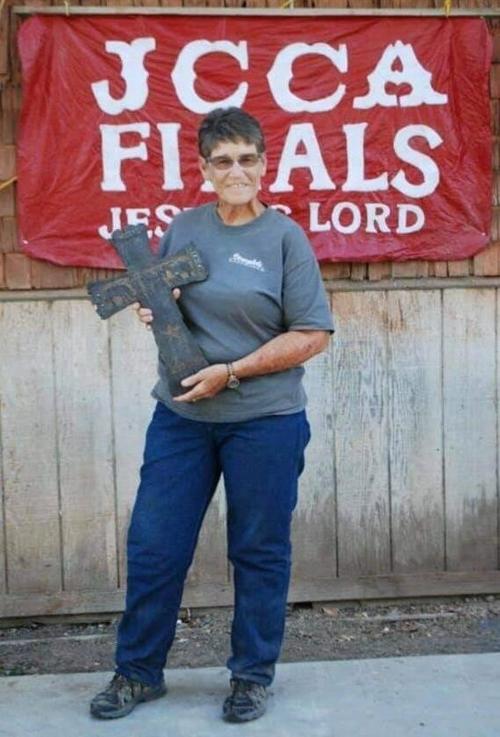 On December 28 2020 Judy Willard (Grandma Judy) passed away at the age of 72. Judy was born in Madera Ca on November 19, 1948 to Troy and Betty Gatlin, she was the youngest of her siblings Bobby, Billy, Burl Van, Darla, and Nita. She married James (Cotton) Willard in June 1969 and together they raised three children Dee Dee, Kevin and Heather---later Cotton and Judy was gifted three granddaughters to raise Brianna, Katelyn and Hailey, Judy adored children and was never without them.
Judy had a passion for horses from the time she was a very young girl, at age 14 her dad bought her a young horse named Ajax and told her she had 30 days to ride her or she would be sold and Judy was never to speak horses again. Judy rode her; and Ajax and her dog Peppy was her best friends and they spent many many hours together. Judy went on to have numerous horses, and the horses were always a staple in Judy's life. After Judy's three kids were born the family started the sport of rodeo. They traveled many days and many hours to hit the next rodeo and it brought the family very close with many great memories. Judy loved to teach kids how to ride and she spent many hours out in the arena. As an adult she decided to follow a dream of hers and go back to school to be a Veterinary Tech. She graduated with honors from her class and went to work for Doc Miller from Dinuba, this was a dream come true for Judy and she worked for Doc for many years. All her family and friends would call her with every pet injury/illness and she always knew exactly what to say and do.
When she was gifted her granddaughters to raise the girls loved the sport of soccer and this gave Judy the opportunity to learn a new sport with new friends. Like rodeo, she loved the sport of soccer and the closeness the soccer families shared while practicing and traveling to games.
Judy was preceded in death by her father Troy, mother Betty, brothers Bobby, Billy and Burl Van, sister Darla, and son Kevin. She is survived by her husband Cotton Willard, daughter Dee Dee Oliveira (Larry), daughter Heather Willard and daughter in law Irene Willard. She has eight grandchildren Tyler Turner (Adreanna), Bailey Willard, Tegan Turner, Brooke Willard, Brianna Chittum (Nathan), Katelyn Hunt (Hannah), Blake Willard and Hailey Langley. She has two great grandsons Austin and Wyatt Turner. Grandma Judy had a g-nephew Ty Hodge, g-niece Sheyenne Hodge and Skylar Turner who spent much of their childhood with her and they grew to be her own grandchildren. She is also survived by many other nieces and nephews and great nieces and nephews which she always held dear to her heart. Grandma Judy will be missed by many.
The family is planning a celebration of life at a later time.
To plant a tree

in memory of Judy Willard

as a living tribute, please visit Tribute Store.
Obituaries Newsletter
Sign up to get the most recent local obituaries delivered to your inbox.