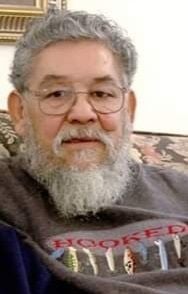 August 29, 1941 – February 3, 2020
You have free articles remaining.
Juan Jimenez of Hanford passed away on Monday, February 3, 2030 at the age of 78. Juan was born in Texas on August 29, 1941 to Julian and Maria Jimenez. In 1963 he met and later married, Margarita "Margie" Olivio. After living in the Huron and Coalinga areas, Juan and Margie eventually settled in Hanford to raise their family. Juan worked for over 50 years as a mechanic in the agriculture industry, during which time he was employed by Cinco Farms, Sierra Produce, A&B Ag Service and ending his career at Zacky Farms.
In his spare time, Juan enjoyed fishing and camping. One of his most loved adventures was loading up as many of the grandkids as he could to go camping and show them his love of fishing. He will be remembered for his huge heart to help others, the ultimate mechanic, being a jokester who loved to play jokes on others, and for always having either a cup of coffee or a "brewski" in his hand.
Juan is survived by his five children, Nancy Casey, Woody Jimenez, Bernardo Gonzales, Rebecca Jimenez and Johnny Jimenez all of Hanford and his 15 grandchildren and 19 great grandchildren. He is also survived by siblings, Jesse Jimenez of Pittsburg, CA, Micky Jimenez, Julian Jimenez, Ray Jimenez, Stella Gaytan and Diana Soto all of Hanford. He was preceded in death by his parents Julian and Maria, sister, Rosie Guerrero and in 2017 by his wife of 53 years, Margie, which his love and devotion remained endless even after her death, as when he was no longer able to drive, he was determined to continue his daily visits with her and would set out for the nearly 2 mile walk to the cemetery with the aid of his walker or wheelchair to do so.
Visitation for Juan will take place on Monday, February 17, 2020 from 5:00 to 8:30 p.m. with the recitation of the Holy Rosary at 7:00 p.m., both will be held at Whitehurst McNamara Funeral Home, located at 100 W. Bush Street in Hanford. On Tuesday, February 18, 2020 at 10:00 a.m., a Graveside Service will commence at 10:00 a.m. at the Hanford Cemetery District located at 10500 S. 10th Avenue.
To plant a tree in memory of Juan Jimenez as a living tribute, please visit Tribute Store.