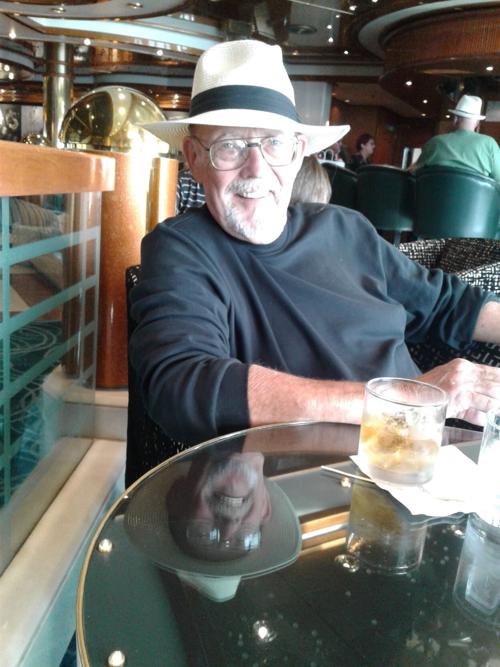 John was born on New Years Eve, 1942, to Don and Evelyn Luoma, in the City of Brooklyn, Kings County, New York. John attended Grammar School at P.S. 179 and graduated from Fort Hamilton High Schools Advanced Placement program in 1959 when he was sixteen years old.
As a graduation gift, Johns parents sent him to visit family in Camarillo, California, and John never returned to Brooklyn.
Shortly after arriving in California, John went to work at Camarillo State Hospital for the mentally ill as a Psychiatric Technician, still at the tender age of sixteen. John worked at CSH for the next ten years, except for a brief period of time when he served as a Corpsman in the Naval reserve. John met his wife, Wyleen, when they were both Psychiatric Technicians at CSH. They were married in a civil ceremony at the historic Santa Barbara County Courthouse in April, 1967, and spent the next 52 years together.
Following their years at CSH, John and Wy moved on to the ownership and management of a small residential facility for the care of discharged Hospital patients. During the next seven years, three of their sons were born, and shortly thereafter they sold their business and began the second phase of their lives.
From the very beginning of their marriage, John and Wy knew that when they started a family one of them would stay at home with their children. When that time came, John decided that he would be the full time stay at home parent of their boys. This arrangement was sufficiently unusual in 1983 to bring John to the attention of the local newspaper and he was the subject of a two-page feature article in the June, 1983, issue of the Ventura County Star Free Press, titled "Ventura Dad a Happy Stay-At-Home".
By the time the boys entered High School, John and Wy began phase three of their years together. In 1998, they moved to Hanford, CA, where John once again found himself living in Kings County this time in California, not Brooklyn. As the boys no longer needed full-time parental attention, John entered the Licensed Vocational Nursing Program at the Hanford Adult School. He graduated with Honors and was once again featured in a local newspaper, as the President of the Graduating Class.
John and Wy exited full-time employment when they reached sixty-five (and Medicare!). After sixteen years with Kings View Mental Health Services, John retired from his position as Director of Nursing and he and Wy then began phase four of their joint venture, which turned out to be every bit as fun as their child-raising years had been.
Over the thirty years that John and Wy lived in Hanford, John acquired considerable recognition among family, friends, colleagues and fellow practitioners and patrons of Hanfords local theater arts. John and Wy were active members of the Kings Players theater group for over twenty years and John served as a KP Board member for most of those years. John could always be counted on for his skills as a set designer and builder, performer, director, writer and co-producer of some of the Theaters most successful productions, most notably several of the immensely popular Colonel Throttebottom variety shows. John himself rarely referred to his accomplishments, which he viewed with a highly critical eye, preferring to talk about the achievements of others.
Of Johns array of home skills, first and foremost was his self-taught virtuosity as a cook of the finest caliber; a talented bartender, and a witty and gracious host who preferred listening to talking. He was a self-taught naval historian and possessed an extraordinary breadth and depth of general knowledge as well as a prodigious green thumb. And although John could not read music, he nonetheless composed a waltz he titled "For Wy," which was arranged for the piano by accomplished Hanford musician, Bonnie Anderson .
Had anyone ever thought to ask John what his lifes greatest passion was, he would undoubtedly have wavered between Baseball and Wy-quite possibly in that order.
A few weeks before his death on October 26th, John received a letter from a longtime friend, who said in closing, "You are a true renaissance gentleman, a carpenter, a thespian, a scholar, a baseball aficionado, a chef and a raconteur, to boot!" - words both gracious and true.
Those who along with Wy, loved John most deeply, but could not accompany him on his final journey, are his sons Aaron, Kai, Paavo, Kjell and Gavin, whose personal tributes to their father will resonate within his family so long as memories resound.
To plant a tree

in memory of JOHN LUOMA

as a living tribute, please visit Tribute Store.
Obituaries Newsletter
Sign up to get the most recent local obituaries delivered to your inbox.