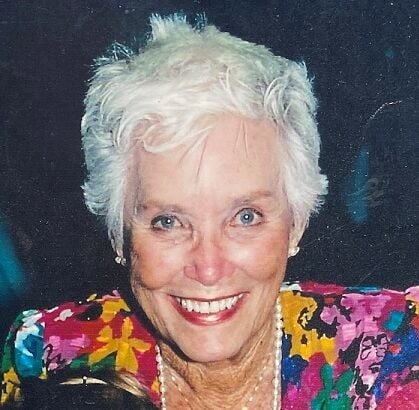 Longtime Hanford resident Joan Alexander passed away peacefully in her home on January 18, 2021 at the tender young age of 95. She had been in failing health for some time, natural to someone of her advanced age, but was lively and involved till near the end. Family members were at her side.
Born on August 14, 1925 in Westville, Oklahoma near the Arkansas border, Sybil Joan deRoulhac moved with her family to Los Angeles at a young age where they settled in what later became West Hollywood. Her father, Paul, drove a laundry delivery truck and her mother, Vera, was a milliner for the Ice Capades, later taking in private clients doing clothing alterations. From an early age Joan had a great interest in a career on stage or in film. She pursued this interest while attending Fairfax High School, taking drama classes and appearing in the theatrical productions there. Her children would later lovingly say that anyone who ever spent time with their mother would know she never missed an opportunity to be quite dramatic.
After graduating Joan took secretarial classes and worked at odd jobs in that capacity before interviewing and obtaining a job as a Messenger Girl at MGM film studios and later CBS studios delivering messages to actors, directors and others who worked on the films in production there. She loved the work as it afforded her access to the world of film and many opportunities to interact with some of the most famous film stars of the time. In later years she would regale friends and family with hilarious and entertaining stories of these stars and their off-camera foibles as human beings. For a time she was assigned the job of playing records for Lana Turner in her dressing room, spending many hours in her company. Joan's other stories involved stars such as Frank Sinatra, Cary Grant, Katherine Hepburn, Spencer Tracy, Gregory Peck and Laurence Olivier, to name a few.
In 1948 she met and married Lawrence B. Alexander, an architectural student at USC on the GI bill. They moved to Hanford in 1956 with two youngsters in tow, and Mr. Alexander set up Hanford's first architectural firm, ALEXANDER AND DORMAN, credited with designing some of Hanford and Kings County's most striking buildings, including the Kings County Office of Education building on W. Lacey Blvd. known locally as "the round building", the Kings County Jail, Woodrow Wilson Junior High School, the Alcazar office building on N. Irwin St., the Kings County Library across from Superior Dairy, as well as many private residences in the area.
Shortly after arriving in Hanford Joan became active as one of the early members of the Kings Players, the local community theater company. She was a founding member of their Temple Playhouse, a converted Taoist Temple, on Visalia Street and, along with fellow members and longtime friends, Norma Grunwald and Audrey Liebold, acted in and directed many productions there.
An avid traveler, Joan journeyed to many parts of the world, and with the support of her husband often headed off on her own to explore other countries. Traveling alone never intimidated her and she met what turned out to be many longtime friends along the way. During her travels she would search out artwork, mostly paintings, and those who had been to her home were astonished at the collection of artwork on her walls.
It was only after a hip injury suffered in her 70's while on a dance floor in Hawaii that she began to curtail her travels.
At home she was a prodigious bridge player and attended and hosted many bridge parties. Joan had a great interest in young people. She frequently was invited by teachers to come to their classes to do dramatic readings of books, poetry and plays. Her son, Wayne, would tell how his friends in high school would come to the house, not to hang out with him but to sit and talk with his mother. He added that growing up she had an ability to make even the most onerous of activities fun. When the washing machine at home was on the fritz, a not infrequent occurrence, somehow she could make accompanying her to a non-air conditioned laundromat on a 110 degree Hanford summer day adventurous and interesting. "She was a wonderful, supportive, eccentric person and a great mother", he added.
Joan took great pride in her son-in-law Timothy Bowers' election to the office of Kings County Superintendent of Schools and attended many functions where he officiated in that capacity.
Her last years were mainly quiet, spending time with her children, grandchildren and great-grandchildren.
Her husband, Larry, having preceded her in death in 2001, Joan is survived by her children, Scott Alexander of Hanford, Wayne Alexander of Los Angeles, his wife Kim, Lynette Bowers of Goleta, Ca, her husband Tim, her grandchildren Danica Bowers, Bryce Bowers and Steven Bowers of Hanford, his wife Maggie, her great-grandchildren Adalie and Theo of Hanford, and her dear friend Sally Gordon of Hanford.
Due to the COVID-19 virus there are no services pending, At their mother's request the family will take her ashes and distribute them out into the world she so loved exploring.
To plant a tree

in memory of Joan Alexander

as a living tribute, please visit Tribute Store.
Obituaries Newsletter
Sign up to get the most recent local obituaries delivered to your inbox.