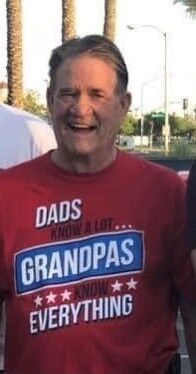 Born on December 16, 1946, James Craig was adopted when he was three days old by Robert and Elinore Athey, automatically gaining a best friend and beautiful sister Sandra Lynn. While his father was in the Marines, James spent a lot of time with his grandparents, Clyde and Orene Athey. In doing so, he earned the nickname "Skipper". After divorcing, Robert married Nadine Todd along with her son Lonnie Stephen. Skip and Steve were close in age, making for countless stories of snakes, BB Guns, and any trouble they could find. A few years later, the family was completed with the birth of youngest sister Robin. In addition to Armona, Skip lived in many different places including Hinkley, Hawaii, and Canoga Park where he attended different schools. He graduated in 1965 and was immediately drafted into the Army where he served his time in Germany.
Upon returning from Germany, Skip met and married Kathleen Ferreira. Together they had two daughters, Erin and Reagen. Although the two divorced after almost twenty years, they were still able to share many family activities, holidays, and sporting events after the grandchildren were born.
In the mid 70's, Skip came into contact with his biological mother Jessie Beathe Croft. Along with his mother, came six siblings, Jerry, Tom, Connie, Nancy, Jimmy, and Lora.
Skip was known for his quick wit, teasing, sarcasm, and sense of humor. His laugh would fill the room. During his life, Skip co-owned the Burger Basket and K&L Drive In with lifelong friends, but he eventually found his niche in the mortgage business. When he retired, he became a process server and a vocal advocate for all things important within the City of Hanford. Skip spent many hours driving patients to their appointments volunteering with the American Cancer Society. In his younger days, he coached Little League, played softball and volunteered with the Armona Fire Department, spending many Decembers on the tree lot. He was also a member of the Armona Lions Club and a 41-year member of the Hanford Elks. He had a love for old Westerns, The Three Stooges, and was a fan of the Rams and Dodgers. There were many text messages back and forth about sports with his grandson talking odds, plays, and mistakes made. He made many memories with friends attending yearly baseball games, going on cruises, and hanging out at the Old Hanford Cantina.
Recently, Skip was able to complete his family circle when he made contact with his last three siblings Jim, Rod and Marilyn. He enjoyed the fact he had twelve siblings.
James "Skip" Athey passed away on March 02, 2021 and was preceded in death by his parents Elinore Young, Robert and Nadine Athey, and Jessie Croft. He devastatingly lost his sister Sandy to Leukemia, and later his brother Steve. He is survived by daughters Erin Gonzales and her children Dylan, Eston, and Andrew and Reagen Hardin (Justin) and their children Maddox, Riley, and Jackson. Skip is also survived by his siblings Robin Graves, Jerry Coplin, Tom Coplin, Connie Hardy, Nancy Poggioli, Jim Croft, Lora Bettencourt, Jim Billingsley, Rod Billingsley, and Marilyn Steele. He also leaves behind many nieces, nephews, cousins, and friends that became a second family.
A memorial service is planned for Wednesday, April 7, 2021 at the Hanford Fraternal Hall at 10AM. Due to COVID seating restrictions, we ask that you refrain from bringing children. Burial at Armona Cemetery will be private. A special thank you to the girls at DaVita and also to Bristol Hospice. In lieu of flowers, the family asks that you make a donation to the Hanford Elks Organization #1259 in Skip's honor.
Obituaries Newsletter
Sign up to get the most recent local obituaries delivered to your inbox.