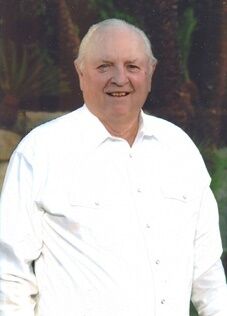 George Robert Mayo was born April 5, 1940 in Hanford, CA. George passed away at the age of 80 in Visalia, CA on December 18, 2020. He was raised by his parents, Albert and Grace Mayo in Hanford, CA where he attended local school including Woodrow Wilson and Hanford High School. He liked comic books and sports including track. If you knew George, you knew his first love was baseball! He was on the Varsity Baseball team all four years of high school. His main position was catcher. George also played Varsity basketball his junior & senior year, after being team captain of the B team his sophomore year. During his senior year, the Hanford Bullpups Varsity basketball team made All Valley Champions. George started and played the whole game. George graduated in 1958 along with his future wife, Mavis Wilson. These high school sweethearts were married on June 13,1959.
George was known for being a hard worker and would give you the shirt off his back if you needed it. He started working at The Hanford Sentinel as a paper boy and worked there as a newlywed in the pressroom and circulation while his wife worked in the office. Other employers include Driskell's, Kings County Animal Control and Standard Register. In his mid-20's he was a self-employed hay hauler. George was hired by The City of Hanfords Fire Department in 1970 as a firefighter. He attended College of the Sequoia completing fire science classes. He was promoted to fire engineer and escorted Santa Claus on his fire engine during some parades. He worked on his days "off" as a fulltime gardener. George was a true hero. He saved the lives of many including a brother fire fighter. He retired after 32 years as a fire captain. George loved fishing, hunting and camping with his family and friends. He loved a good campfire and chopped a lot of firewood. He was a dedicated recycler. George was a member of The First Baptist Church in Hanford, CA.
He is survived by his wife of 61 years, Mavis Mayo of Hanford, CA. His children, David Mayo of Hanford, CA, His daughter, Stephanie Pehrson (Rohn) of Tehachapi, CA and his son, Dr. Paul Mayo (Gina) of Visalia, CA. He has 5 grandchildren and 5 great grandchildren. He is also survived by his sister-in-law, Corinne Mayo, Barbara Murch (Chuck), Melissa Ward, Winona Franks (Wayne), and Freda Wilson, numerous nephews, nieces and cousins.
He is preceded in death by his parents Albert & Grace Mayo. His brother, Donald R. Mayo, Commander USN.
In lieu of flowers, please donate to Children's Hospital in Madera, CA or Boston Children's Hospital to the cardiac research dept.
A private service will be held with livestreaming on Friday, January 22, 2021 at 1:00 pm. at the Grangeville Cemetery Hanford CA. A recording of the service will be available at the link below for those unable to attend due to COVID-19 restrictions.
The Live Stream will be on youtube.com, https://youtu.be/36_-zz_35GQ , A collection of pictures will be available at the Peoples Chapel legacy website. www.peoplesfuneralchapel.com
Obituaries Newsletter
Sign up to get the most recent local obituaries delivered to your inbox.