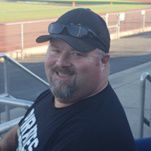 March 21, 1970-February 5, 2020
You have free articles remaining.
Christopher Lee Hoffman, age 49, passed away suddenly on February 5, 2020. Chris loved his God and his country. He lived his faith. His children were his pride and joy. He loved to joke around with his granddaughters. Chris would give you the shirt off his back. If you were a guest at the Hoffman home he made sure you were never hungry. Cooking was his passion, which he shared with his children. Chris possessed the gift of hospitality. He loved people, all people, unconditionally. He knew no strangers. He was blessed with a keen sense of humor, which was such a gift to all who were fortunate to know him. When you'd been in Chris' presence, you felt happy and special.
He is survived by his wife, Gail, who was the absolute love of his life. The love they shared is rarely seen in this world. He is also survived by 4 children: David Rose (Bre), Ethan, Jacob and Amanda Hoffman. He was a loving grandpa to Ryanne and Leah Rose, son to Luther and Beverly and brother to Allison Haynes (Steve). He was also a son-in-law to Paul and Sharon Rodrigues, a nephew, special uncle to many nieces and nephews, brother-in-law and friend to all.
A Celebration of Life will be held on Saturday, February 15, 2020 at Reedley First Southern Baptist Church, at 10:00 AM.
To send flowers to the family of Christopher Hoffman, please visit Tribute Store.