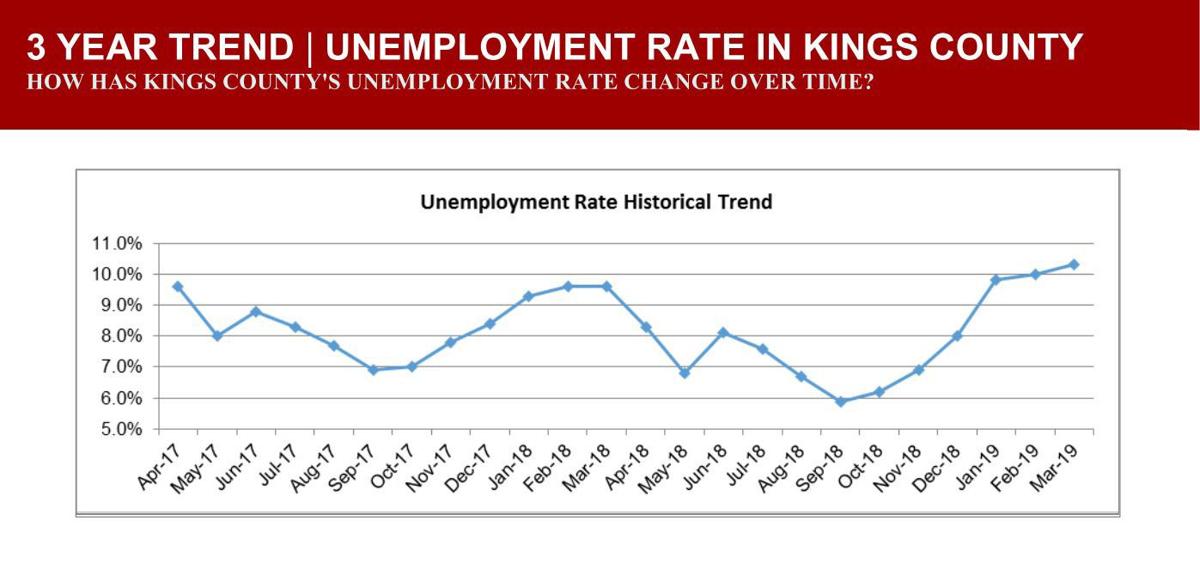 HANFORD — Kings County closed out the first quarter of the year with a 10.3% unemployment rate, the California Employment Development Department reported recently.
This compares with an unadjusted unemployment rate of 4.6% for California and 3.9% for the nation during the same period.
This 10.3% unemployment rate for Kings County is a 1.3% increase, up from a revised 10% percent unemployment rate in February 2019, and above the year-ago estimate of 9.6% in March 2018.
While the unemployment rate has increased, there has also been an increase in employment.
Employment increased by 1.2% year-over-year, from 52,100 jobs in March 2018 to 53,700 jobs in March 2019.
There was also an increase of 2.1% in the labor force, from 57,600 in March 2018 to 58,800 in March 2019.
Other Kings County March 2019 report highlights include:
Farm showed the greatest gain with an increase of 600 jobs (9.5%).
Transportation, Warehousing amd Utilities showed the greatest percent increase at 17.6 percent (300 jobs).
Other Services and Leisure and Hospitality showed the largest month-over-month numerical gain in jobs at 100 jobs each.
Education and Health, Financial Activities, Information, Retail Trade and Manufacturing showed the greatest numerical decline — each losing 100 jobs.
State Government, Professional and Business Service, and Manufacturing showed the greatest month-over-month numerical decline of jobs at 100 jobs each.
Professional Services showed the greatest month-over-month percent decline in jobs, at -7.7 percent.
Financial Activities had the largest percent decline at -10%.
Numbers are rounded up to the nearest 100.
The jobless rate has been steadily increasing since it hit a low in September 2018, when it dipped down to around 6% — the lowest rate the county has ever reached in the state's reported figures dating back to 1990.
While double-digit unemployment rates are not ideal, this year's March rate was a far cry from the beginning of the decade, when unemployment reached a peak rate of 18.1% in March 2010.
Get local news delivered to your inbox!
Subscribe to our Daily Headlines newsletter.