AVENAL — Students from Avenal Elementary School attended the Turnaround Arts Talent Show held Sunday at the John F. Kennedy Center for the Performing Arts in Washington, D.C., where a piece of artwork the students made is being displayed.
The Talent Show showcased the power of the arts and music to engage students and fuel school change efforts in historically disadvantaged communities.
From transitional kindergarten to fifth grade, Avenal Elementary students came together to create an art piece titled "One Nation, One Hope" that showcases connection and unity between the growing network of Turnaround Arts schools across the country.
The exhibit will be on display in the Kennedy Center's Hall of Nations through the end of the month.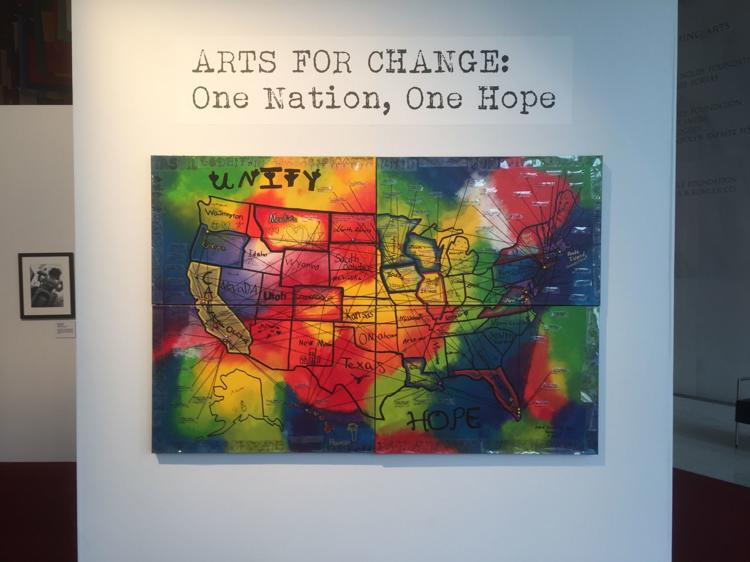 "It was an extreme honor and once-in-a-lifetime event for our students to attend," Blanca Rodriguez, principal of Avenal Elementary, said. "We felt such pride to be able to have the art our students created shared in such a prestigious location."
Students worked in groups to paint, sketch, trace, write and design collaboratively. All students participated in painting the background. Some students wrote the word "hope" in different languages spoken in the U.S.
Turnaround Arts provides resources such as art supplies, music education materials and licensing rights and kits for school musicals. The schools the program helps were identified by the California Department of Education as the lowest 5 percent performing schools during the application process. The program is designed to help schools improve in performance.
Currently, there are 17 Turnaround Arts partner schools in California and 73 schools nationwide.
Avenal Elementary is a partner school with Turnaround Arts: California.
"Turnaround Arts has been pivotal in improving Avenal Elementary School," Dr. David East, superintendent of Reef-Sunset Unified School District, said. "The integration of art into academic subjects allows students to express their learning in ways beyond traditional methods. We are proud of the work our students are doing and grateful for the support Turnaround Arts provides our school."
Since joining the Turnaround Arts program, Avenal Elementary School has had schoolwide teacher training in Visual Thinking Strategies supporting rising student proficiency in English language arts and reclassification of English Language Learners. They have infused the arts into the culture of the school in an effort to increase student engagement and decrease suspensions. Avenal Elementary has also hosted art gallery nights and school musicals to increase parent engagement.
Turnaround Arts: California was co-founded in 2014 by Frank Gehry and Malissa Shriver to administer the Turnaround Arts program statewide.
"Witnessing our students overcome obstacles and find their authentic voices as creators and scholars humbles me and convinces me that no achievement gaps exist where opportunity lives," Shriver said.