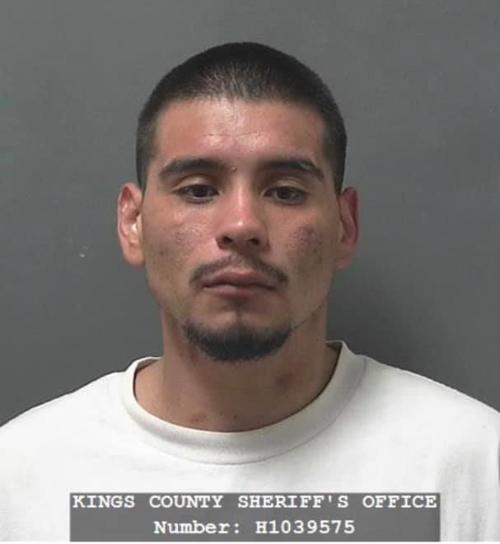 AVENAL — Around 10 p.m. Saturday, officers were dispatched to a residence on E. Monterey in Avenal for a burglary in progress call.
The homeowners allegedly observed a male they recognized as Samuel "Sammy" Sanchez enter their home without their consent or knowledge, and begin ransacking their residence. The alleged burglary was viewed  through the family's home security system.
When officers arrived on scene, they quickly set up a perimeter around the residence. While doing so, Officer Stryd, the department's K9 handler, said that he observed Sanchez fleeing the backyard of the residence with a black backpack in his possession.
Sanchez was given several commands to stop by Stryd while Officer Stryd was in pursuit, police said.
After allegedly ordering him to stop several times, Officer Stryd released his K9 partner, Gunnar. Gunnar apprehended Sanchez close to the scene and he was arrested. During this time, Sanchez claimed there was another male in the residence who was armed with a gun, police said. Officers cleared the residence but did not locate any further individuals or weapons. Sanchez was transported to AMC for medical clearance prior to being booked into the Kings County Jail.
Sanchez was recently released from Kings County Post Release Community Supervision (PRCS) after being incarcerated on a separate weapons violation in 2016.
He was booked for burglary, possession of burglary tools, resisting arrest, criminal threats, and gang enhancements.
— Parker Bowman
Get local news delivered to your inbox!
Subscribe to our Daily Headlines newsletter.