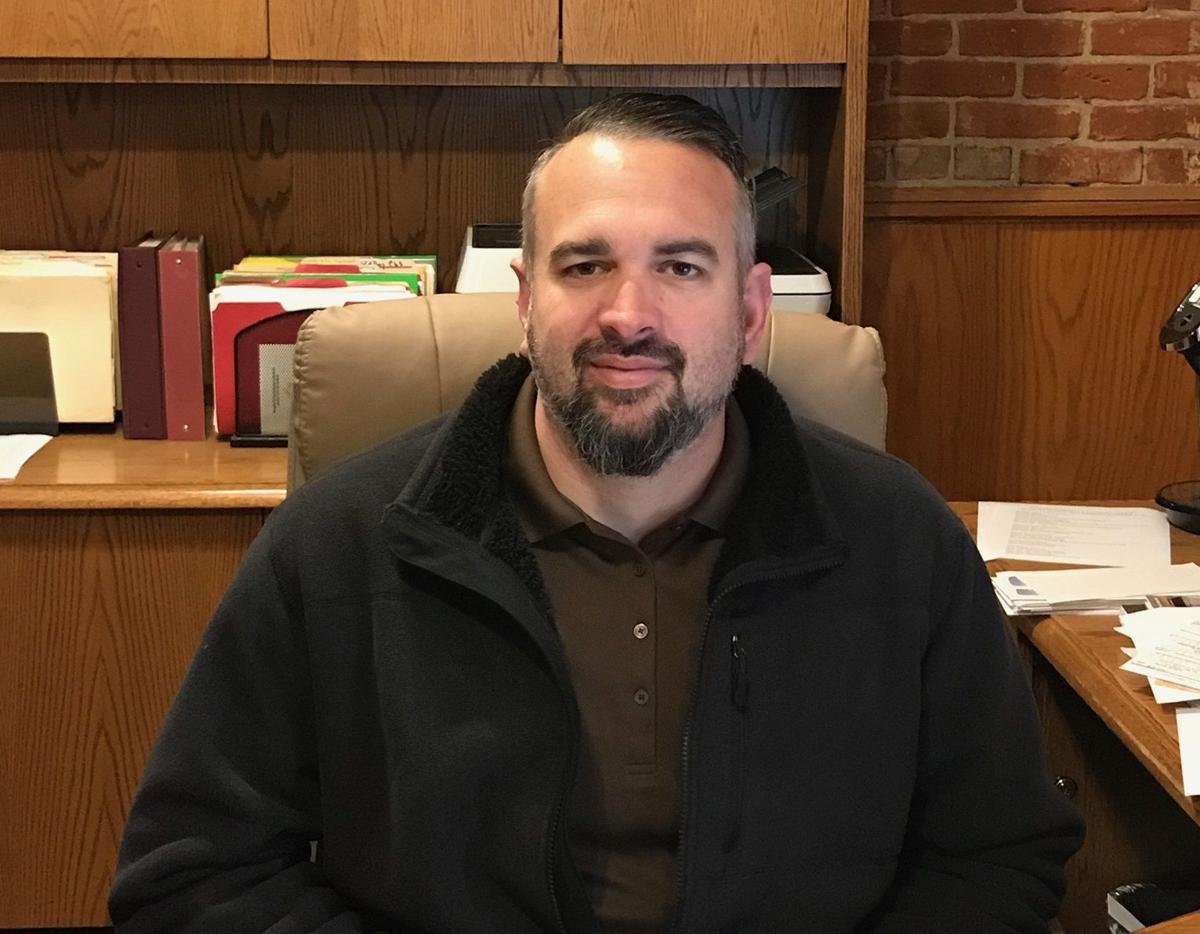 HANFORD — On Wednesday, Joey Joslin sat in the Hanford Chamber of Commerce office that looked like it had been turned upside down with papers scattered everywhere. He was both literally and figuratively cleaning house.
"We are a new chamber," Joslin said. "We have a new board, a new director and a new direction."
At the beginning of the month, Joslin was hired as the Chamber's new executive director after longtime executive director Mike Bertaina retired earlier this year.
This week, Joslin and several Chamber board members have been cleaning the office out, which is in the old courthouse at 113 Court St. He said he wanted the chamber office to be more welcoming and inviting and let everyone know that they are there.
Joslin, 39, said for about the last 20 years he has been involved with different aspects of marketing, including media, radio, television, digital and print. He also used to own the Smoke Joint BBQ restaurant in downtown Hanford.
"I'm pretty diverse in my business background, but most of it centers around marketing," Joslin said.
Joslin said after the restaurant closed in December 2016, he ran into Bertaina, who told him that he would be retiring and that Joslin should apply for the position.
"The day that I applied for the position, my brain started working on ideas," Joslin said. "And for seven months, it didn't stop."
Joslin, who is from Bakersfield and also lived in Seattle for some time, moved to Hanford about six years ago. He said he lives with his wife on the south end of Hanford.
"I love this area," Joslin said. "You get that Central Valley feel with a little bit of a small town feel. I absolutely love Hanford."
Not only does Joslin love downtown Hanford, he said he loves the entire city, which is why he wanted to work for the Chamber and make an impact on the entire city. He said it's his mission to bring in businesses that he knows the people of Hanford want.
Joslin said the Hanford Chamber of Commerce has the potential to be great, and he's thankful to the board for supporting him and sharing in his vision of achieving that greatness.
Jill Caviezel-Hoots of Adventist Health has been on the Chamber board for several years but is now the new president. She said she and the other board members are excited about Joslin and believe he will be a great fit for the organization.
"He's awesome," Caviezel-Hoots said. "He's very community-minded and business-minded."
Linda Silveira, owner of Retro Salon and new vice president of the Chamber board, said the Chamber is starting fresh with new ideas and wants everyone to know that the organization will strive to be better than ever in 2018.
"Joey has so much energy and new ideas," Silveira said. "[He] is very enthusiastic and really wants to see our chamber become better."
Silveira said she's excited about moving the Chamber forward with Joslin and several new board members in place. She said she can't wait to get the word out about the chamber and involve as many Hanford and Kings County businesses as possible.
Caviezel-Hoots said the chamber is eager to enhance its presence within the community and is looking forward to 2018.
Joslin said his goal is to promote businesses, bring more events into town that will help the businesses promote themselves and bring back mixers that will allow owners to network amongst themselves. The Chamber raises money by hosting its own events and through membership dues, and some of its cash comes in the form of a contract with the city.
"We want to bring the excitement back to being a Chamber member," Joslin said. "It's really important for a business to know that the chamber that you're a member of is doing something for you."
As of right now, there are just over 400 businesses that are members of the Chamber. Considering there are about 1,400 businesses in Hanford, Joslin said his first goal is to reach out to all the businesses and get started on bringing more members in.
"I would love to see us have every single business be a member of the Chamber," Joslin said.
Joslin's goal may be ambitious, but he's up for the challenge. He said there will be many changes that will be implemented to enhance the Chamber's reach, including a revamped website and wider access to resources.
Joslin encouraged any business owner to visit the Chamber office or give him a call so that he can show them the benefits that will be available to them as a member.
Get local news delivered to your inbox!
Subscribe to our Daily Headlines newsletter.