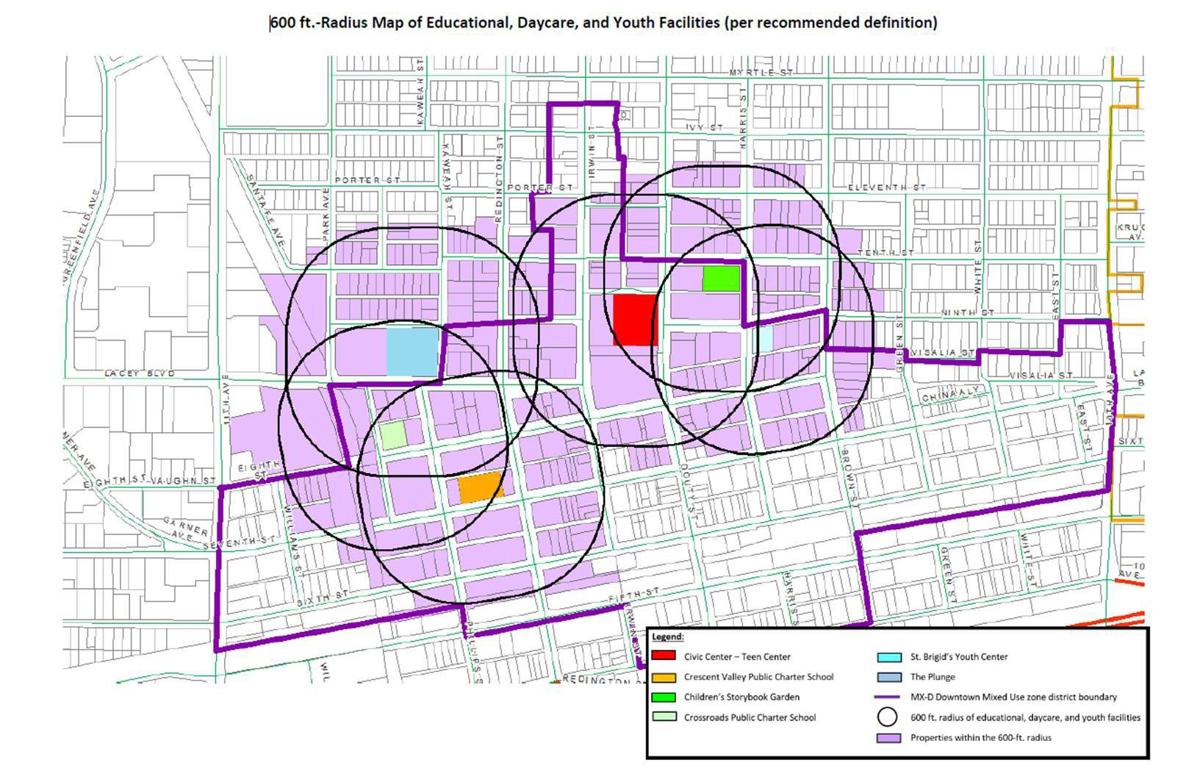 HANFORD — Hanford is on the final steps of allowing cannabis dispensaries to locate within the city.
At the Hanford City Council meeting Tuesday evening, a public hearing was held and members voted 3-1 to approve the introduction of an ordinance to amend the city's municipal code to allow non-storefront retail cannabis dispensaries and microbusinesses in the industrial zone as a conditional use, and storefront retail dispensaries in the downtown zone as a conditional use.
The ordinance also amends the municipal code to allow both medical and adult use, aka recreational, commercial cannabis operations and provides a detailed description of distance requirements from cannabis facilities to residential and school areas.
The proposed ordinance stated that dispensaries would not be allowed to locate within 200 feet of residential zones or within 600 feet of any school, including public, private or charter schools, K-12 schools, pre-schools, transitional kindergartens, youth facilities or daycares. These figures are based on state regulations.
The proposed ordinance went before the Hanford Planning Commission at its April 23 meeting, where the commission voted 6-1 to recommend approval, with the additional recommendation to add colleges to the list of types of schools.
Darlene Mata, community development director, said city staff took the commission's recommendation and created a map to see how it would affect the area.
When doing this, she said almost all of the downtown area would not be available for a dispensary to locate.
After talking with the city's cannabis consultant, Mata said staff decided to remove colleges and further clarify the definition of a "youth facility."
While the definition included parks and facilities primarily used to host recreation or social activities for minors, it does not include private commercial activity including martial arts, yoga, ballet, music or similar studios, nor any private athletic training facility or pizza parlor, dentist office or doctor's office that primarily serves children.
Making these clarifications helped open up some areas, mainly south of Seventh Street, east of Irwin Street in downtown Hanford, Mata said.
"Given that the Council's previous direction was to limit it to two dispensaries only, there's probably enough room to accommodate two dispensaries in what is left outside of that definition," she said.
Hanford Police Capt. Karl Anderson said having the dispensaries downtown would be ideal because they would be close to the police department. He also reminded Council that the security measures for the businesses would be "above and beyond."
Councilman Francisco Ramirez then made the motion to approve the introduction of the ordinance, which was seconded by Councilman Martin Devine. They, along with Vice Mayor John Draxler, voted "yes", while Councilman Art Brieno was the only "no" vote.
Mayor Sue Sorensen had recused herself from the discussion because she owns property in the downtown area, creating a potential conflict of interest, and abstained from the vote.
If the ordinance goes to its second reading at the next regular Council meeting and is approved, Mata said she anticipates opening up application period for businesses and dispensaries soon thereafter.
Another public hearing the Council held regarded an interim zoning/urgency ordinance for the city that restricts the commercial cultivation and manufacturing of industrial hemp (CBD) products in all zones within the city.
Mata said staff had received quite a few calls in the last few weeks about cultivation and manufacturing of hemp within the city limits.
Hemp comes from the cannabis plant, but does not contain a high amount of THC — the main psychoactive ingredient found in recreational cannabis products. Hemp can be used to make fibers, clothes, paper, oils and lotions, among other things.
The recent passing of the 2018 Farm Bill at the federal level helped open up the hemp industry and the state of California regulates the cultivation of hemp, but Mata said the state has not completely finished regulatory process and has not addressed manufacturing or sales yet of CBD products.
Due to potential issues and because hemp cultivation produces an odor, Mata said city staff asked Council to adopt an interim zoning/urgency ordinance to restrict hemp cultivation and manufacturing. She said this will allow them time to do additional research on hemp and to see if these are processes the city would like to allow.
Council agreed and voted unanimously to approve the urgency ordinance.
The ordinance will last 45 days, after which staff will go back to Council and possibly present an ordinance to address issues with the hemp industry.
Get local news delivered to your inbox!
Subscribe to our Daily Headlines newsletter.