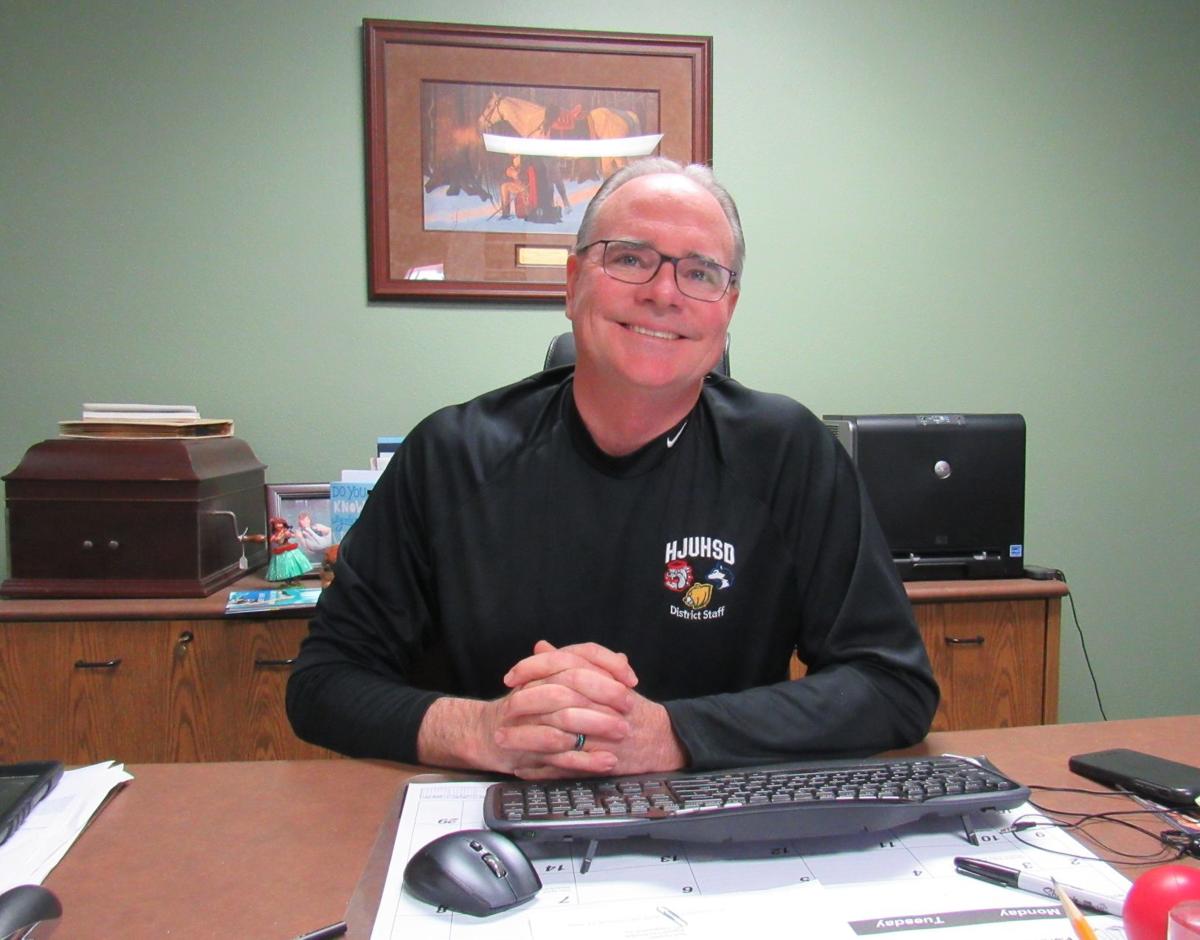 HANFORD — After a 35-year career in education, the last 13 as superintendent of Hanford Joint Union High School District, William Fishbough has announced his upcoming retirement.
Fishbough became superintendent in 2006 and has had a hand in accomplishing some big goals for the district, including the opening of Sierra Pacific High School and the creation of an agricultural farm for high school students.
Fishbough said he always had the intention of retiring at the age of 60, which he turned in June. He told the board of trustees about his retirement decision in late October in preparation to start a replacement search early and get the best candidates as possible.
The plan is for Fishbough to retire in June and the new superintendent to start in July.
Fishbough was born in Southern California and attended elementary school in that area before his family moved to Tulare when he was in the seventh grade.
He attended Tulare Union High School, California State University, Fresno, and later, Fresno Pacific University.
Fishbough initially worked on horse ranches out of college, but said he decided to get into education after that work proved time consuming while he was just starting his family.
Because he always liked working with kids — his degree from Fresno State was in recreation administration — Fishbough said he started a teaching internship and went back to school to earn his credential.
Fishbough taught for several years before eventually taking on administration roles. He was hired by Hanford Joint Union High School District in 2000.
While building a new school and the Ag Farm are great because they support the students by creating a good environment to facilitate their education, Fishbough said looking back on his career, he is most proud of the staff of the district, from classified employees to teacher and administrators, and the effort and care they give to the students every single day.
"In every area of work, it's just a great group of people who care about kids," Fishbough said, adding he loves everything about his job and thoroughly enjoys going to work every day.
Not to mention having a great board of trustees, who Fishbough said have been supportive and allowed him to do his job to the fullest extent of his abilities.
Trustee Karl Anderson commended the job Fishbough has done in moving the district forward during drastic changes in curriculum mandates from the state through Common Core Standards, as well as changes in how the state funds school districts.
"Bill has done an amazing job over his tenure at the high school district," Anderson said, mentioning the fact that Fishbough is also a member of The Rotary Club of Hanford and a Board Member of the FAST Credit Union. "He is an all-around good person and truly cares about the city of Hanford and the success of its youth."
Fishbough said the job of a superintendent is to set the goals and direction, and it has been his philosophy to just hire the best possible people and let them do the work they were entrusted to do.
"Education is one of those jobs where you can always do better," Fishbough said. "We've made a lot of progress and it really rests on the fact that the staff has taken that [philosophy] and moved forward with it."
For the next five months, Fishbough said it's his goal to stay focused, support staff and make sure that the new superintendent has an easy transition.
Fishbough enjoys his job, but said he will really miss the people he works with the most.
Come June, Fishbough said he's looking forward to enjoying his retirement, which will include working with the horses he owns, spending more time with his five children and 10 grandchildren, and traveling more with his wife of 25 years, Terri Fishbough.
Get local news delivered to your inbox!
Subscribe to our Daily Headlines newsletter.