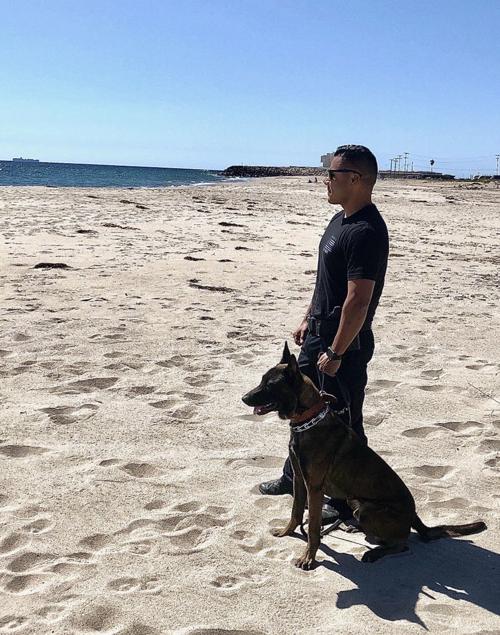 HANFORD — Those needing a little "hair of the dog" may find just what they're looking for at the Oktoberfest craft beer festival, which benefits the Hanford Police K-9 Foundation.
The third annual Oktoberfest will take place from 5-10 p.m. Saturday, Oct. 12, at Hanford's Civic Park and will feature 26 craft beer breweries from around the state, including five local breweries like Hanford's very own Hop Forged Brewing Company.
Sponsor Bueno Beverage will also offer Budweiser products.
For $35, attendees will have access to unlimited beer and food and tasting. There will be five food vendors offering tacos, pizza, bratwurst and funnel cakes, among other items.
The proceeds of the festival go to the Hanford Police K-9 Foundation, which helps fund the Hanford Police Department K-9 unit.
Sgt. Justin Vallin, who is in charge of HPD's K-9 unit, said around 300 people attended last year's Oktoberfest, raising approximately $15,000. Vallin said the event enabled the department to buy its third K-9, Krash.
Krash, along with the department's two other K-9 officers, Tig and Nico, are all dual purpose, trained in both apprehension and narcotics detection.
Officer Ruben Cano and Krash have been on patrol for HPD since July. So far, Cano said everything has been going great.
"I couldn't ask for a better partner," Cano said of the 3-year-old Belgian Malinois.
Being a part of the K-9 unit is something Cano said he'd always wanted to do. While he couldn't participate in the program at his previously agency due to the commute being too far from work, when he lateraled to Hanford PD, the opportunity presented itself and he was more than willing to take on the challenge.
You have free articles remaining.
K-9 handlers from around the county train together weekly, though Cano said officers take their duties very seriously, so training and conditioning is a daily task for them. He said they also train with outside agencies on a regular basis.
Like all K-9s, Krash is very popular with the community. Cano said Krash's temperament is amazing and people constantly want to pet him, so he has to remind them that Krash serves a purpose in the police department.
The cost of buying a K-9, including training for the dog and its handler, is nearly $20,000, Vallin said. Not to mention the costs associated with outfitting a K-9 police vehicle — which costs an extra $5,000 — and the ongoing training.
This year's funds are going toward purchasing a fourth K-9 for the department as soon as possible, Vallin said.
Cano said K-9s are beneficial to the department on many levels, like tracking, apprehending, minimizing potential injury to other officers and using them in situations where the police want to use less lethal force.
He also said the K-9s bring a sense of safety and other officers tend to feel more comfortable when a K-9 is on duty.
"Having K-9s in law enforcement is vital to officer safety," Cano said.
Vallin said there are still plenty of tickets left and he's hoping at least 500 people will make it out this year to the beer festival. He said the event really helps the foundation and the department out, so he would love to see it grow every year.
As far as Vallin is concerned, the more people the merrier.
"There will be plenty of food and beer," he said, adding each attendee will receive a souvenir tasting glasses with the HPD K-9 logo.
In addition to food and beer, a K-9 demonstration will kick the event off at 5:15 p.m. and live entertainment from Lady and the Tramps and DJ "The Marshall" will follow.
Tickets can be purchased at the Hanford Police Department, Main Street Hanford, Hanford Chamber of Commerce, Fatte Albert's Pizza or Hop Forged Brewing Company.