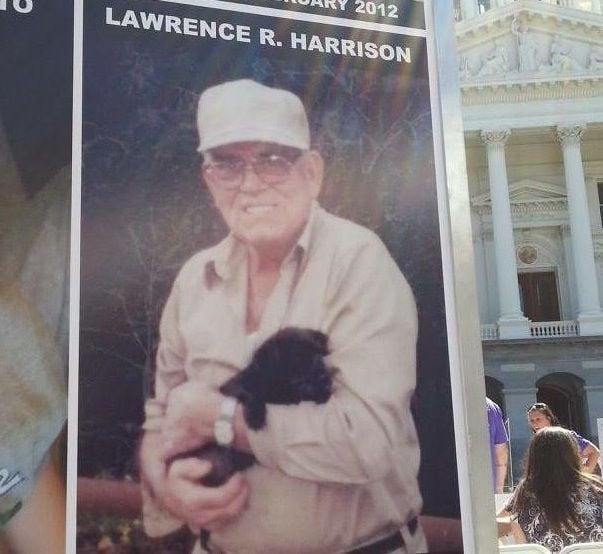 SOLEDAD — Phillip Watts, who was convicted of the first-degree murder of Lawrence "Hoss" Harrison in 1992, was denied parole Thursday during a parole hearing, said a press release from the Kings County District Attorney's Office.
On Thursday at the Correctional Training Facility in Soledad, a California parole board denied parole for 50-year-old Watts for seven years. He will not be eligible for another parole hearing until 2024.
"We're happy he was denied," said Cynthia Craddock Biletnikoff, Harrison's great-granddaughter. "But there are no winners in this. We lost our grandfather and many lost a friend, and his family lost a son and a brother."
In August of 1992, Watts brutally beat and stabbed the 82-year-old Harrison more than 60 times, leaving him to die on the floor of his Hanford home.
According to the DA's office, Watts was found guilty of first degree murder with use of a deadly weapon following a jury trial in Kings County. Watts received a sentence of 26 years to life in the state prison for the crime.
Watts had his first parole board hearing in 2011, where he was denied parole for seven years. For that first hearing, Biletnikoff collected stacks of letters and petitions from across the country urging the parole board to not set him free.
The parole hearing on Thursday was attended by Biletnikoff and another granddaughter, both of whom spoke at the hearing. Family members again gathered and submitted thousands of petition signatures opposing Watts' release.
Biletnikoff said over 4,000 online signatures came in on the petition and almost 500 comments were made on the change.org website against granting parole.
The Kings County District Attorney's Office press release said members routinely attend every lifer parole hearing for crimes committed in Kings County.
District Attorney Keith Fagundes and Deputy District Attorney Phil Esbenshade attended the hearing and argued that Watts posed an unreasonable risk to public safety and objected to his release.
Despite having insurmountable evidence against him, including bite mark matches and fingerprints, Biletnikoff said Watts had always denied committing the crime.
She said Watts finally admitted to the murder at the hearing, using details that she believes only the killer would know. She said when he was asked why he murdered Harrison, he said there was really no reason and that Harrison was actually always nice to him.
"That was a really heartbreaking moment, but we deserved to hear the truth" Biletnikoff said. "It was bittersweet."
She said attending the hearing and reliving the crime brought back post-traumatic stress and she felt happy and sad at the same time.
Advocates from the Kings County Victim-Witness Assistance Program and the I-CAN Crime Victim's Assistance Network also attended the hearing, and Biletnikoff said she appreciated all of the support.
As long as Watts is alive and as long as he is offered parole hearings, Biletnikoff said she will "always and forever" fight to keep him in jail and seek justice for her great-grandfather.
Get local news delivered to your inbox!
Subscribe to our Daily Headlines newsletter.