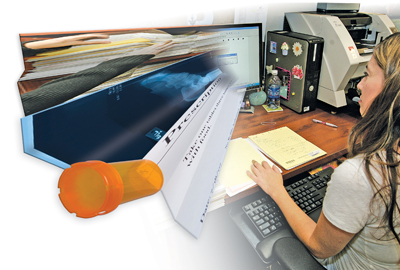 HANFORD - It's a headache for both doctors and patients - tracking down and keeping medical record information updated. 
Hospital stays drag on while surgeons wait for lab results to be found, copied and faxed over. This in turn increases stress, because patients and their families have to miss work, lose pay and later receive higher medical bills because of their extended stay. Everything and everyone is forced to wait when time is so valuable.
Now, Adventist Health/Central Valley Network is in the process of developing a new electronic medical record system to help streamline the process of transferring records. The process was initiated recently when the network was awarded a $1 million grant by Blue Shield of California, part of $20 million invested by the insurer in 18 California hospitals, health systems, clinics and physician groups.
Adventist Medical Center-Hanford and two other California Adventist Health hospitals will share the grant. Funds will be used to implement the new system at all three hospitals.
"We are very excited to receive support from Blue Shield of California to further our goal of creating an accountable care organization (ACO)," said Dan Rhodes, vice president of physician and home-health contracting for Adventist Health Managed Care. "This grant money will go a long way toward the installation of clinical software at all of our sites."
Rhodes said Blue Shield began setting aside a small amount of their earnings earlier this year to create a fund that would be used in developing methods for better patient care. Portions of the fund would be given as grants and rebates to their providers. Adventist Health is one of Blue Shield's largest providers.
"Most of our hospitals are in rural areas, and Blue Shield fully understands that," Rhodes said. "They want to make sure that these areas like the Central Valley have the tools necessary to increase quality. We are aiming to become leaders in providing patient care."
The new medical record system, called "Electronic Health Record" or "eHR," will allow all medical staff who interact with a patient to input data into a computer, storing all medical information in a remote database.
"It will essentially eliminate the need for paper charts," Rhodes said. "A doctor, specialist, nurse or surgeon could look up the patient's information and everything would be right there, from X-rays and medical history to the latest lab results."
For example, a patient having knee surgery would go to a radiologist for an X-ray. The image would then be uploaded to the patient's file. When the patient goes to the hospital, the surgeon can pull up that image and their file without having to call the radiologist to have it faxed.
"The system will also have a notification component," Rhodes said. "When it's almost time for a patient's prescription to be filled, it will alert the doctor to write it and send it to the pharmacy. If a patient is on a specific plan for treatment, it will send out an alert for when the patient's next appointment should be.
"This software will link our doctors' offices with each other, the hospitals they admit to, our home health agencies and ultimately to our communities at large," he said. "Everything will be integrated, saving time and money."
Adventist Health is pursuing development of a health information exchange (HIE) with other community providers in the Hanford region in development of an accountable care organization to reduce the number of days patients spend in the hospital and have diagnostic testing.
"Essentially, an ACO will ensure medical professionals provide the best care possible," said Francine Hipskind, provider relations manager at the Foundation for Medical Care of Tulare-Kings Counties, Inc. "Basically with an ACO, once the new system is in place, health professionals will be given 'X' amount of dollars. Then, depending on how the patient rates their care and what the outcome is of their treatment, the professional will be given extra money or have money taken away."
Hipskind explained that in order to have the accountable care organization function, you must have data.
"If a patient claims to have developed an infection due to their doctor's treatment, there has to be a database where all records are kept and readily accessible for evidence and proof," she said. "All of this are steps to creating the ACO to hold professionals accountable. First, the electronic records system has to be created, then the health information exchange is developed within the community and then we can have the ACO."
Adventist Health has not yet set a target date for when the three hospitals will begin using the new electronic medical record system.
"Now that we have the funds, we are working out all the kinks," Dan Rhodes said. "Such as figuring out how and when we will upload all current patient data into the system."
The other two hospitals sharing the grant are Adventist Health/San Joaquin Community Hospital in Bakersfield and Adventist Health/St. Helena Hospital and St. Helena-Clearlake in the Napa Valley.
The reporter can be reached at 583-2427 or bsantiago@HanfordSentinel.com.
Be the first to know
Get local news delivered to your inbox!