The Hanford City Council on Tuesday approved an exclusive negotiating agreement with a Visalia engineering firm interested in purchasing the Bastille building, over objections from the other interested party and community members.
The conflict focuses on the sale and redevelopment of the former county jail house located in Hanford's Civic Park. The Bastille, which has been unoccupied since 2009, was sold to the City by Kings County in 2014 for $1.
Mayor Francisco Ramirez said after purchasing the building the public works department determined it would cost $1.1 million to simply make the building structurally sound, not including interior improvements or work to make the space rentable.
"I always want to put Hanford first, first and foremost," Ramirez said. "When I'm looking at the whole vision, you've got to understand this is a lot of money if we can't find it as a city."
Tuesday's meeting saw a vote on an exclusive negotiation agreement with 4Creeks, which was one of two parties to submit a proposal for the property. The agreement passed 4-1, with councilman Art Brieno dissenting.
City Attorney Ty Mizote said the agreement would help alleviate the City's liability if a 4Creeks employee were injured in the dilapidated building during a 60-day inspection period of the Bastille, or if the company were to spend money in the inspection and chose not to buy the property, but the City will have no obligation to the company after that time.
The vote came after community members and the other party objected to the acceptance of 4Creeks' proposal during public comment, accusing the council of holding the Visalia company to lower standards.
Local real estate investor Jerry Irons said he submitted three different proposals, and during the process he said his attorney determined the City broke its own laws in rejecting one of his proposals.
Greg Enloe, who is the developer on Irons proposal, said he felt 4Creeks' proposal was vague and he believed they were asked to do significantly more work than the development company.
"Now, legal or not legal, I honestly don't care, what I care is whoever gets the property is going to make something phenomenal with it and all I'm asking is … have us go toe-to-toe with 4Creeks and have them be very descriptive," Enloe said.
Council members defended their approval of the 4Creeks proposal, citing its recent redevelopment of the Darling Hotel in Visalia, which had previously been a dilapidated courthouse annex originally built in the 1920s.
Other Business
The Hanford City Council honored and said goodbye to John Draxler, who has served as a council member, mayor and vice mayor. Draxler announced his resignation earlier this year, citing declining health and a desire to spend more time with family.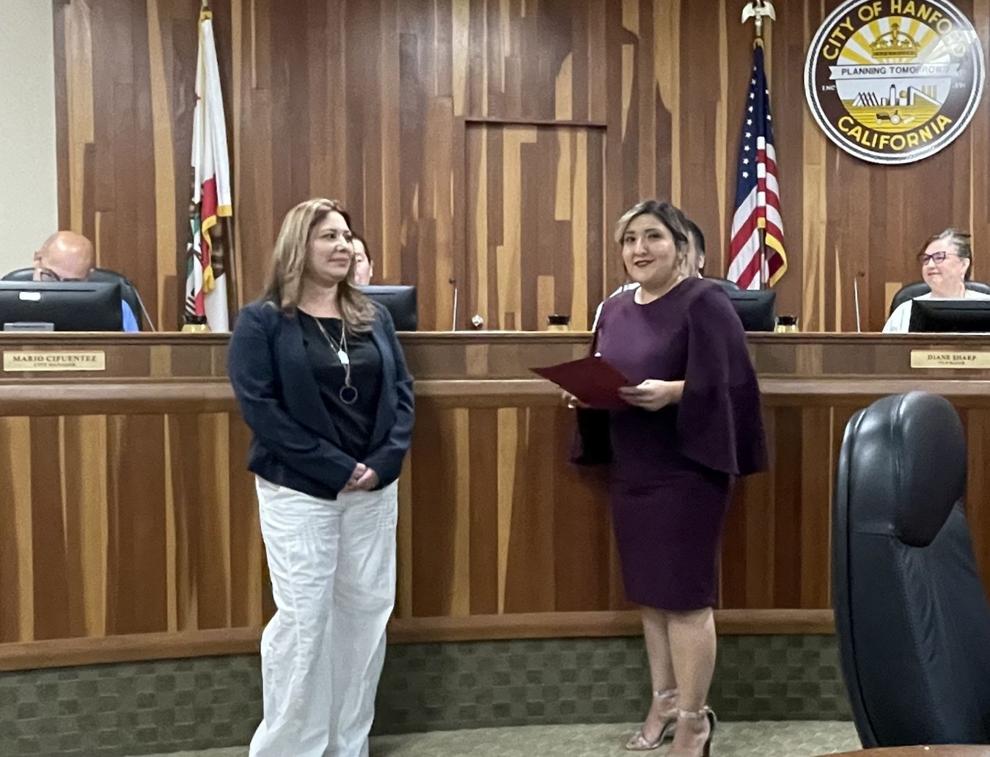 Amanda Saltray was sworn in as Hanford's newest city council member, filling Draxler's seat and representing District A. Saltray will fill the rest of Draxler's term, ending in 2022.
While reassigning committee and board appointments in the wake of Draxler's departure, council members also debated whether councilman Brieno should be allowed to take a committee assignment again after being censured for alleged misconduct in March.
In January, Brieno resigned from the council during a special meeting over accusations of harassment, invasion of privacy and retaliation, among other issues, against a city staff member.
However, Brieno and the City were unable to make an agreement on the terms of his resignation, said City Manager Mario Cifuentez. A written resignation was never submitted and Brieno rejoined the council, at which time he was censured.
Mayor Ramirez and city resident Bob Ramos advocated for "moving forward" from the censure and putting Brieno back on committees.
But with the threat of litigation, the nature of the allegations and how recently he was censured, Vice Mayor Diane Sharp and councilwoman Kalish Morrow objected to reinstating Brieno's committee assignments, and the open seats were filled by other members.