The City Council again debated the merits of the censure against Councilman Art Brieno, and decided not to reinstate his travel budget, during Tuesday's meeting.
Brieno's $2,000 travel budget was revoked in March after the Council voted to censure him over a report that substantiated claims by Community Development Director Darlene Mata that the councilman had discriminated against her based on gender, attempted to have her removed from her position and shared her private medical information, among other allegations.
The Council passed the annual budget at last week's meeting without voting on the travel budget, promising to bring it back for debate at another meeting.
Community members during the public comment period largely supported reinstating Brieno's travel budget, saying the removal of the money hurt the people of District E, which Brieno represents. Some also said Brieno is able to help the whole City when allowed to attend conferences.
"The fact is you voted on a budget and District E was left out of that, so if something happened to Mr. Brieno, God forbid, District E is left without representation," said resident Tami Wheatley. "It's not punishing him, it's punishing the district."
The budget is used for approved travel to conferences and training.
Public commenters also pointed out that Brieno's district is low-income and majority Hispanic, saying taking the travel budget deepens under-representation of his constituents.
Travis Paden, who was a candidate to replace former Mayor John Draxel last month, was the only resident who spoke against reinstating the travel budget, saying it would look bad for the council to start "watering down" a censure which was issued so recently. He said leaving the travel budget as-is might also dissuade repetition of the behavior.
Despite efforts by some council members to keep the discussion focused on the travel budget, the debate quickly veered into the validity of the findings of the investigation into Brieno's behavior.
Brieno spoke about bringing new funding sources to the City after attending a conference, the process of "removing God" from the council proceedings, the Fourth of July, a bribery scheme alleged in an online publication, and what he thinks could come out in court if a lawsuit were to be filed, among other topics.
The Hanford Sentinel has found no evidence of the alleged bribery scheme Brieno referred to.
Brieno also expressed his "disappointment" With Paden's comments, apologizing that he didn't get the council seat and saying he should have spoken to the councilman in private.
"We have a lot of discontent in this little community, they take every opportunity to come out and make their pot shot, and that's what they're doing with letters and everything else," Brieno said.
Vice Mayor Diane Sharp said Brieno should have considered the budgetary impacts of his behavior when he violated the City Council conduct handbook in his interactions with Mata, which could result in a lawsuit.
She said Brieno may have violated the conduct outlined in the handbook again in his comments towards Paden during the meeting, saying he was dismissive of community members participating in their community, both during public comment and via letters.
"I wish Mr. Brieno would have thought about the kind of exposure that he was putting the taxpayer in when he was counseled against making some of these types of statements, and he did it anyway," Sharp said. "Because of that we're now facing a lawsuit of $1.25 million … to give y'all a sense of perspective on that, $1.25 million is 70% of the annual parks budget."
Mayor Francisco Ramirez said he felt the whole situation was caused by poor leadership by a prior mayor and staff. He said, having known Brieno for a long time, he didn't think the gender discrimination allegations were valid and that Brieno "didn't have a negative bone in his body."
Ramirez was named in the independent investigation into Mata's claims as someone who attempted to get her fired, which he denies.
Councilwomen Kalish Morrow and Amanda Saltray focused on whether it would be beneficial for Brieno to attend sensitivity training at an upcoming conference.
While Saltray said it would be good for him to attend the training, Morrow noted the council had already attended a state-mandated training and that Brieno is undergoing training as part of the censure.
Sharp asked City Attorney Ty Mizote for clarification about whether Brieno could receive adequate sensitivity training without traveling. Mizote said the councilman was receiving ongoing training, and training could come in many forms outside of traveling to a conference.
Brieno asked whether the private party responsible for his sensitivity training was getting paid, which Mizote said they were. The councilman then interrupted Mizote's answer and hit his desk, saying the money to pay the private party was essentially for training, which is included in the travel budget.
"This is one of the reasons I don't like going and revisiting this because I feel we keep getting into the weeds on these things," Morrow said.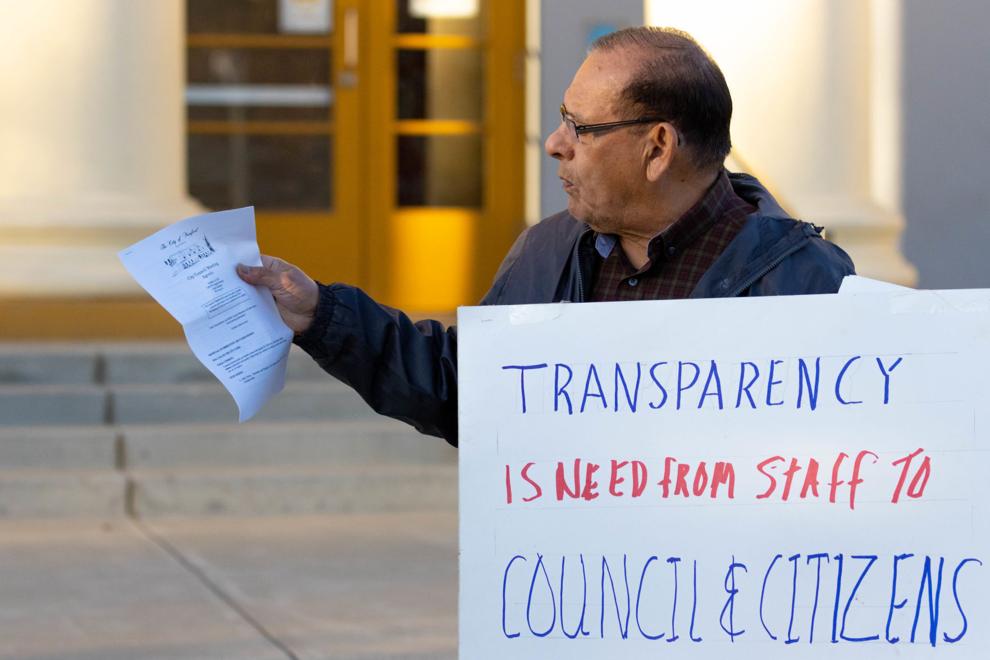 Ramirez motioned to approve just enough money for Brieno to attend the League of California Cities conference in September, which he said must be decided immediately to save $50 on early-bird registration.
The motion failed 2-2-1, with Brieno and Ramirez voting yes, Sharp and Kalish voting no and Saltray abstaining.
Sharp motioned to not change the travel budget at this time, which was approved 3-2, with Ramirez and Brieno voting against.