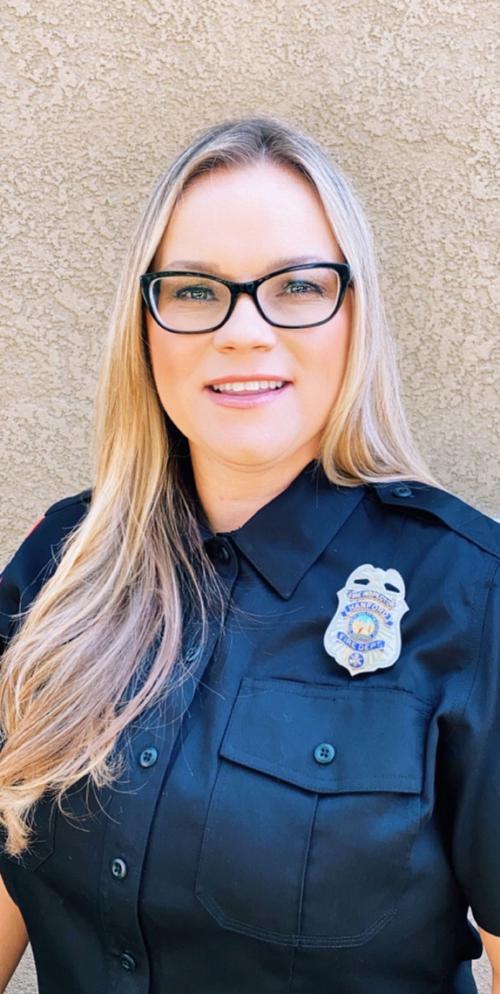 HANFORD — It's been a fast track to success for Christy Whittington so far.
In just under five months, Whittington has gone from intern to Hanford Fire Department Fire Marshal.
"I definitely feel like I'm part of the team," Whittington said. "Everybody's been great. … I'm very compassionate about this position and everybody's been really supportive and that's made it much easier."
After starting as a fire inspector intern in February, Whittington became a part-time employee in March and then quickly ascended to full-time in the same month when COVID-19 hit.
Then about two weeks ago, Whittington would eventually make another jump when she interviewed for the fire marshal position. Not too long after, she began her new position on June 15.
"[It's been] a little overwhelming, but I'm honored," Whittington said about her new title. "… I really enjoy fire prevention and I'm really excited to be here."
Since Whittington started with the HFD, she's stayed busy with approximately 150 inspections. She'll probably be even busier since that's just one part of her job as a fire marshal.
"My job is to educate on fire code and enforcement, fire protection systems, I help with plan review, I supervise and coordinate life safety inspections that may be houses, restaurants, residential, apartment," Whittington said.
The HFD Facebook page said in a post that Whittington "comes with a wealth of knowledge and a strong commitment to serve the community."
Her knowledge and education, which includes Fire Inspector I and II certifications, and classes with the California State Fire Marshal, is an impressive feat after Whittington was a stay-at-home mom of three girls, ages 19, 16 and 13, for the last decade. The soon-to-be 40-year-old decided her girls were at an age where she could have a career again, and she's hit the ground running.
"I started pursuing fire prevention classes in my education about a year and a half ago," Whittington said. "I started taking those classes at Bakersfield College and then was taking the state fire marshal classes. Between all those classes, I knew this is where I wanted to be."
But her passion for fire prevention really started at home with her husband, who's been a firefighter for 27 years.
"Always when he left home to go on shift, my biggest worry was his safety," Whittington said. "That's kind of where my love for fire prevention started. I knew that there was education that needs to be put out there for our business owners, our community, our firefighters. With that, I knew I could help bring light and change to educate."
Her brief time with burn survivors in Kern County also made an impact on her and she said it "really touched my heart."
Whittington currently lives in Bakersfield and has been making the commute every day, but she'll be relocating to Hanford within the next three weeks. She said she loves Hanford and that the commute has "been worth it."
"I'm just honored to be part of Hanford Fire Department," Whittington said. "I'm here to do my best and I'm excited to be here."
Be the first to know
Get local news delivered to your inbox!