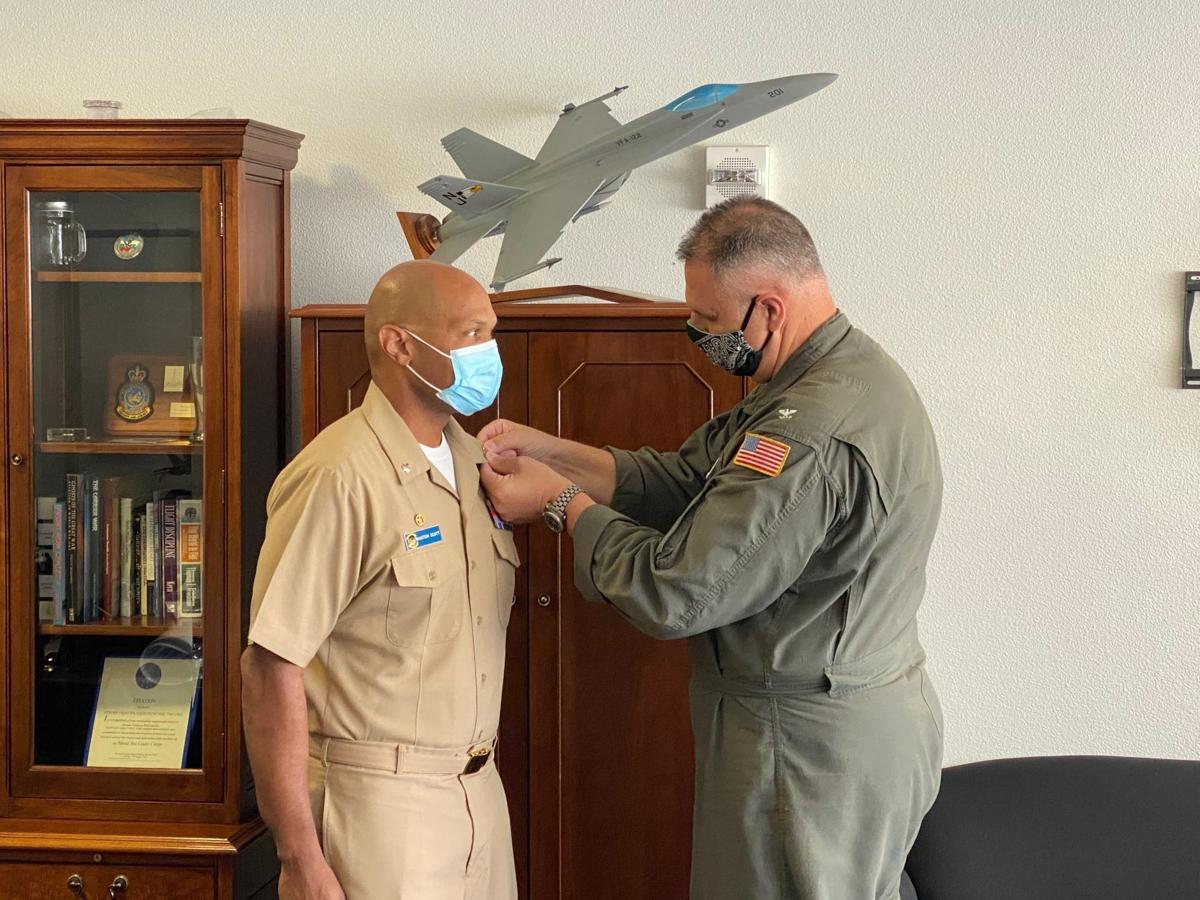 NAVAL AIR STATION LEMOORE — Commanding Officer Winston Scott out of Naval Air Station Lemoore was selected and recently promoted to the rank of captain in the U.S. Navy.
"The trust and confidence that the organization has in me to allow me to obtain this type of rank and also the level of responsibility that comes with it is pretty tremendous," Capt. Scott said Wednesday.
Scott is currently the commanding officer of Strike Fighter Squadron 122 (VFA-122), the largest squadron at NAS Lemoore. VFA-122 is also the fleet replacement squadron, which trains incoming naval pilots on how to fly Super Hornets.
While Scott joked that his promotion to captain just means that he's "getting old," he calls the situation "surreal." Scott's father, a former Navy pilot, retired as a captain.
"To now think that I hold that same rank is really kind of eye opening and reminds me just how long I have been doing this," he said.
Scott attended the United States Naval Academy, where he graduated in 1998 with his bachelor's degree in aerospace engineering.
Scott's career has taken him across the nation, from Pensacola to the Naval Strike and Air Warfare Center at NAS Fallon in Nevada, where he graduated from the Navy Fighter Weapons School (TOPGUN) Adversary course. He also spent some time at the Navy Office of Legislative Affairs in the Pentagon as the aviation portfolio manager.
Throughout that time, Scott has been stationed at NAS Lemoore four times — the first time in 2002. He's done three tours and participated in numerous missions with NASL's VFA-25. He took over for VFA-122 in July 2019.
Combined, Scott said he's spent more time in Lemoore than anywhere else in his life, especially given that he moved around a lot as a kid.
"I almost think of it as home every time I move back here," Scott said.
According to his Navy biography, Scott has accumulated over 3,000 flight hours in five different aircraft, completed over 500 carrier arrested landings and has flown missions in support of three different campaigns totaling over 80 combat sorties in Iraq, Syria and Afghanistan.
His awards include the Defense Meritorious Service Medal, Meritorious Service Medal, multiple Strike/Flight Air Medals, Navy Commendation Medals and Navy/Marine Corps Achievement Medals, along with various other service awards.
The number of significant moments in Scott's career are too many to count. Just to name a few: the day he found out he was going to flight school; when he got into a fleet squadron; when he went on his first deployment; and the first time he landed on an aircraft carrier.
Above all, however, what stands out in his mind are all the men and women he's gotten to work with over the years.
"Flying the machines is incredible, but it's the people who support the mission, the sailors in the U.S. Navy, who make this whole thing happen," Scott said. "It's just phenomenal and pretty awe-inspiring to work with every single day. That's the most significant thing about this job."
If all goes as planned, Scott will be in Lemoore for several more years to come. For the time being, he will continue as commanding officer at VFA-122 and lead its mission for production. Moving forward, he is the prospective air wing commander for Carrier Air Wing 2, which is also in NAS Lemoore.
"I'm just thankful that I'm still able to do the job and that the Navy still has the confidence in me to do the job," Scott said.
Scott said he's also thankful for his family members, friends and colleagues, and all the sailors who enable the Navy to operate every single day.
"It's incredible and I really am still excited to be a part of it," he said.
Be the first to know
Get local news delivered to your inbox!