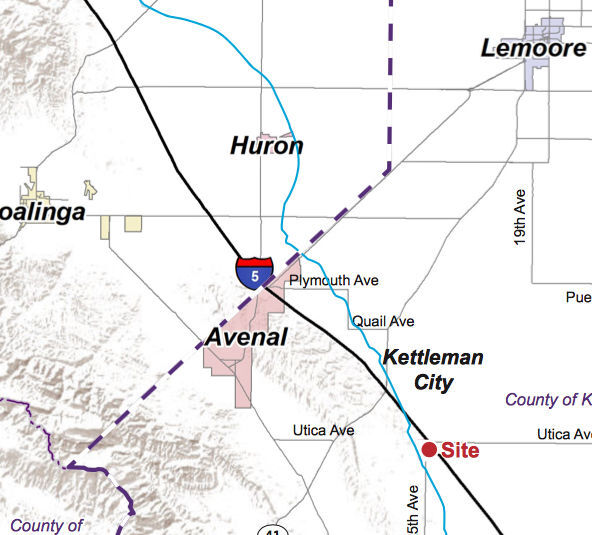 Big I-5 development plans 2.4 million square feet of commercial space
A draft EIR has been submitted to Kings County for Jackson Ranch, located on the west side of I-5 at Utica Ave. LA-based developers are looking to build a highway commercial center with a major warehouse and logistics component.The site, 7 miles south Kettleman City, is 415 acres with 268 acres of that staying in ag use.
The project's Specific Plan says they want to create a" fully amenitized rest stop and commercial hub along I-5 that would serve travelers, encourage new employment across a variety of industries and attract a range of complementary commercial uses." 
The developer expects to tap water from the new and fully operational Kettleman City Surface Water Treatment Plant within the County's right-of-way along 25th Avenue connected by pipeline.
Built in two phases, work is expected to start in early 2021 says Larry Bross, partner in the group.The complex could be a major employer and tax revenue source for the county he says.
Phase One will accommodate up to 161,125 square feet and Phase 2 will accommodate up to 2.2 million square feet of mostly warehousing. Phase One uses include a 10-acre truck stop, a restaurant, service station, and short term resting place for large transport vehicles. The remaining acreage has been divided into smaller parcels to easily accommodate fast food and sit down restaurants, motels, service stations, and an open area for community events. Plans for a small park are included.
Traffic volume of 13.5M vehicles a year pass the site says the application.
The project is the latest large scale development in this lightly populated part of the county blessed with a major highway and plenty of available land. Nearby the Quay Valley project, proposed in 2012, has languished despite promises of building a large, green residential community complete with hyper speed transportation. No  permit activity on this proposed development has been seen in several years.
The  Jackson Ranch project does not look to build homes but hopes to pair a major truck stop with logistics warehouses to serve the Bay Area and LA Basin. Nearby Kettleman City has neither a major truck stop or much warehousing.
The big project requires the completion of the EIR and a general plan amendment.
The County welcomes input and comments regarding the DEIR, which is available for a 45-day public review period beginning June 30, 2020, and ending Aug. 14, 2020.
NAS Lemoore to get $187M for construction in latest budget
NAS Lemoore is on tap to receive $187 million in next year's defense budget. The figures were released recently showing that the largest budget item would go to construct a two-module aircraft maintenance hangar addition to existing Hangar 6 in support of F-35C Joint Strike Fighter Fleet operational squadrons.The cost will be $128 million.
More chickens for Kings County
Kings County Planning Commission recently approved a request by Pitman Family Farms to expand an existing poultry farm by 480,000 chickens, the construction of 440,000 square feet of new poultry barns and two additional single-family residences for caretaker purposes. The project is located at 19258 14th Avenue, Hanford.
Kings jobless rate 14.6%
The unemployment rate in Kings County was 14.6 percent in June 2020, down from a revised 15.6 percent in May 2020, and above the year-ago estimate of 7.9 percent. This compares with an unadjusted unemployment rate of 15.1 percent for California and 11.2 percent for the nation during the same period.
The largest increase month over month was in the leisure and hospitality industry that gained 600 jobs.
Be the first to know
Get local news delivered to your inbox!