The dog crate presents a bit of a conundrum. It's important to create a secure space designed just for your pet, but at the same time, you don't want your home decor to literally go to the dogs. Here are 10 dog kennels that will blend with your personal design style.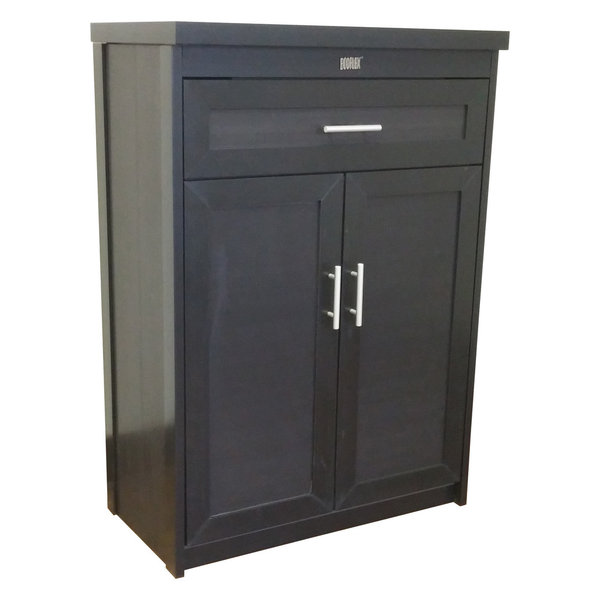 Your Style Is: Traditional
This clever contraption is like a murphy bed for your dog. When closed, this crate appears to be nothing more than a standard storage cabinet on which you can display candles and picture frames. But pull the handle to reveal a comfy-cozy bed for your dog to enjoy a nap next to the couch. It even has a mini memory foam cushion to pamper your pooch!
ecoFLEX Abigail Murphy Pet Bed from Houzz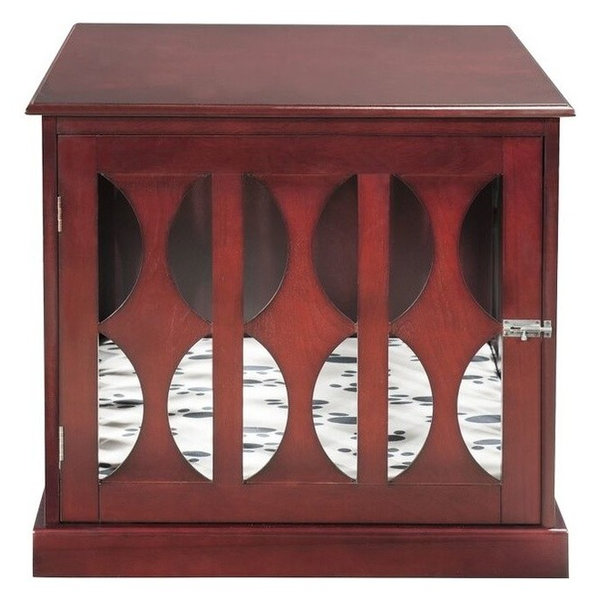 Made from mahogany and embellished with a circular pattern, use the Emma Crate as an end table and a safe place for your pup. Keep your remote, book or even a glass of wine on top for a highly functional piece of furniture.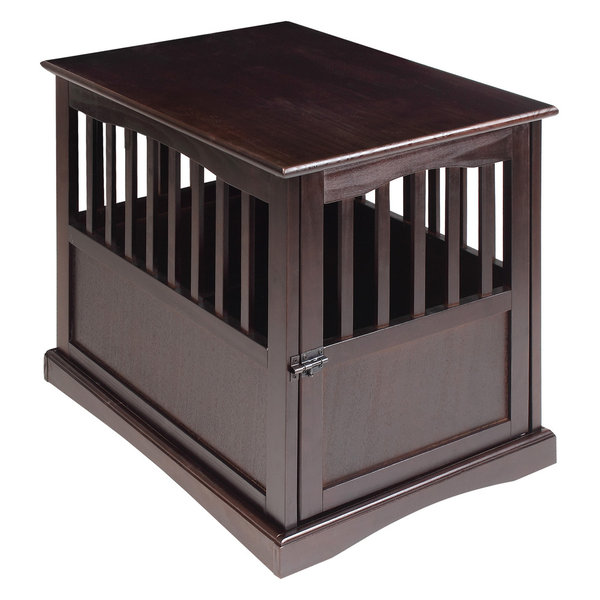 Your Style Is: Craftsman
This crate speaks to the intricate Arts and Crafts movement. It's made of solid wood with a rich, espresso finish and it features a simple design of straight lines for a really sharp look. Find it in two sizes and three finishes.
Pet Crate End Table from Houzz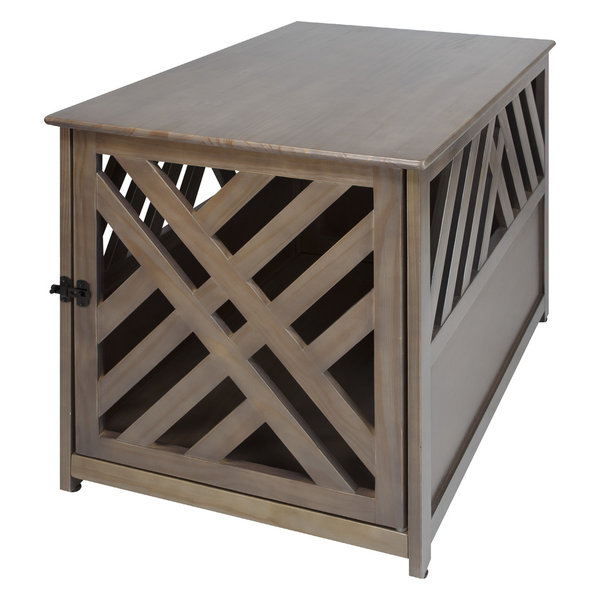 Your Style Is: Transitional
Here's one that's a little more spiffed up than the traditional dog crate with some cool latticework and a gray finish. It's also a bit taller than the other crates on this list, so you might consider keeping it in the foyer or mudroom as a catchall for your keys, mail and bags. That way, you can drop everything quickly and easily to greet your dog as soon as you walk through the front door.
Modern Lattice Wood Pet Crate End Table from Houzz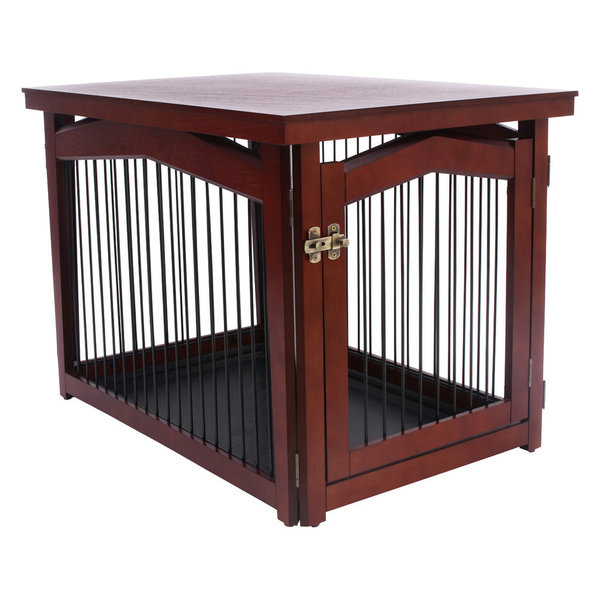 If you like multifunctional furniture, you'll love this. This two-in-one crate doubles as a dog crate and a pet gate. Each panel is removable, so it can block off both small and wide openings. It's especially helpful for pet owners who enjoy hosting guests. Although it can be hard to believe, not everyone is a pet-person. You'll be able to give Fido some space to roam in the other room without locking him up all night.
Two-in-One Crate and Gate from Houzz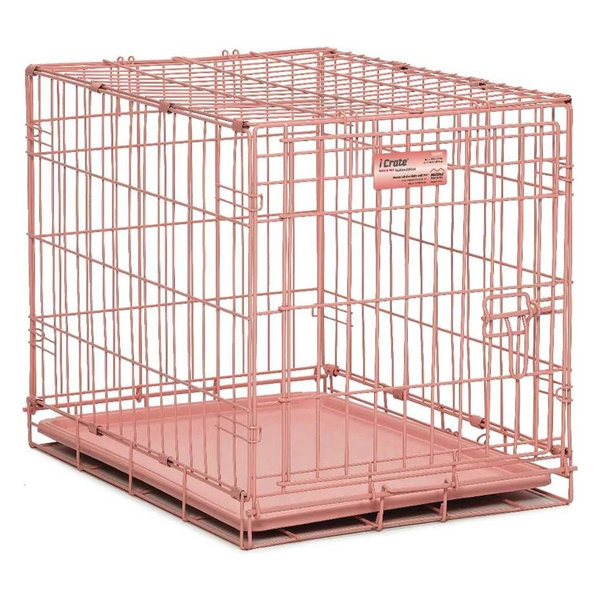 Your Style Is: Contemporary
If you're overwhelmed by the joys and responsibilities of becoming a first-time pet-owner, this crate is for you. It has an easy fold-and-carry configuration for owners on the go who want to use a consistent crate for training their new dog. You'll also find a removable tray on the bottom for easy cleanup during potty training. It's small enough for apartment dwellers and the sweet pink finish is also very chic.
Related: Shop for More Supplies for Your New Dog
Midwest Icrate Single Door Dog Crate from Houzz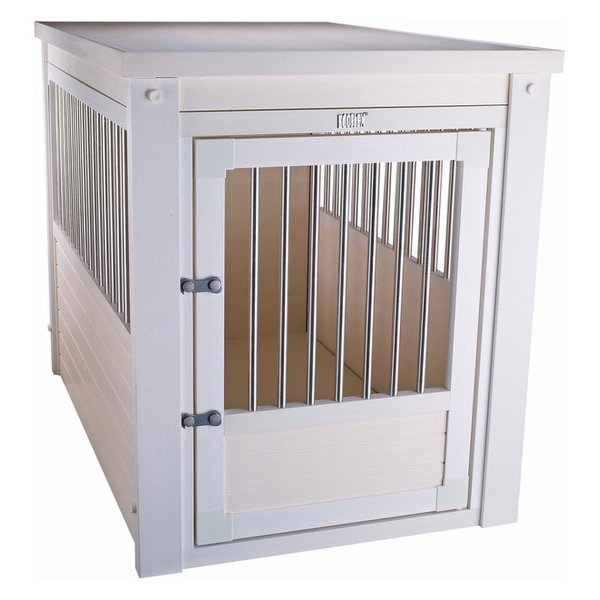 If you have a lighter color scheme at home, you might prefer this antique white crate. It's made of non-toxic materials and includes a 10-year warranty. The best part is that it comes in four sizes from small to extra large.
ecoFLEX Habitat 'n Home Dog Crate from Houzz
Your Style Is: Beachy
We're envisioning this nautical crate cover fitting right in at your family's beach house, on a screened-in porch or a breezy patio. The 100 percent cotton canvas has panels that can be draped down for naptime or rolled up for an ocean view. Note that this only includes a canvas cover. Crates, matching beds and bed cases are sold separately.
Nautical Stripe Crate Cover from Houzz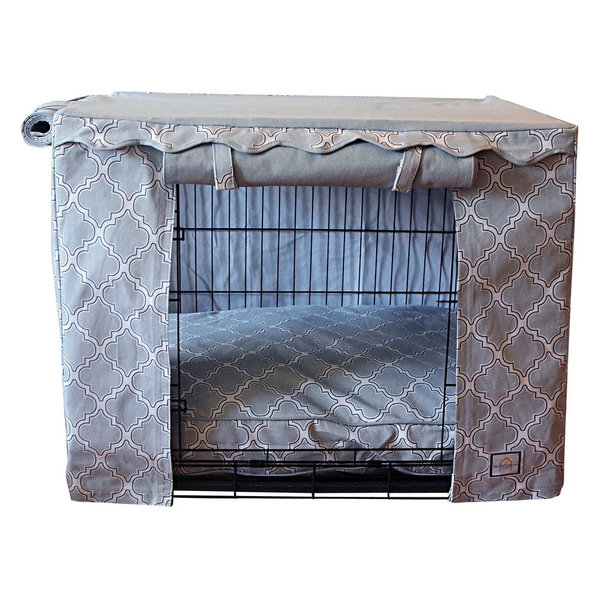 Your Style Is: Mediterranean
Here's the same crate cover as above, but in a Mediterranean pattern and a more neutral color scheme. Like the previous item, this only includes the canvas cover. Crates, matching beds and bed cases are sold separately.
Casablanca Crate Cover from Houzz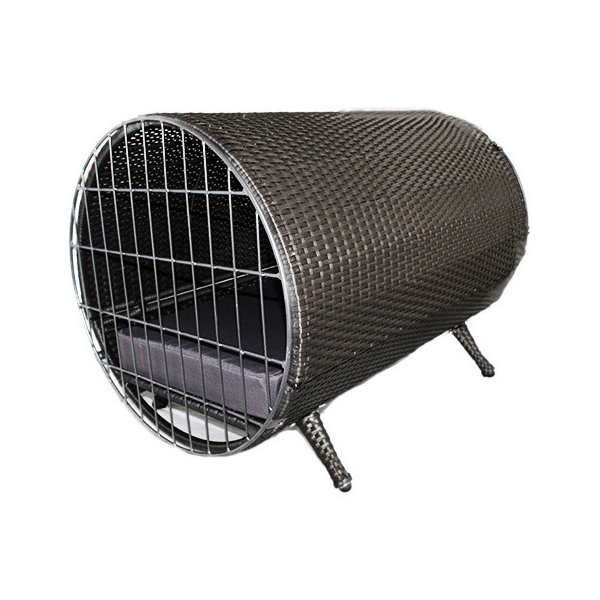 Your Style Is: Tropical
Here's a cool idea for your yard or patio. This tubular crate is covered in UV-inhibitor rattan and raised to keep your furry friend cool even during the dog days of summer. It has a convenient double-sided gate and it can accommodate small to medium-sized dogs up to 80 pounds. The washable charcoal gray cushion is also included.