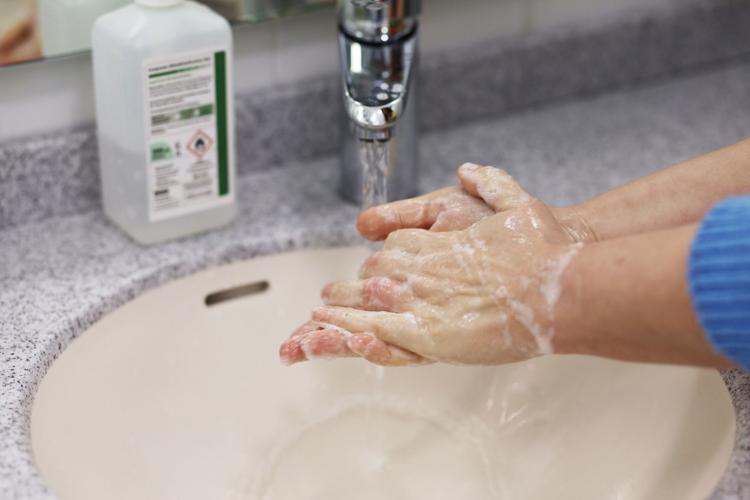 Spring is almost here, leaving moisture-zapping winter and its wrath of dull and dry skin behind. Adding to this, we are all washing and sanitizing our hands a thousand times a day to prevent the spread of germs due to the coronavirus — and this excessive washing with soap and water, which experts say is more effective than hand sanitizer at killing a broader range of bacteria, can make dry skin worse.
"Hand soaps can all be harsh when used excessively, so it's best to apply a moisturizing cream, rather than a lotion, after you wash your hands to replenish the natural skin barrier," says Dr. Michael Sotiriou, a board-certified dermatologist at Dermatology + Aesthetics in Chicago, who recommends hand moisturizing creams like Neutrogena Norwegian Formula Hand Cream and Eucerin Eczema Relief Hand Cream.
"Really hot water could contribute to dry and irritated skin," says Sotiriou. "The key is to wash your hands for 20 seconds, making sure to scrub between your fingers and around your nails as well — after contact with surfaces like doorknobs and elevator buttons and prior to eating or touching your face."
Just like you would your closet, analyze your skin care products with a Marie Kondo-like strategy. "Toss your expired, old products and get rid of products that aren't working for you anymore," says Erin Adams, esthetician and owner of Le Remede Waxing & French Skincare Boutique in Chicago's Ukrainian Village neighborhood.
From what treatments to splurge on to what products to maintain your skin at home, here are eight tips from two skin care experts on how to reveal glowing, revitalized skin for spring.
Tip: Switch up your cleanser
Skin may be parched and dry from winter, so experts advise against harsh cleansers, which may further strip the skin of moisture and natural oils.
"A gentle face wash, such as CeraVe, is a hydrating cleanser that's available at any store," says Dr. Michael Sotiriou. "I like it because it's fragrance free, it's mild and it won't over dry your skin but it will clean it. I recommend this year-round."
Tip: Exfoliate
For some, getting skin in spring shape means sloughing away dead skin cells. But before you grab a gritty exfoliating scrub, think again. Dermatologists like Sotiriou do not recommend physical exfoliators, like face scrubs, because they can irritate and damage the skin.
Instead, a gentle chemical exfoliator, like a glycolic acid face wash, is OK to use at home two to three times a week. If you use it any more frequently, you risk drying out the skin, Sotiriou says.
Another alternative is to visit a trained esthetician for a superficial exfoliating procedure, such as dermaplaning, Sotiriou says, which makes skin feel soft and smooth for a couple of weeks.
Tip: Splurge on a facial
It may sound like a no-brainer, but beauty experts say a professional facial is an instant way to get skin glowing for spring.
"The deep clean is necessary; it will increase cell turnover, improve hydration, smooth out lines and wrinkles and get rid of dull, tired-looking skin," says Adams. "It's tried and true for a reason."
For bigger impact, consider adding a peel onto your facial, such as a lactic-acid peel, designed to target hyper pigmentation and discoloration. For something more gentle, consider an enzyme peel to battle age spots and fine lines, Adams says.
Tip: Hydrate
Dry winter skin emphasizes fine lines and wrinkles so it's time to rehydrate the skin. The product skin care experts swear by? Hyaluronic acid.
"Hyaluronic acid, such as La Roche-Posay Hyalu B5 Serum or SkinCeuticals H.A. Intensifier, really helps our skin retain water and will give you kind of a boost, make your skin feel soft and plump and give it a good glow. It also works on all skin types," Sotiriou says.
The dermatologist recommends using the product twice a day, morning and evening, but if used only once, go for the night, so it can stay on the skin longer.
Tip: Dose up on vitamin C
As a topical for your skin, that is. After cleansing, apply a vitamin C serum, such as La Roche-Posay Vitamin C Serum, to your face and neck.
Experts say the antioxidant delivers all sorts of skin benefits, from brightening to hydrating. "It prevents damage to the skin throughout the day and will improve tone and pigmentation," says Sotiriou.
Tip: Moisturize
Warm weather may be on the horizon, but that doesn't mean it's time to ditch the moisturizer.
"We want to repair the dry, damaged skin from winter with a moisturizing cream," Sotiriou says, who recommends products like CeraVe PM Facial Moisturizing Lotion and La Roche-Posay Lipikar Balm. "When people are awake, they don't like greasy things on their skin, so they can rehydrate their skin at night and wash it off in the morning and it won't leave that greasy feeling during the day."
For day, look for a lighter formula with sunscreen of SPF 30 or higher, such as CeraVe Hydrating Sunscreen Broad Spectrum SPF 30, the dermatologist recommends.
Tip: Protect your skin
Even if you skipped sunscreen all winter, skin care experts say now's the time to start wearing sunscreen every day — for face and body.
"With summer coming up, it's a good opportunity to think about how to protect your skin. And if you have any questions about unusual looking moles or bumps, it's a good idea to see a board-certified dermatologist," Sotiriou says.
(c)2020 Chicago Tribune
Visit the Chicago Tribune at www.chicagotribune.com
Distributed by Tribune Content Agency, LLC.
Build your health & fitness knowledge
Sign up here to get the latest health & fitness updates in your inbox every week!