As I sat down to write this column, I glanced at the calendar to see what date it would be published. In the past May, has been a celebratory month in China Alley. It is Asian American/Pacific Islanders month. It is also Historic Preservation Month. The Taoist Temple Museum's May open house was a special day I enjoyed writing about. But now the merry month of May also includes the anniversary of devastation and grief, on which day this column will be published.
On this date one year ago, we received a phone call alerting us that the Taoist Temple Museum was on fire. Watching the Temple Museum burn, smoke and fire pouring from the windows and doors is a nightmare that replays in my mind every day. The fire was started in the main stairwell. Everything above the stairwell went up in flames. I was still grieving Mom's death when the alleged arson occurred, and the grief deepened with the damage to the Temple Museum and its artifacts.
A year later I can report that, for the most part, the building is structurally stable, though it has severe smoke and fire damage. Most of the artifacts suffered the same, others were completely destroyed, gone forever. All of the pewter artifacts displayed on the second floor melted due to their high lead content.
Yes, it's been a year. It has been a time of recovery. Recovery for our precious and irreplaceable artifacts. Although dealing with the aftermath of the fire often seems to be a fulltime job, working with insurance companies, conservators, and contractors on a near daily basis, at least there's progress. Smoked-damaged artifacts have been cleaned. Items that required conservation are in the capable hands of conservators. Our architect is preparing plans for the Museum's reconstruction. We're planning fund raisers to keep moving forward. Sure, there are days, many of them, when it all seems impossibly overwhelming and exhausting. But then I hear Dad's voice, "Take baby steps. One step at a time. One foot in front of the other."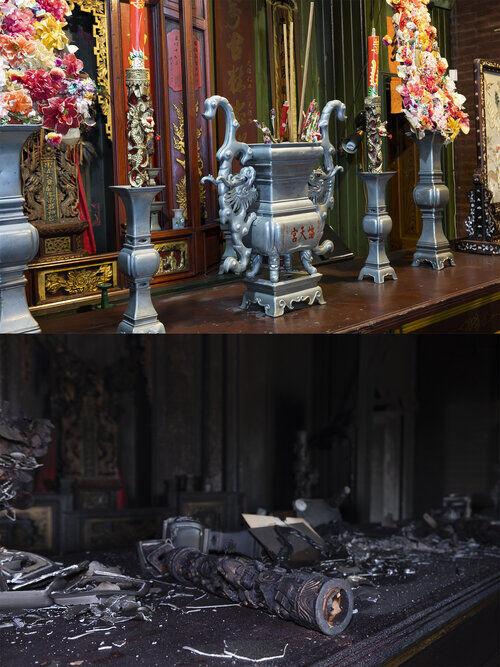 The year has also been a time of recovery for my soul. Time can heal, and for me, cooking and gardening are a big part of the healing process. Just now I took in our lush spring garden. Its bright blossoms and new growth. Vegetable beds are showing promise of future harvests.
Oh, China Alley. I have hope.
The week I'm sharing a delicious recipe for salmon with an anchovy-garlic butter. Love them or hate them, anchovies are often a cook's secret ingredient, as they have a rich, umami flavor that adds a layer of complexity and intensifies the savory flavor when dissolved into a sauce. I always have anchovy paste on hand.
In this recipe, the anchovies and garlic enrich and deepen the salmon's flavor. I dialed back on the salt because of the saltiness of the anchovies and I doubled the sauce ingredients. I hope you enjoy this recipe and wish you all hope in your lives.
China Alley Preservation Society from Hanford, California was honored with the Trustees Emeritus Award for Historic Site Stewardship for their stewardship of the Taoist Temple Museum