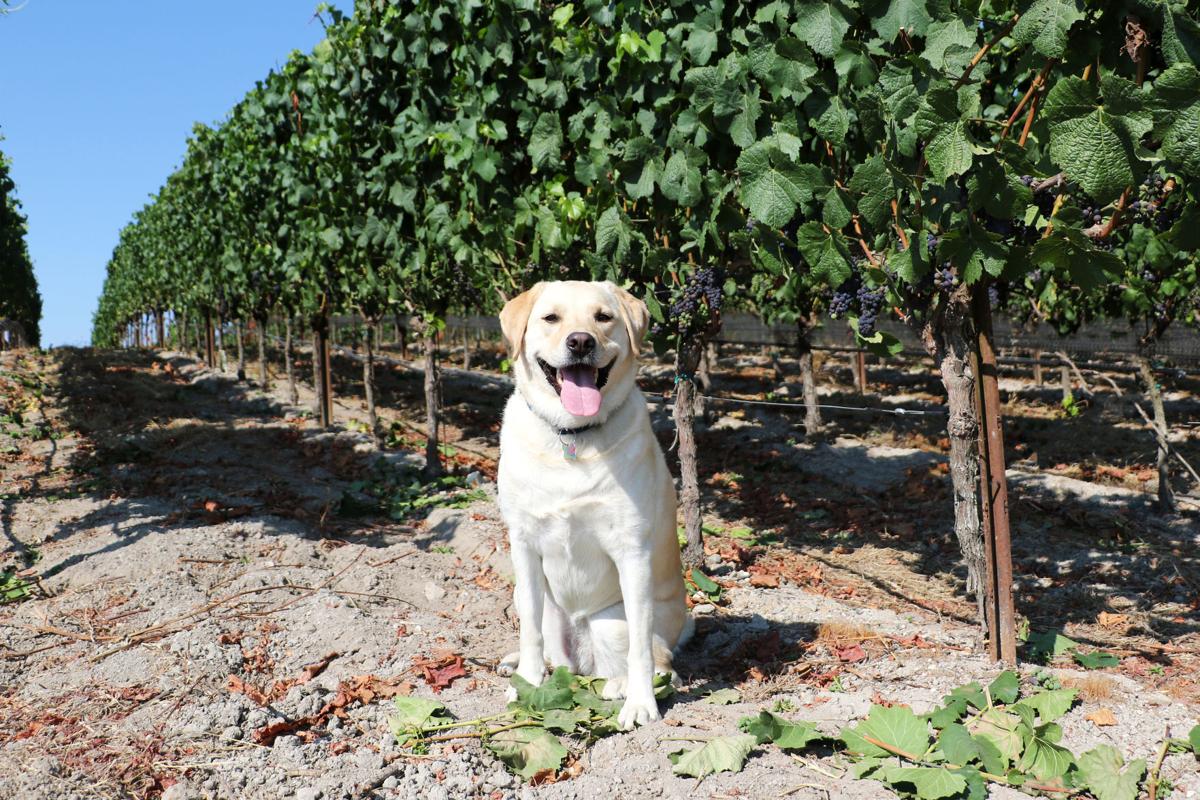 For you dog and wine lovers out there, what could be better than sipping a fine Merlot or Chardonnay while hanging out with your pooch?  Sounds perfect, doesn't it? Well, those aren't just daydreams any longer, as many wineries across the U.S. are now inviting four-legged guests to visit.  Some are even going above and beyond when it comes to welcoming pooches!
Finding real "dog friendly" wineries
So, what makes a winery truly dog friendly when it comes to welcoming furry guests?  While some places just allow your pup to walk with you on a tour of the vineyard and surrounding areas, some really go out of their way to welcome dogs.  Most will provide water bowls, but some even offer homemade treats for pups. Others provide fenced-in places where your dog can run and play, and some even allow dogs in their tasting rooms.  The Telaya Wine Co., located in Garden City near Boise, ID, is a prime example of a truly dog friendly winery.  Dogs are welcome on their spacious patio, that is complete with an above ground fire pit.  People are encouraged to drink wine and dine at the patio tables, with their dogs right by their sides.
Deciding which wineries to visit
Since more and more wineries are allowing four-legged guests to accompany their humans, how do you decide which ones are worth the trip?  The TripsWithPets directory of dog friendly wineries can point you to some of the best vineyards where your four-legged sidekick can join you. We have more than 350 winery listings across the U.S., along with Canadian locations, too.  The location, map and website for each winery are included, along with a short description about what makes it interesting and unique. We've sniffed out the best for you and your pooch, such as Bella Organic Farm in Portland, OR, so you don't have to spend your time deciding where to go!
Making sure your dog should go
Just like any place where dogs are welcome, you need to be sure it's a good fit for your furkid.  All wineries have rules for people and pets to follow, so be sure to adhere to those when visiting.  Some offer additional restrictions, such as how long your dog's leash needs to be and no loud barking, so be sure to follow their guidelines to make sure that all pups continue to be welcomed.  As always, don't forget that common sense rules apply, such as cleaning up after your pooch.  
Now's the time to make your plans to visit a dog friendly winery, where tasting rooms, lush vineyards, delectable wines and quality pooch bonding time await!
About TripsWithPets:
TripsWithPets is the premier online pet friendly travel guide -- featuring online reservations at over 30,000 pet friendly hotels & accommodations across the U.S. and Canada.  Visit our site to explore pet friendly destinations like Louisville, KY, Oak Island, NC, and thousands more!  When planning a trip, pet parents go to TripsWithPets for detailed, up-to-date information on hotel pet policies and pet amenities.  TripsWithPets also features airline & car rental pet policies, pet friendly activities, a user-friendly search-by-route option, as well as pet travel tips.
Be the first to know
Get local news delivered to your inbox!