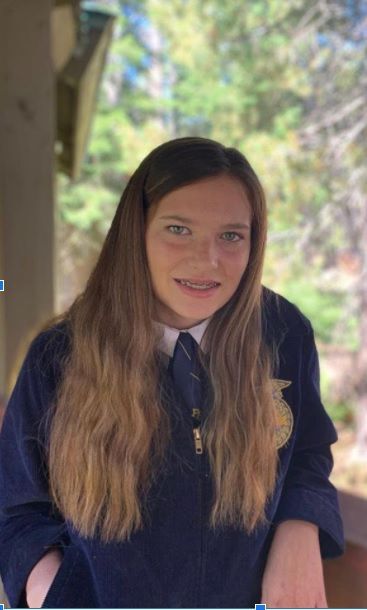 Hanford FFA's Winter Awards is just around the corner. The advisors and officers are working hard to get things ready. At Winter Awards we will be honoring fall and winter judging teams, cotton and citrus, as well as our Spanish Creed contestant.
Also we are naming our greenhands who went to the Greenhand Leadership Conference. GLC is only for greenhands and in this conference they learned more about FFA and what it has to offer. W
inter Awards is also where we award the Greenhand and Chapter Degrees. The Greenhand Degree is given to freshman who have meant the following: "enroll in an agricultural education program and have satisfactory plans for a Supervised Agricultural Experience (SAE), learn and explain the FFA Creed, FFA Mission and Motto, and FFA salute, describe and explain the meaning of the FFA emblem and FFA colors, demonstrate an understanding of the FFA Code of Ethics and the proper use of the FFA jacket, demonstrate an understanding of the history of the organization, the chapter constitution and bylaws and the chapter Program of Activities, own or have access to the Official FFA Manual and the Official FFA Student Handbook and have submit a written application for the Greenhand FFA Degree."
The Chapter Degree is given to sophomores who have meant the following: "must have received the Greenhand FFA Degree, must have satisfactorily completed the equivalent of at least 180 hours of systematic school instruction in agricultural education at or above the ninth grade level, and have in operation an approved supervised agricultural experience program and be enrolled in an agricultural education course, have participated in the planning and conducting of at least three official functions in the chapter Program of Activities, have earned and productively invested at least $150 by the member's own efforts, or worked at least 45 hours in excess of scheduled class time, or a combination thereof, and have developed plans for continued growth and improvement in a supervised agricultural experience program, have effectively led a group discussion for 15 minutes, have demonstrated five procedures of parliamentary law, show progress toward individual achievement in the FFA awards program, have a satisfactory scholastic record, submit a written application for the Chapter FFA Degree."
Congratulations to all who are revived these awards.
Rory Valov is a Junior at Hanford High and an active member of Hanford FFA.
Be the first to know
Get local news delivered to your inbox!